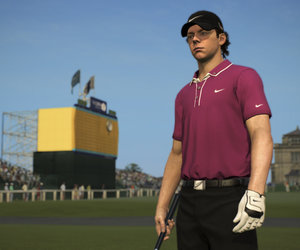 It's always good to place a Rory McIlroy gag into a story headline, don't you think?
The demo of the latest Tiger Woods game is available worldwide on Xbox 360 and North American PSN, today – with EU PlayStation owners getting it tomorrow.
The upcoming golf title from EA Sports is not merely a simple update as some decent looking things have been added. Firstly, Legends of the Majors looks like a cool new mode where players will assume the role of Arnold Palmer at the 1961 Open Championship at Royal Birkdale. On top of that, the latest game in the franchise also includes LPGA star Lexi Thompson.
The demo will also include motion control support for Kinect and Move, as will the full game.
So, Rory can practice his swing in the comfort of his own home – as long as he teeth don't 'cause him to black out, or something.
[nggallery id=1362]
Tiger Woods PGA Tour 14 will be released on March 28 in Europe and March 26 in North America for Xbox 360 and PlayStation 3