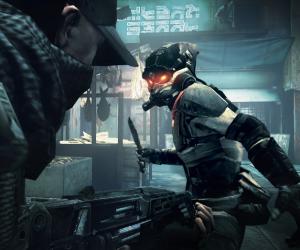 Killzone: Mercenary, the upcoming portable version of the popular first person shooter series, will be coming to PlayStation Vita devices later this year. This game looks like it will really push the capabilities of the Vita and show us what it is really capable of.
The game got a solid release date earlier in the year, and we have found out that the title will feature a large nine-mission story-driven campaign, an eight-player competitive multiplayer mode, and a collection of bonus challenge missions. The game has been recently shown off to the press for hands-on access, but now Art Director for the game Tom Jones will take you behind the scenes in a new interview for the title, featured on the PlayStation Blog.
In the video, he discusses the incredible graphical fidelity of the title, which is in fact running on a modified version of the Killzone 3 engine – so the graphics won't look far away from what we are used to seeing on the PlayStation 3 home consoles, but in a portable machine. The title will also feature some touch-screen based controls, with the front screen used for melee attacks, where different swipes can pull off moves such as gouging out eyes, breaking necks, and slitting throats – and the rear scren is used for sprinting around the in-game environments.
See the developer interview video for more details on the game below:
Killzone: Mercenary will be released on September 18 exclusively for PS Vita.