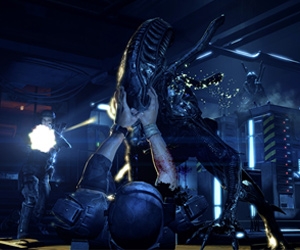 The Wii U really needs some software. However, with the ridicule Aliens: Colonial Marines got, maybe Nintendo's latest hardware can do without this particular game.
A few months back, Sega were adamant that the Wii U version of their game was still in development, however in the past couple of hours they confirmed to IGN that they've pulled the plug on it:
"SEGA can confirm that the Wii U sku of Aliens: Colonial Marines is no longer in development."
Most recently Gearbox president Randy Pitchford placed the ball firmly in Sega's court when it comes to the Wii U. When asked by Gamespot if we'd be playing the game on our Wii Us, he said:
"That's not our call. I think [developer Demiurge Studios] did amazing work. I think it's really cool, but Sega's got to figure that out."
I'm sure a stellar Aliens game will come along…eventually. Also, I'm sure A GAME will come along for the Wii U…eventually.
Aliens: Colonial Marines is available now for Windows PC, Xbox 360 and PlayStation 3