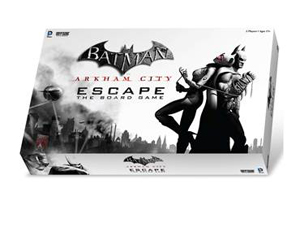 You enjoyed the video game? Soon, you can get the board game. Coming to the UK in late May/early June, Batman: Arkham City Escape is based on Rocksteady's fine 2011 release – Batman: Arkham City.
With one player assuming the role of The Bat and the second player acting as all of the other villains, Batman: Arkham City Escape promises random, exciting games that will be ever-changing and keep things interesting.
Batman is able to use many of his iconic gadgets in the game and perch atop gargoyles in order to get across the board and save many of his allies.For the person playing the antogonist role, there are 40 of Batman's most famous foes available and all have their special abilities.
Batman: Arkham City will cost you £34.99 from all good board game shops and probably some rubbish ones, too.