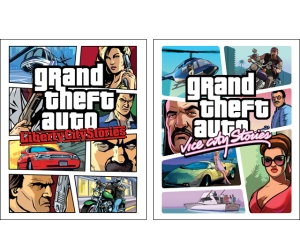 The Grand Theft Auto spinoffs come to PlayStation 3 this week.
So, you're excited about Grant Theft Auto V, are you?
Well, the hype-train to Rockstar's next location isn't due to arrive at it's destination until September. But that doesn't mean you can't take a quick excursion in the meantime, yes?
As part of their continued efforts to bring their PlayStation 2 library to PlayStation 3, Rockstar are bringing both Grand Theft Auto: Liberty City Stories and Vice City Stories to the PlayStation Network.
Originally appearing on the PlayStation Portable in 2005, these spinoffs found themselves on their bigger console brother in 2006 and now in 2013 you can play them on the PlayStation 3.
The price for these slices of city life? A mere £7.99/$9.99 /€9.99 each for you. Rockstar also mention that more PlayStation 2 classics are on the way from them, joining the likes of Midnight Club and Midnight Club II on the PlayStation Network service.