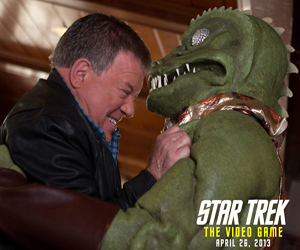 The fist fight between Captain Kirk and the Gorn on the side of a mountain in the 1967 episode entitled Arena is perhaps one of the most iconic scenes from the original Star Trek television series, one that has endured and become a part of popular culture history.
In celebration of the upcoming launch of the new Star Trek video game, based on the new J.J. Abrams film series – William Shatner and The Gorn have got back together to try and settle their differences peacefully – but of course, this isn't likely to end well. A full-on fight ensues, with the two re-creating their fight – with the help of a comfy sofa. Shatner had this to say about the iconic scene; "It never ceases to amaze me how many people still ask me about that scene.  It's 46 years later, and he hasn't aged as well as I have."
This has all been put together because as well as featuring the all-new crew of the Enterprise, the new game will also feature a new re-imagining of The Gorn – in an all-new story that has been written by BAFTA award winner Marianne Krawczyk. The Gorn has been made a lot scarier and more impressive-looking, and he comes with a whole army which poses a huge threat to the player in the title.
See the comedic new trailer below:
[nggallery id=1411]
Star Trek: The Video Game will be released on April 26 2013 in Europe and April 23 2013 in North America for Windows PC, Xbox 360 and PlayStation 3.