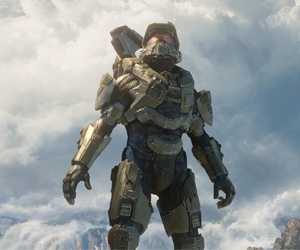 Microsoft have decided that this week shall bring a Halo 4 scented delight each day, including a new map pack and a new ranking system.
The week of Halo festivities also offers Halo players the chance to grab a couple of exclusive Avatar Tees. Just what every Halo fan wants!
Because I know you're just an information hungry badger, here's what's happening each day this week in handy, concise, bullet-pointed form.
Monday 8 April
Castle Map Pack Released (three medium-large maps). 800 Points. GiaG review here.
Competitive Skill Rank (CSR) launched. A new 1-50 level ranking system that measures performance to ensure fairer matchmaking. Earn rank 35 before 22 April to earn an exclusive Avatar Tee.
Tuesday 9 April
Halo 4 Original Soundtrack Volume 2 released. 20 tracks, including Kazuma Jinnouchi's version of Halo 3's 'Never Forget'.
Wednesday 10 April
Extra XP day. 14 Daily Challenges and Six weekly challenges added, designed exclusively for Halo Week.
Thursday 11 April
From 10am GMT on Thursday 11 players have 24 hours to complete five missions in Spartan Ops in order to receive an exclusive Avatar tee! Woo!
Friday 12 April
Halo 4 DLC sale on everything besides the Castle map pack.

"Halo 4" War Games Map Pass: 1600 Microsoft Points (25% saving)
Crimson Map Pack: 600 Microsoft Points (25% saving)
Majestic Map Pack: 600 Microsoft Points (25% saving)
Now I don't know if you were paying attention during the early days of Halo 2 – that might have been your wild period – but I remember a 1-50 skill ranking system back then that was standard across all Xbox Live titles. It was a good system that did ensure fair matchmaking, so if this is the return of 'Trueskill', as it was known, then I may just have to re-evaluate Halo 4's multiplayer.
Halo 4 is available now, exclusively for Xbox 360