It's very clear that the big selling point this year for Codemasters, is the F1 Classics mode. It even made me stand up and take notice, and being a child of the 1980s, it was obvious my first race would be as Nigel Mansell, really. What I didn't expect, however, was for there to be a gorgeous, aged look affecting the visuals that made me (for some reason) think back to that yellow hue that would surround sporting coverage, especially Snooker.
Actually, that's wasn't the biggest shock; no. The biggest shock was just how difficult the opposition AI seemed to be. At one point, so intense was the race, that Damon Hill nudged me off onto the grass, only for this classic line to come over the radio: "Be careful, we're on the same team!" – brilliant. Or it would have been, if the bastard didn't do it again moments later. I finished last, of course, but then I always do.
The retro styled classic races are fantastic, they really are. Indeed, it's one of those ideas that makes you sit up and wonder why they haven't done it before. Screaming round Brands Hatch never gets old, and the older cars feel different, lending a slightly more arcade-based feel to those races. If you want to, you can even race the classic drivers and cars on the 2013 circuits, too.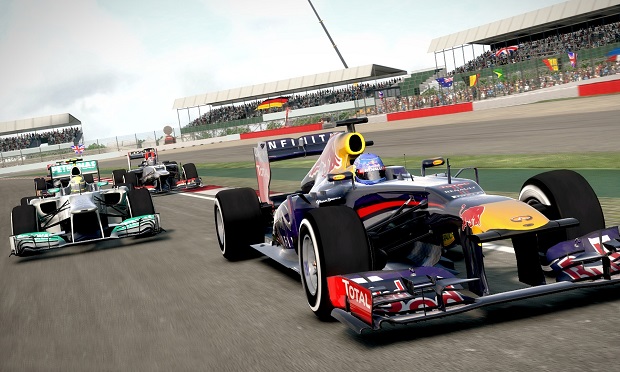 But atmosphere is everything, it seems, and switching back from the classics mode, you'll see your driver enter his car before playing around with the car monitor, exactly as you would have done in F1 2012. If you want to watch a hot lap, you can. If you want to tune up, select tyres, the usual – it's all there.
And it may be my imagination, or maybe a clever piece of game design, but the modern day current racing seems to require more precision and a more careful approach to cornering. One thing is for sure, it's very clear that (if you want it to) F1 2013 offers a challenge. With the large variety of racers, cars and courses, there's plenty to see and do, and plenty of time will be needed to get good at it.
Races are tight and tense affairs, meaning you'll need to concentrate and remember that this is a simulation. Try and smash people out of the way or cut corners and you'll be punished. Spinning out is something you don't want to happen (obviously) but if you approach corners with reckless abandon, that's exactly what will happen. It's satisfying, and success is its own reward.
Year on year the presentation has been improving, and 2013's game is no exception. The menus are sleeker than ever, with information cleverly ensconced and dispersed when the moment seems right. Different scenarios offer variety, and with the classics you can simply have a race, or you can try to meet pre-defined objectives that happened all those years ago. Along with a five-year career mode, multiplayer content, time trials and time attacks, F1 2013 looks to be excellent value for money, yet again.
It's tricky to know what more Codemasters could do in terms of attempting to please fans of the series. F1 2013 looks to be the same complete package they'd usually release annually, only now with an entirely new F1 Classics mode that will surely pull at the nostalgic strings of any hardened F1 fanatic. Only time will tell if the final version of the game continues to deliver in the way this early build looks set to. We won't have to wait long, thankfully, as the game is released on October 4th.
[nggallery id=1605]