Robert Griffin III was nothing but a mere twinkle in his father's eye when the first Madden game hit the shelves. Now he is the starting signal caller for the Redskins and one of the most exciting players to hit the gridiron for aeons. Not only does this make us feel terribly old, it is also an indicator of the staying power and yearly ubiquity of EA's premier gridiron concern. Madden 25 is a celebration of this fact, and is presented using a ton of vintage screenshots, facts and figures from the series and an introductory sequence that shuffles through the historic game logos.
At every turn you are reminded of stand-out moments from back in the day, and your own personal memories of playing the games. There is also the All-25 team – an outfit chosen by John Madden himself, featuring the cream of players who have featured in the game across the quarter century. It is absolutely no surprise seeing Falcons-era Mike Vick appear in this team, so devastating was he when he first appeared in the game – the EA equivalent of USA videogame lore legend, Tecmo Bowl Bo Jackson.
Madden 25 is not a revolutionary title in the same vein as the 95' or '99 editions. More could have been made of the nostalgia – in the same way Madden '02 included a throwback retro mode. But it does have some nice new features, and is a fine way to sign off on the current generation of consoles.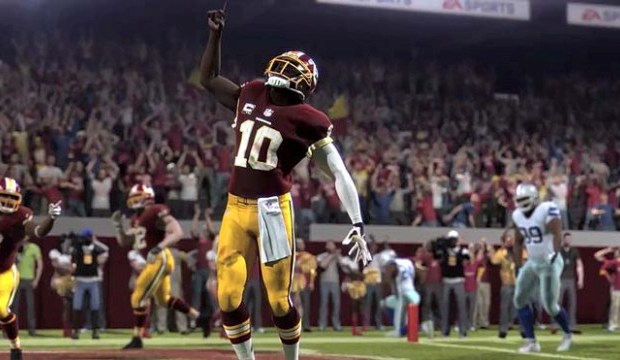 Cynics like to argue that each yearly sports game to come out of EA HQ is merely a re-skinned roster update. That certainly isn't the case here, although there are some glaring issues such as the Eagles still running Andy Reid's playbook. There are lots of tweaks that make the game fit in more with the latter day NFL's trend of ultra mobile, all-action quarterbacks like Griffin III and Russell Wilson.
Run Free is an overhauled running system that features access to more manoeuvres than ever before, and the ability to string spins, jukes and plants together to mimic the innovative ways the likes of Griffin and Kaepernick have been able to have an impact on the sport. You can now recover from stumbles using the right stick, and Run Free gives you the chance to use a modifier on any of your moves and pull off a slick version of your chosen action, albeit at the expense of a little speed. More pronounced use of the Pistol offense and read options mean that things are genuinely more dynamic and exciting. We aren't talking about the flash-in-the-pan Wildcat offence and Timmy Tebow here. The running game is noticeably improved and there are big rewards for following the correct routes as a running back – when playing on defence you will need to be on your toes.
Play selection can be done however you fancy playing. Madden himself can make recommendations, or you can simplify the playbook with Gameflow so that even the most clueless to the sport would have a chance at understanding how things work. If you would prefer to be more hands-on there are a huge array of playbooks available to suit just about any style you could possibly wish to emulate.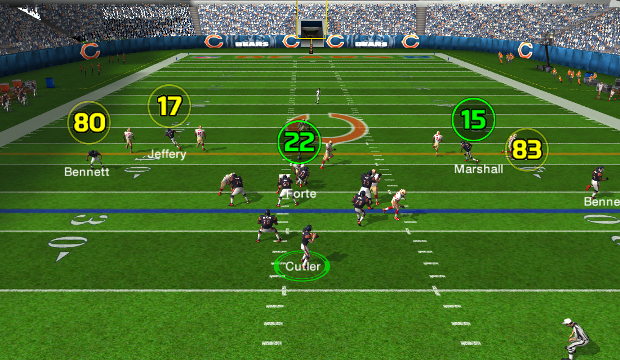 The tweaked Infinity Engine 2 means that player contact is even more realistic than before, and there is none of the strange limb tangling and other physical oddities, as big hits and the momentum of your players feel genuinely awesome. The offensive line blocks are scarily realistic, and you will have to really keep an eye on where you are running, lest you choose a route that could lead to a pummelling. Players are reproduced accurately, too. Not every running back is going to be as nimble as legendary cover athlete Barry Sanders – so attempt anything too flashy with a marauding dreadnaught like Marshawn Lynch and you can expect to be dealt with in crunching fashion.
Presentation is as great as ever; fake Tweets from real sports celebrities, adverts, custom pre-game videos for each team, sideline interview snippets from the peppy Danielle Bellini – you know exactly what to expect by now. The on-field action looks superb, with the best player models yet and cool additions like a visibly deteriorating pitch depending on the weather conditions, and even though the crowd that oversee all of this looks rough and is full of repetition, they sure sound terrific with their team-specific chants.
Music from the likes of Jack White and AC/DC is pumped in to the grounds, and recognisable noises from the stadia you know and love (such as the musket fire from New England) are readily identifiable. There are loads of real player grunts and shouts pulled from NFL archives, and input comes from Trey Wingo and Adam Schefter during the Draft segment of the Connected Franchise mode, which is most welcome as they break down your picks, even giving a bit of background on the players. Jim Nantz and Phil Simms are adequate enough in the main commentary booth, however there is a slight sense of them "phoning it in" this time around, as they spend a lot of time mumbling about non-specific stuff, seeming to mention less player names than before.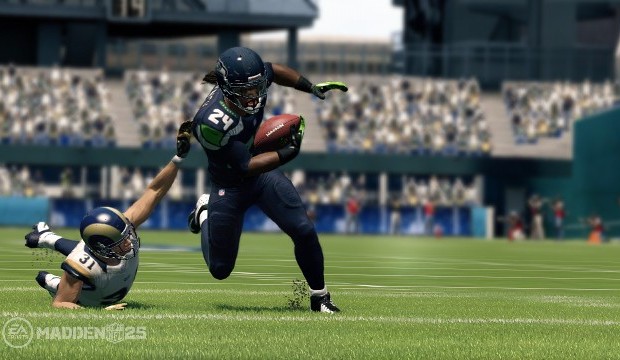 As always there are plenty of ways to play. Connected Franchise Mode includes the ability not only to play as a player or coach, but also as an owner. Becoming a virtual Al Davis or Jerry Jones for the first time since the PS2 era still allows you to take control of the matches, but gives you the added bonus of being able to take control of a huge number of responsibilities, from coaching appointments to stadium improvements, or even whether to raise fast food prices, as you help decide the fate of your chosen team. Hell, you can even take the controversial step of relocating the whole damn franchise.
Want to put the Jags out of their misery and relocate them to London? Go ahead. Incredibly, this also stretches to bringing back old-school teams from the dead – giving UK fans the chance to resurrect the Monarchs, or US fans the ability to bring back the lovely pale blue uniforms of the Houston Oilers. You can select from any of the current NFL owners, coaches or players, or even create your own player – utilizing the creepy-ass Game Face function should you wish. There are also legendary figures like Michael Irvin, Curtis Martin, Rod Woodson and Warren Moon who you can bring back into the fold. They may have changed the bloody name of it again, but this is a fine career mode that has enough glitz and a plethora of superb options to keep you hooked.
Elsewhere, Ultimate Team – the curiously popular cross between Pokemon, Panini and Fantasy Football – continues apace. You can unlock Ultimate Team cards via other modes in the game, such as the fun training drills that help you hone your game in an addictive series of challenges.
VERDICT: So, another year, another excellent effort from EA Tiburon, who continue to push things forward. There is always room for improvement with any game – and here there are a few niggles: the poor crowd visuals, dull commentary, perhaps even a slightly unfair advantage for the player who wields the best running back. There should have been more John Madden, too; even a bit of his commentary would have been extremely welcome. But these are small potatoes when you see how well everything else stacks up.
Despite the switch toward ground-based offences yielding the best results, the passing game is as great as ever. The career modes are terrific fun and, as with most of EA's oeuvre, there is enough gaming here to keep you entertained for at least another year. And there is no denying that the physics and physicality are seriously impressive – if the Infinity 2 engine is able to deliver so impressively, then we are eager to see how the Ignite Engine will make a difference when sports games start to arrive on the next generation of consoles.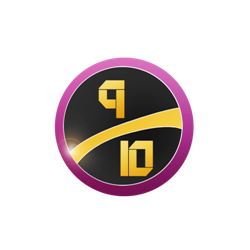 SUPERB. This is the mark of greatness, only awarded to games that engage us from start to finish. Titles that score 9/10 will have very few problems or negative issues, and will deliver high quality and value for money across all aspects of their design.