Hey there! Read on for Part Three of our huge countdown of the Top 25 Games of the Generation, or check out 25-21 here, or 20-16 here.
15. THE LEGEND OF ZELDA: SKYWARD SWORD
DEVELOPER: NINTENDO / PUBLISHER: NINTENDO
FORMAT: NINTENDO WII
RELEASE DATE: 18TH NOVEMBER 2011
As essential a franchise for Nintendo as Super Mario, the Japanese masters' second mascot has seen more than his fair share of adventures as he travels the land of Hyrule in its many forms in his quest to save the legendary, titular princess. No Game of the Generation list could possibly be complete with the inclusion of the most famous pointy-eared hero ever created. Sorry, Legolas.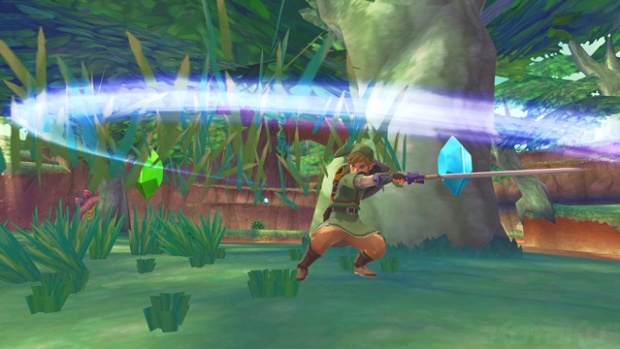 LEE GARBUTT: I must admit, by the time Skyward Sword rolled around, I was beginning to suffer from Zelda fatigue, as the series wasn't breaking any new ground in terms of structure. But even though this second Wii entry keeps things relatively familiar, and while the initial hours are a little slow (similar to most Zelda's since Ocarina of Time), Skyward Sword is that rare example of a fun and engaging Wii-mote controlled game. Swordplay feels fresh and exciting, while new items are used in original and immersive ways. One of my favourite games in the series, and of this generation – and a reminder of why Zelda is such an important series.
JAMES BOWDEN: Skyward Sword is an interesting game to reconsider, particularly in the harsh light of A Link Between Worlds. It's the most restrictive Zelda in terms of progression, in that it's "focused" to the point of claustrophobia, and the hazardous, monster filled world gives off more of a Metroid vibe than those often explored by the Hylian hero. And those Imprisoned fights? Ick. But even with these "flaws", Skyward Sword's adventure still shines. The Wii-fulfilling swordplay feels more like a Technicolor Dark Souls than the frivolous encounters of Zelda's past, and the addition of stamina gives Link a gait all of his own. Then there are the dungeons and puzzles – Lanayru Desert in particular – that show an inventive genius that propels Skyward's spelunking and head-scratching towards the top of the series' pecking order. Restrictive, yes, but frequently inspired – and the music is gorgeous, too.
14. STREET FIGHTER IV
DEVELOPER: DIMPS, CAPCOM / PUBISHER: CAPCOM
FORMAT: PLAYSTATION 3, XBOX 360, PC
RELEASE DATE: 20TH FEBRUARY 2009
It's safe to say that, if you have any interest whatsoever in games, you will have heard of Capcom's Street Fighter franchise. One of the longest lived and iconic series ever created, it has spawned dozens of games, spin-off serials, comic books and, of course, that Kylie Minogue / Jean Claude Van Damme movie. Stocked with our fair share of fighting game enthusiasts here at GodisaGeek, we always knew that one of Capcom's darlings would make the Top 25 cut, and it's this one, Street Fighter IV, that has pummelled its way in.
SEAN SMITH: Easily my most played game, overall, of the past generation. I played it online constantly following its release, and continue to do so to this day. Having it on the 3DS means I can even play it on the go. All of the updates have been spot-on and I can't wait for the next one.
JAMES BOWDEN: There were fighting games that I preferred in the previous generation, namely Persona 4 Arena and BlazBlue, but Street Fighter IV was such an important fighter that it would be churlish not to praise it. That almost sounds damning, but it shouldn't; Street Fighter IV is a perfect example of how to take something classic, in this case Street Fighter II, and reinvigorate it for a new age. A sprinkling of extra mechanics aside, the game is essentially a modern realisation of Street Fighter II polished to the nth degree, and it's that polish and conceptual purity that makes Street Fighter IV the quintessential touchstone for a genre it practically brought back from the brink. Credit where credit's due.
ADAM COOK: A game that is solely responsible for reviving a long dormant love of fighting games. Having last been series about the genre when arcades were fashionable, Street Fighter IV came at a perfect time, and was executed so well. Some of my fondest memories of the entire generation are squaring off against Sean, my Ken versus his Zangief, or his Cammy against my own. Tremendous fun, and should be given a whole lot of credit for what it did for the genre.
13. THE ELDER SCROLLS V: SKYRIM
DEVELOPER: BETHESDA / PUBLISHER: BETHESDA
FORMAT: PLAYSTATION 3, XBOX 360, PC
RELEASE DATE: 11TH NOVEMBER 2011
The Elder Scrolls series began way back in 1994 with Arena, a cult hit that set the groundwork for one of the most popular fantasy RPGS ever released. The fifth entry in the series, Skyrim quite famously knocked Modern Warfare 3 off the 2011 Christmas top spot, delivering a 200+ hour adventure through Tamriel's frozen north. Dragons, trolls and political intrigue abound. Despite some genuinely game-breaking issues on PS3 (since fixed), Skyrim absolutely deserves a place on this list.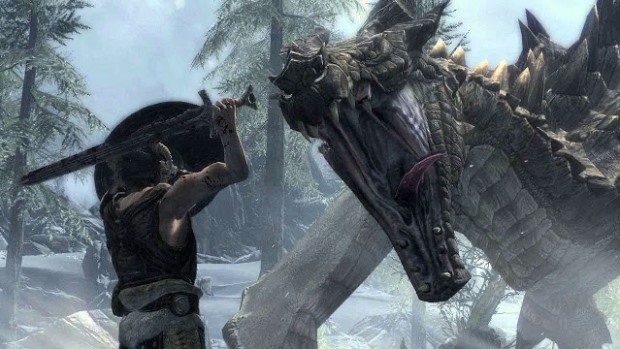 MICHAÉL MURPHY: In its near universal praise, every facet of Skyrim has been lauded, from its majestic and massive landscape to the mind-boggling variety of activities contained therein. Even with 200+ hours logged in the dragon-ravaged Nord lands, I have yet to see everything this masterpiece has to offer. The sheer beauty and scale of Skyrim is something that truly had me in awe the first time I played it, and even now, 2 years later, it still continues to impress me.
MICK FRASER: Skyrim might be one of my favourite games of all time. I was a huge, huge fan of Oblivion, and Skyrim feels, in every way, like an evolution of that game. I've spent upwards of 250 hours battling Imperials and rebellious Nords, slaying dragons and, well, picking herbs. But the scope of Skyrim's gameplay is the real jewel in its crown: stealth and cunning, steel and brawn, magic and science – or a combination of all of them; how you play Skyrim is your choice. You can ignore the main quest for literally hundreds of hours and just go exploring, hunting, crafting; you can murder, marry, rise to rule or slink through the shadows; you can even build your own mansion in the woods, if that takes your fancy. For me, Skyrim is the pinnacle of solo fantasy role-playing, and Bethesda's finest achievement.
12. MINECRAFT
DEVELOPER: MOJANG, 4J STUDIOS / PUBLISHER: MOJANG, MICROSOFT
FORMAT: XBOX 360, PC
RELEASE DATE: 18TH NOVEMBER 2011
Minecraft is a phenomenon. Developed originally by Marcus "Notch" Pearsson and later given a full release by his indie company, Mojang, Minecraft is one of those strange creations that came out of nowhere and was suddenly everywhere, scooping awards and honours left, right and centre. Another fantastic indie game showing the triple-A's a thing or two, by sliding comfortably into our Top 25.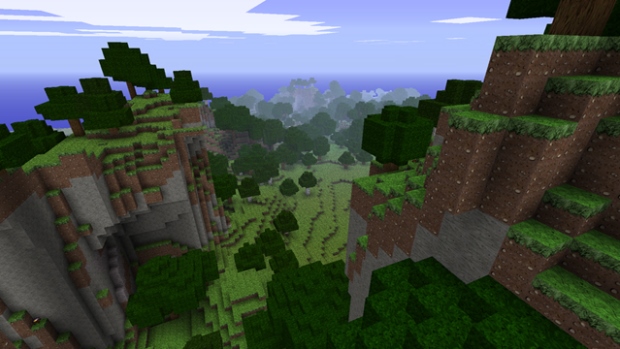 CALVIN ROBINSON: Minecraft is arguably one of the most important games of this generation. Not only did it bring mainstream attention to the indie scene, but it also spawned a period of innovation among AAA studios, too. Mojang didn't invent procedural game design, but they definitely highlighted it as a successful way to build and play video games. Minecraft is probably the most creative video game we've ever seen: it drops the user into a random environment and says "use your imagination". It's basically a digital childhood re-kindler. Much like The Matrix, no one can be told what Minecraft is, you have to experience its magic for yourself.
ADAM COOK: The scary thing about Minecraft is that I don't think we've even seen its potential fully realised. Slowly but surely, kids of all ages are realising how incredible it is, schools are using it as a teaching tool, for goodness sake! I lost hours, nay, days to the game and the Vita version is still on my most wanted list – I can play this game with anyone, and it's only getting bigger. In years to come, Minecraft will be bigger than Angry Birds among children, mark my words. It also serves to teach us that you're never too old to play with LEGO, which is a fine thing indeed.
MIKE STUBBS: Minecraft is… well, it's perhaps the biggest PC game ever. It molds insanely simple gameplay with simple graphics and simple controls; in fact it's so simple I am amazed no one did it sooner. But it's this simplicity that makes the game what it is, the simplicity makes it accessible to all ages, the simplicity that makes it so insanely addictive.
11. UNCHARTED 2: AMONG THIEVES
DEVELOPER: NAUGHTY DOG / PUBLISHER: SONY
FORMAT: PLAYSTATION 3
RELEASE DATE: 16TH OCTOBER 2009
Nathan Drake is one of those protagonists that you wish you could relate too, so you convince yourself you relate because you want to be that cool. A modern day Indiana Jones with a Francis Drake fixation and a hot head that gets him into way too much trouble, Nate's interactions with his supporting cast – Sully, Elena and Chloe – are what drive the Uncharted franchise forward. Bombastic set-pieces, intelligent puzzles and exhilarating combat are staples of every game in the series but, for us, Among Thieves edges out the other two just slightly to become our favourite Uncharted adventure.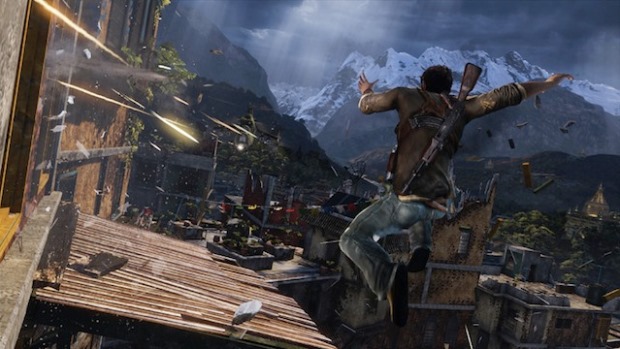 COLM AHERN: It's funny, really. Whenever someone brings up Uncharted 2, I'll almost certainly harp on about the horrible final boss and the silly way that the supernatural stuff is dealt with at the end of the game. I mean, c'mon…blue sap from trees? However, even with that taken into account, I adored my time with Naughty Dog's greatest gift to the gaming public. Nathan Drake & Nolan North became stars with Among Thieves, and the studio pushed the blockbuster video game to the next level.
SEAN SMITH: The second time we encountered Nathan Drake was an incredible treat for the senses, providing genuinely thrilling boys-own excitement that felt like adventuring your way through an interactive Indy movie (and not a silly, fridge-nuking one, either). The story is pure whimsy at times, even jumping the shark a tad with some supernatural bollocks towards the end, but everything is carried along beautifully by some excellent voice acting and likeable characters. Action lurches from one set piece to another without become boring, and extra longevity is provided thanks to hidden items and a surprisingly good multiplayer. Naughty Dog were near-flawless this generation, and I look forward to seeing what they are going to come up with in the future.
So there you have it, folks: numbers 15 – 11 of our Top 25 Games of the Generation. Check back to GodisaGeek.com tomorrow for numbers 10 – 6, and in the meantime feel free to let us know whether you agree or disagree with our choices so far.