For fans of the beautiful game, the World Cup is the granddaddy of them all. An event that dominates the sporting landscape and creates memories that last a lifetime. Last time out was all about the irritating vuvuzela instrument, Uruguay cheating their way past Ghana and an uncharacteristically rough-house Dutch side. There was of course an official game tie-in, as there is with all major tournaments, released as a standalone entity from the FIFA series. With the tourney in Brazil dangerously close to kicking off, and excitement building, EA Sports have again released a standalone World Cup title, which aims to capture the party atmosphere of the host nation and provide fans with a way to vicariously live out their own World Cup dreams.
EA have maintained that this is a game created to appeal to gamers as a whole, as opposed to the present FIFA-playing demographic. They have also used this as partial justification for the reason why this Brazil extravaganza is only going to be hitting the last-gen platforms, for now. They also argued that they wanted to allow as many people as possible to be able to enjoy their World Cup experience, which given that far more people – particularly those in Central and South America – own Xbox 360 and PS3 consoles than they do PS4/XBO, makes sense. Just be prepared that if you are presently enjoying FIFA on one of the newer consoles, the action here may feel a little bit like a backwards step, with a slightly quicker pace to proceedings. If you are still rocking the last gen, then you are in for a treat.
Presentation is so important with anything licensed, and EA have done a beautiful job at populating the menus and front end screens with the eye-popping samba stylings of the World Cup logos and art design. The stadiums being used to host the action are all present and beautifully rendered, and the crowds are arguably the best and most vibrant I have experienced in a football simulation – particularly the fantastic way that you get a shot of fans celebrating "back at home" – be that stupid hat-wearing Eng-er-land fans in front of a big screen, or Italians watching at a fan-fest in the shadow of the Coliseum.
The menus are accompanied by a choice of licensed music, or surprisingly impressive contributions from the talkSPORT-esque combo of Andy Goldstein and Ian Darke, or the brilliant Men in Blazers, fresh from their stellar podcasts and work on ESPN and Grantland. Whichever duo you select, the chat is informative and insightful, unlike the in-game commentary which features the deathly dull Andy Townsend backing up Clive Tyldesley, who allegedly recorded the names for all 7000+ included player. When having a tilt at the World Cup proper as Uruguay, Darke was spot-on in his analysis that they have it all going for them up front, but a reliance on the knackered knees of Diego Lugano could cost them and prevent them from securing a third World Cup for their country.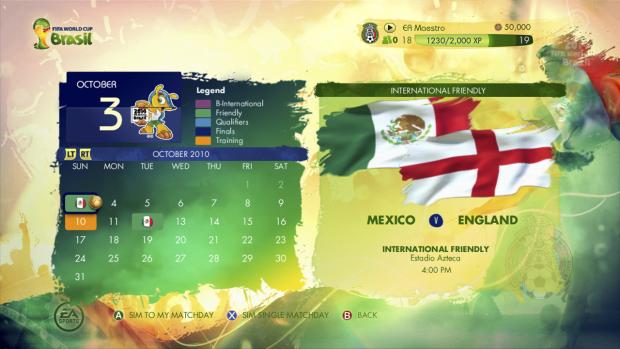 There are over 200 international teams, most of whom are fully licensed and feature up-to-date kits, and for the most part, accurate player inclusions. It was heartening to see Adam Lallana not only in the England squad, but make the default starting XI. It was less heartening to see that Newcastle's Steven Taylor was part of the provisional selection of available England players. Not all of the player models are dazzling representations of their real life selves – for every unnervingly good one, there is a clunker – such as the aforementioned Saints captain Lallana, who in reality is a hipster-bearded, handsome creative force in the centre of the park, yet here just looks like Generic Footballer X.
It may have all the official gubbins, but a palette swap and a few new faces is the stuff of downloadable content – when this is a whole new product. How else does it differ from FIFA 14? There are several tweaks and additions to gameplay, particularly the controls and physics relating to the Impact Engine. Pinpoint Passing allows more responsive passing, thanks to a series of new player animations, whereas Response Dribbling adds new flicks and outrageous flourishes, as well as making control once you cool your jets with the left trigger far more effective when trying to beat defenders. Also dependent on the size, skill and momentum of particular players is the inclusion of all-new "Over-the-Back-Headers" – those with the requisite leaping and heading ability can now out-jump their opponents to stick the nut on the licensed Brazuca Adidas ball, which is also governed by its own set of whizzy new physics, thanks to EA collaborating with the Adidas Innovation Lab in Germany.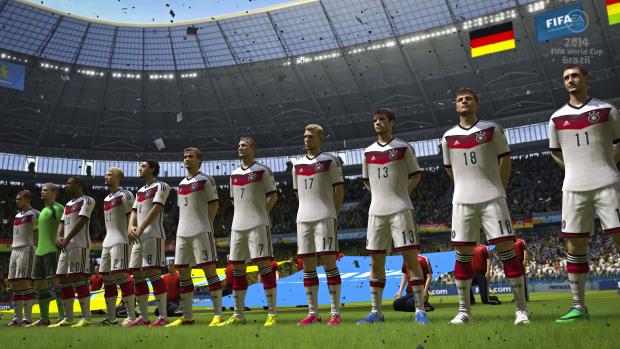 When taking free kicks and other set pieces, you can now direct team-mates using D-Pad commands. Within reason, you can instruct your fellow attackers to intimidate and crowd the goalkeeper, or make intelligent runs in the same way Argentina opened England up like a tin of beans back in 1998 with their well-worked routine. Penalties have been given a new set of goalkeeper save animations and feature the ability to use the hilariously named "Goalkeeper Antics" to psyche out the kick-taker. There are a fine selection of minigames and training exercises which can be participated in between matches, or even during your World Cup playthroughs, where you can improve the stats of your players who need it by allowing them to participate in drills.
Gone from the club-oriented FIFA 14 is Ultimate Team, which just wouldn't have worked here. Instead there are some excellent modes to play around with – both on and offline. You can play through a straight-up World Cup, either on your own, or in a multiplayer setting with 31 other beings. Captain your Country allows you to do just that – and allows you to embark on a quest for World Cup immortality, either on your lonesome or with some friends. This popular mode returns from FIFA titles of yore, and now comes with the added bonus of auto-positioning (which can be turned off) that makes the arduous task of sticking to regimented positions easier for the casual player.
Road to the FIFA World Cup allows you to select one of the 203 countries on offer, and play through their respective qualifying campaign. Of course, this can alter the course of virtual history, something that is also the case in the cracking Story of Qualifying challenge mode, which is a series of individual scenarios that ask you to step into crucial moments of qualifying matches and attempt to alter or match the required outcome. These range from having to bury an 89th minute penalty with Robbie Keane, and then go on to win the away fixture out in Kazakhstan (as Kevin Doyle managed to do back in 2012), to guiding American Samoa to their first ever qualifying win.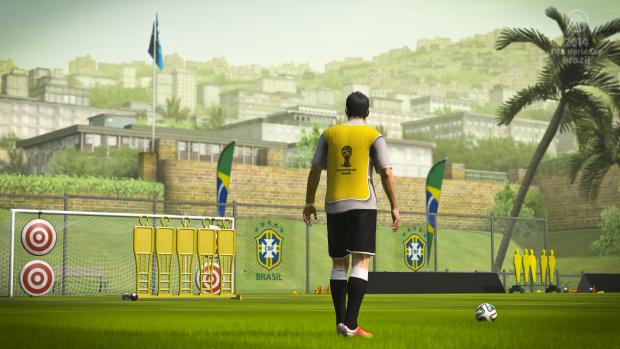 In terms of other online offerings, Road To Rio De Janiero is a World Cup-themed take on Online Seasons, based around the official World Cup venues. Most intriguing is Story of the Finals – which will be running in tandem with the real-life World Cup matches, and will offer daily challenges based upon the days action, such as challenges in the vein of the Story of Qualifying mode, which can win you FIFA XP.
VERDICT: With its superb atmosphere and genuinely innovative inclusions, this is perhaps the best World Cup tie-in of recent times. It instantly creates a buzz of excitement about the tournament, which should be a vivid celebration of soccer in a place where the sport is virtually a religion. There are some great modes with trophies that are going to take plenty of skill to master. There are new skills to master on the pitch, too – but the game is constantly coercing you to improve, with its training drills, user friendly interface, and sense of fun. It is the ultimate accessible incarnation of FIFA's franchise, and something that EA Sports can be very proud of, apart from the gruesomely realistic representation of Sepp Blatter, which we could have done without.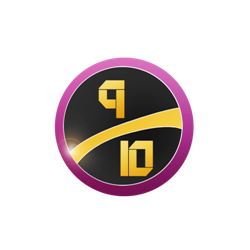 SUPERB. This is the mark of greatness, only awarded to games that engage us from start to finish. Titles that score 9/10 will have very few problems or negative issues, and will deliver high quality and value for money across all aspects of their design.