Marcel is a sly one, tactically dodging the bullet that is the Ketchup question with the revelation that he doesn't even like the stuff. "I don't have ketchup in my house. As a kid, I love it, but one time I ate it with a spoon from the fridge, and I ate so much I had to puke, and since then I cannot stand the stuff".
And that seems a fitting start to my time with the FUT Producer for FIFA 15. Marcel Kuhn is a man that, like me, was once a big Career Mode fan, and has transitioned to FUT. Though he has worked on both, it appears he is a FUT addict, just like so many FIFA players. "I'm Austrian, I start with an Austrian bronze squad, then I build up to a silver squad, but I only move on once I win a bronze tournament". Unfortunately, there aren't too many gold players, so they're hard to find. That's where FIFA 15 comes in. "Every year I try to build an Austrian Gold team, but there's not enough players in the game. But this year my pain will be much shorter, because the new Concept Squad feature allows me to look beforehand."
"You can build a squad from the full database within FUT, replace a specific player within your team, replace a whole midfield, or build a whole dream squad with all the best players, just to see how that would work out in terms of chemistry and team overall rating. But where it really gets cool is when you combine it with EA Sports Football Club, because you can share those concept squads within EA Sports FC so all your friends can see, and either like or dislike, or comment on them. They can also copy that squad you have built and put it into their FUT and modify, then re-share with you."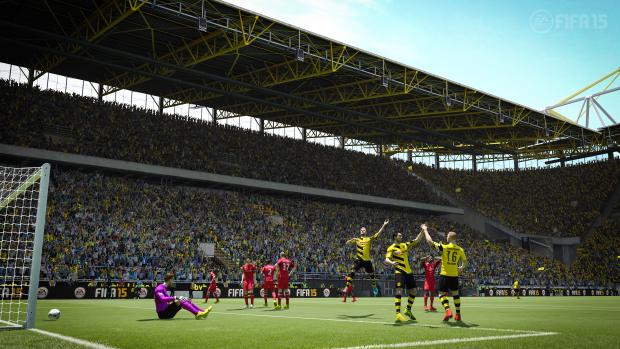 It's an interesting idea, and as a lover of co-op gaming, it certainly involves the community on a larger scale. "You're kind of building a squad together, and I can see many applications for the feature, actually. It can help you build a better squad in a shorter amount of time, or for fewer coins. You can almost do personal competitions with that feature."
Another new feature that lends to a more close knit community environment is friendly seasons. "Seasons is a really cool mode, that is used by a lot of people, but after a while you always play strangers. Within friendly seasons you are playing with a friend, so you get the benefits of having the bragging rights and checking stats. So that brings in the flavour of social or collaborative things"
This kind of addition shows that EA Canada aren't content with resting on their laurels, and the EA Sports that would be accused of putting out the same game each year with a new roster, seems long dead and buried. Indeed, this year's FIFA 15 will be feature complete on PC, or "gen-4 comparable" as Marcel puts it, so if you don't own a PS4 or Xbox One yet, but have a decent computer, you'll be able to experience the same game as those that do.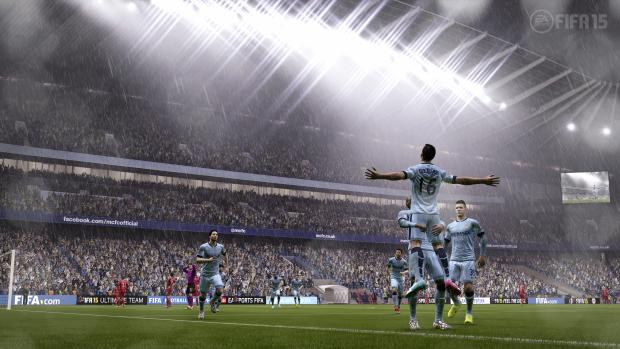 And these features aren't the only ones, new to FUT is a loan system, where you can loan players for 5 games (or more, there's a few bits of information that they haven't fully finalised yet), meaning that the Messi you always wanted isn't going to cost you millions of coins. "All the players available for loan will be given out by EA, but essentially it matches what you know from the real world of Football. You can get a loan player that will join your club for a limited amount of time, so in FUT terms it's a limited amount of games. So let's say he has five games as a loan duration, once he has played those five games, he returns to his parent club – which in this case is EA."
Those concerned that this could open up a raft of micro-transactions, however, apparently don't need to worry. There are three ways you can loan a player, the first being the Ultimate Team pre-order which will grab you a Messi for five games. Secondly, the first time you go into FUT 15 there will be an intro that shows you what the loan players look like. "They have a little blue outline so can identify they are for loan, and also a little widget at the top of the item that tells you how many games you have left with that specific loan player." Brilliantly, at the end of this intro video, you get to choose one world-class player from a selection to take on loan for your starter squad, "immediately giving your starter squad a big boost."
The third way is probably the most frequent way it'll happen. "In the EA Sports Football Club catalogue, we'll feature a bunch of players you can loan using the EA Sports FC currency you get from playing the FIFA 15. Once you have recruited those loan players, after a specific amount of time (we haven't decided how long yet) they will return for you to loan out again".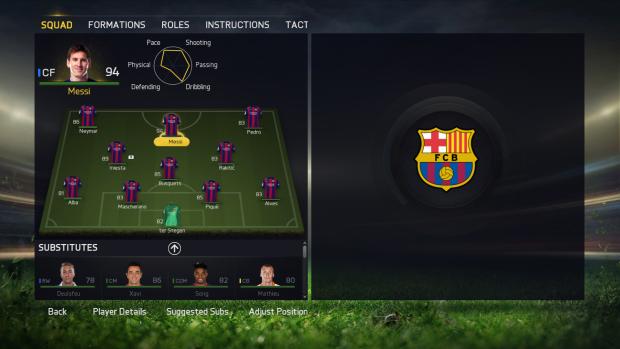 Fascinated that they had specifically chosen not to charge people in a situation that you'd imagine would definitely make money, the question has to be: why? Was there ever a point they considered charging real money? "Yeah, but one of the key things about FUT is that we don't want to be a pay-to-play. Earning something from just playing the game is a very rewarding way to motivate you to play more games. Obviously it was considered, but first and foremost with FUT we want people to enjoy our game, and if they enjoy it, they'll use all the different functions in our game, and that benefits everyone in the long run."
Sticking with the loan system, the issue with Xbox One exclusive Legends intrigued me. Will these legends be loanable? "That's one of the things we haven't decided yet. Obviously it takes effort to offer players up for loan, so we're currently in discussion as to whether we want to offer legends as loan players. They are the most highly coveted items within FUT because they're the rarest, so I know that people would be dying to test drive one of those." Playing the Xbox One version mainly, Marcel would love to try the players out in the live environment himself.
But will they be adding more legends to the game, specifically Bolton's Jay Jay Okocha? "Our lead designer is actually a Bolton fan…" Good man, "Yeah, he suffers a lot from it now that they're in a lower division, and Nigel Reo-Coker is in Vancouver with the Whitecaps right now, but in terms of legends, Jay Jay is a very popular player, very tricky; good shot; good finish, and he would be a very good addition to the Legends roster. We are going to carry forward all the Legends we had last year, and they'll be available at launch, and we're going to add fifteen new ones. We've not named them yet, but one hint I can give is that one of them will be the all-time top scorer from the EPL – this player was actually the most requested player from the community." Of course, we now know that the Legend in question is Alan Shearer, and that my beloved Jay Jay will be joining the roster. You cheeky scamp, Marcel.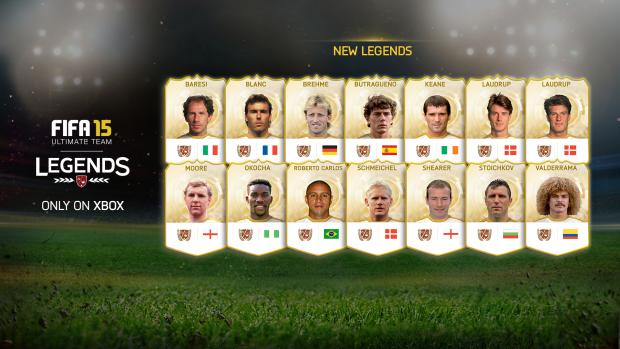 Something that has always intrigued me, is the possibility of releasing FUT as a standalone product, similar to FUT World on PC, but perhaps with the modern game engine. "It came up, but for us it's more beneficial to be closely tied to the main FIFA game, because we benefit from that so much in terms of all the innovations they do with the gameplay, and being locked in there with them and utilising all the cool things they come up with year on year with the main game, having them replicated within FUT gameplay is very important for us." In fact, Marcel seems acutely aware that these free-to-play options may not have the latest gameplay features, in-line with the console versions "…and I don't think we would like to give that up, so there are no plans in the near future to release a standalone FUT on console."
I've also often wondered if there will ever be a more complete career-mode style feature within FUT? "There are some small but important differences between the two that I think are worth keeping separate, but there is definitely talk between the two teams about what we are doing and what we can do, but there isn't a full merge planned."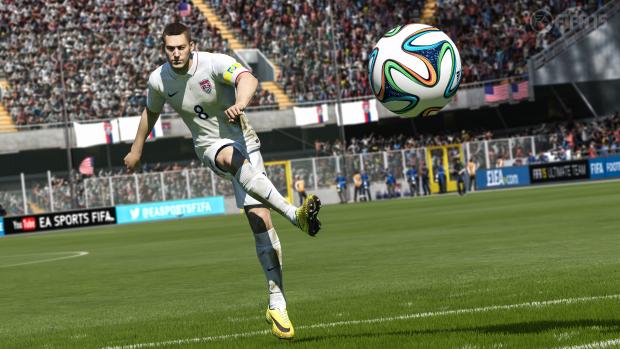 Who is the most popular player in FUT, then? "Last year it was Gündoğan from Dortmund, but this year one of the biggest surprises was Kevin De Bruyne, who is a common item, but is really good in terms of his physical abilities, so definitely a good, cheap guy to try and find."
It's incredible to think that a mode that, five years ago, was post-launch content. But nowadays FUT is one of the biggest draws to the yearly FIFA release. I know that this time, when I get my hands on it, I'll be straight on FUT, I'm hopelessly addicted to that mode. But how would Marcel sell the mode to someone who has never given it a shot? "For us, it's about building the squad you always dreamed of. There's time and effort required, but once you've built your squad and honed it towards your liking, and then taken it into battle – that's what it's all about. You can actually enjoy the mode with a fairly small amount of knowledge, you can figure a lot out by trial and error. Where it was complicated years ago, now you can figure it out all by yourself."
FIFA 15 will be released on September 25th, thanks to Marcel for his time.