Danganronpa 2: Goodbye Despair (sequel to Trigger Happy Havoc) takes place on a series of connected islands. Even though you start out as a student gazing at Hope's Peak Academy, you are quickly shown the reality of the situation. As with the first game, characters here are really great. It took me a few hours of playing to remember every character's name and personality traits but progression through the game makes the character development really shine. The story is full of insane plot twists that kept reminding me it was one step ahead. I haven't stopped thinking about the ending since.
You control the protagonist, Hajime Hinata, and try to find a way to escape the current situation with the other students. Since this is a Danganronpa game after all, that is not going to be easy and there will be despair involved. The game begins on a positive note with your teacher being a stuffed rabbit, Usami, who only wants you and the other students to have fun on the island in the "class trip".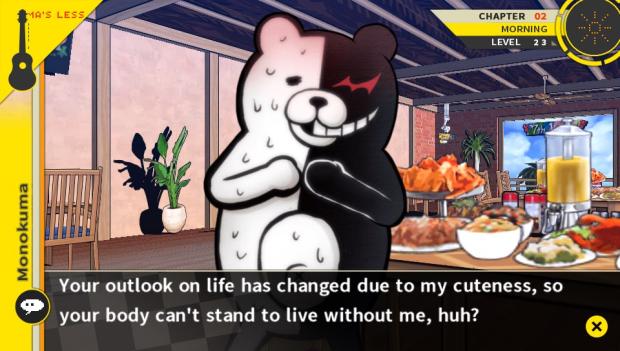 Each area also has a surveillance camera and monitor and after some time, a certain bear from the first game reappears. A silhouette appears on the monitor and a familiar voice tells you to come to the park in the middle of Jabberwock Island (the central island). This is where the real game begins. Monokuma transforms Usami, the loveable rabbit teacher, into Monomi who is apparently his little sister. Monokuma continuously gives the students a motive to kill and slowly you find the characters you like slowly getting murdered. This game teaches you not to grow attached to a character because you never know who is going to die next.
Danganronpa 2 introduces a few new mechanics to the core game. All the islands are connected to the central Jabberwock Island. The first game rewarded you with Monocoins for interacting with different things in the areas, but things work a bit differently here. There's a level system in place that increases your level with the number of steps you take walking from one area to another.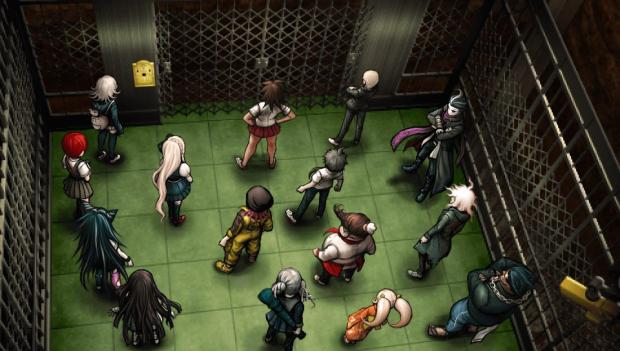 You also have an electronic pet inside your e-Handbook that grows as you take more steps. This is a nice touch because you get rewarded for raising your pet successfully. It has its own Hope and Despair ratings that change depending on how much attention you give it in terms of cleaning it and giving it presents.The e-Handbook also lets you view your report cards for other students. Spending time with them and giving them presents will reward you with hope fragments that can be used to buy skills for trials all from within the e-Handbook.
The aim of each trial is to find the killer or the blackened and vote for them so they get punished. Selecting someone other than the true killer will result in the killer being allowed to graduate or escape and everyone else getting punished. The trials retain most of the good things from the first game and introduce some new mechanics like the Rebuttal Showdown and Logic Dive. Rebuttal Showdown involves you going head to head with a classmate and using the touch screen or directional pad to slice their statements. It takes a bit of getting used to. At the end of the showdown you are supposed to use a truth sword statement to cut their inconsistency.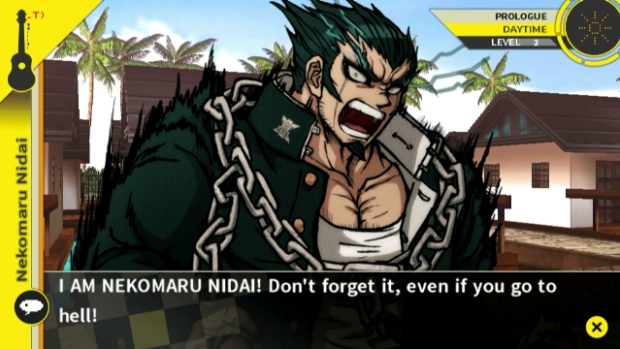 Logic Dive has similar mechanics to the Snowboard segment in Final Fantasy VII. You use your board across a neon tube and path to answer three questions by moving in certain directions and avoiding obstacles. The game makes good use of the front touch screen for investigating and trial mechanics. When each chapter ends, a new island gets unlocked. Chapters also have Monokuma plushies hidden and you are rewarded with Monocoins for finding them. These coins can be used to buy things from the vending machine in the supermarket on the first island or a present from the monomono machine on the beach.
Danganronpa 2 is full of humour and the localisation is mostly great. There are tons of references to other games, stereotypes, pop culture, and even internet culture. I say mostly great because some of the spoken dialogue coupled with text is hit and miss.
Visuals are great. Character models are detailed and I absolutely love the user interface. Everything, from the main menu to the e-Handbook and maps, is solid. Barring a few places, you can't really tell this was a PSP game. The character expressions and the animation sequences during trials are all fantastic. The soundtrack, once again by Masafumi Takada, is nearly as good as the first game. There are catchy songs and the trial music returns, but there's nothing as good as Beautiful Dead here for me. There are also the segments involving Monokuma and Monomi fighting that are absolutely cringe-worthy. I played these sections out with both the English and Japanese voice options and honestly think they are the weakest parts of the game. Luckily they don't waste more than a little of your time.
Island Mode is unlocked after completing the game. This is similar to School Mode from the first game. Island Mode has no killings and assumes Monokuma lost to Usami or Monomi. Danganronpa IF is a light novel with an alternate story that assumes Makoto gets the exit button in the beginning of the first game. This assumes you have already beaten Trigger Happy Havoc. In fact, you shouldn't even be reading this review if you haven't beaten that yet. Get on that now.
VERDICT: If you even remotely enjoy great stories and narratives, Danganronpa 2: Goodbye Despair is an absolute must-buy. The final segment in particular is magical. When you read about this series, Zero Escape meets Persona meets Ace Attorney gets thrown around a lot. I can safely say that it has earned a position next to those games.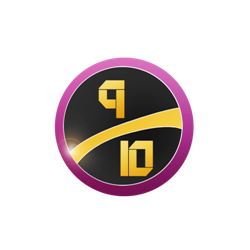 SUPERB. This is the mark of greatness, only awarded to games that engage us from start to finish. Titles that score 9/10 will have very few problems or negative issues, and will deliver high quality and value for money across all aspects of their design.
Review code provided by publisher.