I won't beat around the bush, Forza Motorsport 6 is the best racing sim that I've played. It took the simulation style and injected a healthy dose of fun to the realism, which makes for some truly exciting races. Its Drivatar AI makes things feel authentic, creating realistic battles and even allowing room for your opponents to make mistakes, which just doesn't happen enough in other games.
With E3 almost upon us, and the likelihood of Forza Motorsport 7 being unveiled alongside Microsoft's new Scorpio console being quite high (especially as a Forza demo was used to showcase the console's 4K capabilities), I started to think about what I'd like to see from the next game in the flagship racing series.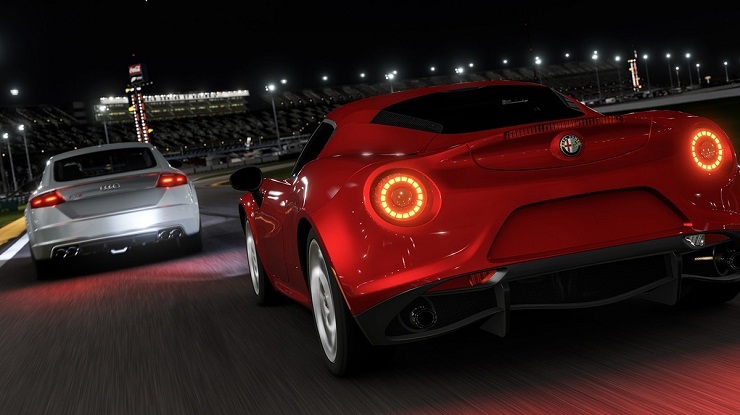 Dynamic weather
Forza 6 introduced some incredibly realistic rain effects, but it would be nice to see the weather changing on-the-fly, making you think on your feet (or wheels, in this case) and adapt to changing conditions. The F1 games have been doing this for years, Project CARS did it, and even DriveClub and PGR 4 did it, and they aren't even simulation-based racers. With pit stops already being a part of Forza, there's no reason why adapting to dynamic weather, shouldn't be an option for the next game. Hell, even Forza Horizon 3 did it.
Passing time
Night races were something to behold in Forza 6, but how often do events take place solely in the dark? Almost all endurance racing takes place over a period of time that sees day roll into night, or vice versa, so surely that's the next logical step for Forza Motorsport? Much like dynamic weather, Forza Horizon 3 has already done the day/night cycles thing, so maybe it's a test bed for the main series? One of my favourite racers of all time, Race Driver Grid, had the LeMans 24 Hours race at the end of every in-game season, and its representation of the day/night cycle was perfect. Bring that into Forza Motorsport and it could be something very special indeed. Imagine that on your 4K TV.
Real racing events
LeMans 24 Hours is just one of the real world events that could be integrated into the series. Forza 6 included things like Formula E, but its events weren't entirely accurate. Licences for many of these things could be costly, but Microsoft isn't exactly strapped for cash, and even Project CARS, a crowdfunded game, had tonnes of real series included. The Forza series has recently included Bathurst and liveries/cars from the Australian V8 Supercars, but why not include more of their circuits and represent the series proper? Perhaps you remember the old TOCA Touring Cars on the original PlayStation console? People have been clamouring for a new one of those ever since, and it could be interesting to see it return in the Forza Motorsport series.
Lesser-known tracks
Many of the PC sims have used tracks from all over the world, many of which you may not have heard of, for over a decade, and even Slightly Mad Studios' Shift 2 and Project CARS have included circuits rarely seen in the mainstream racers. Zandvoort, Snetterton, Oulton Park, maybe Knockhill, could be included. Perhaps go to more Asian circuits, like Hokkaido or Okayama? People do enjoy the usual visits to Silverstone, Spa-Francorchamps and, of course, the vastly overused (and overrated, as far as I'm concerned) Nürburgring Nordschleife, but it's time sim racers spread their reach a little.
Grassroots racing
With the inclusion of smaller circuits, could also come a greater focus on smaller engines. Yes, it's great throwing a Ferrari 488 around Brands Hatch, or taking a Nissan GT-R for a spin around Hockenheim, but what about the Renault Clio Cup? Or the various Mini Cooper championships? Work your way up to things like the TCR championship? Mazda and Caterham have great little cups, too, and that's before we get to the likes of the Formula 4 series. Motor racing might always be about who's fastest, but it's not always about the biggest, most expensive engines.
New disciplines
Gran Turismo has branched out into Rally before, and will do again with GT Sport, and Project CARS 2 has introduced the infamously brutal Rally Cross into the mix, so is it time for Forza Motorsport to embrace the dirt, or is it leaving that to its sister series, Forza Horizon?
Of course, these are just a few of the things that may or may not appear in a new Forza Motorsport game, and that hasn't even been confirmed yet. But should we get that seventh addition to the Xbox's original racing series, it'd be nice to see some of these changes implemented.
I guess we'll see, come June 11th…