No, Red Dead Redemption 2 hasn't sounded the death knell for Grand Theft Auto V. GTA Online is still very much alive and well, and Rockstar has released its latest addition to its online juggernaut: Arena War.
Starting with a whole new Arena Workshop and 12 new vehicles, via the in-game website ArenaWar.tv, with some ready-made for the arena and some starting life as standard road cars, needing a few workshop upgrades to turn them into contenders. Each vehicle is available in Future Shock, Apocalypse and Nightmare styles.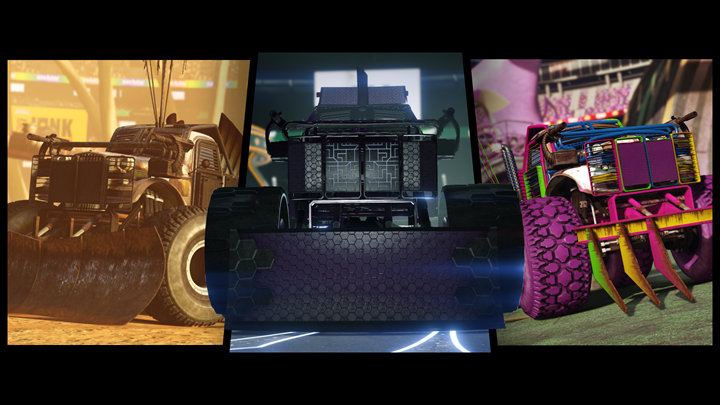 Whether you're in it for a quick bit of carnage, or you want the full career experience (available via Arena Workshop office's Career Wall) that will earn you GTA$, RP and new Arena Points that can unlock discounts on new outfits and upgrades; Arena War offers 7 new events to slake your thirst for destruction:
Carnage: No mercy, no disqualification, no safe word. Utilizing a host of new weaponized Bikes, Cars and Trucks specifically engineered for maximum destruction, be the last contender standing in an all-out vehicular brawl under the dome of the Maze Bank Arena.
Flag War: Two teams, two flags, one objective. The classic capture the flag formula — reworked Arena War style to include enough gasoline-chugging violence to appeal to a mainstream audience.
Wreck It: If you're any good at driving really fast and turning to the left, then you're off to a good start. Sure, it's theoretically possible to win a round of Wreck It by crossing the line first in a fair-and-square lap race. But that's never happened, because the competition, recently departed Spectators and an ever-evolving set of traps and obstacles are conspiring to reduce you to a smoldering heap of scrap metal. Like the old saying goes, if it's not a race to the death, you're just not taking it seriously enough.
Tag Team: Arena War isn't all about ruthless individualism. Sometimes there really is safety in numbers – and in Tag Team you're going to need it. Each team has one player in the arena at a time, and their only objective is to immolate the opposition. Teammates holed up in the Spectator Box have an array of weapons at their disposal to give their partner a destructive edge.
Games Masters: When it comes to brutal arena designs, you can install the most exquisitely hazardous death traps on the market, but there's just no substitute for the sheer ingenuity and sadism of a properly incentivized human being. One team collects checkpoints, the other uses every fiendish tool the Arena has to offer to make their plans go up in smoke. And be sure to hold onto your grudges: after every round, you switch places.
Here Come the Monsters: For centuries, gladiatorial fights to the death have brought unbridled joy to the masses. In Here Come the Monsters, one team takes to the arena in monster trucks capable of crushing metal and bone into the same bloody dust. The other guys get compact cars and a dose of anxiety meds – but if even one of them survives, they win. Let the games begin.
Hot Bomb: Life isn't about holding onto good things, it's about passing them on. Like inherited wealth, or a sense of entitlement. Or a high-explosive device. In Hot Bomb, one player has the bomb, and the only way to get rid of it is by crashing into someone else. Throw in a timer and a baying crowd, and survival of the fittest just got an upgrade.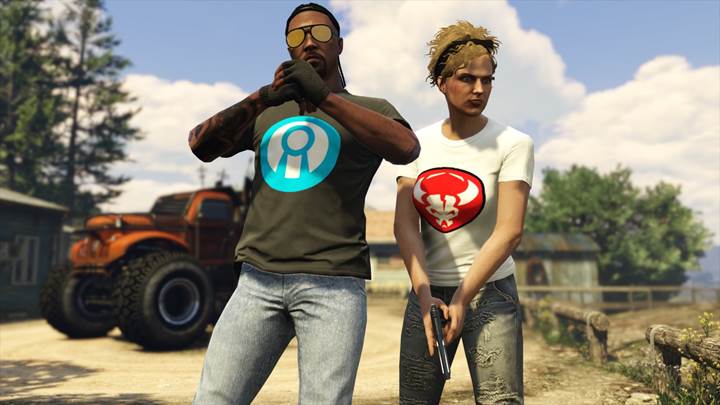 To commemorate the arrival of Arena War, all players logging into GTA Online now through December 17th will unlock the Annis and Bravado t-shirts. Stepping into the Arena this week will net you double GTA$ and RP across the entire Arena War series, too.
Finally, outside the Arena, you can grab up to 35% off these:
Mk II Weapon Upgrades & Customization – 35% off
Luxury Finishes – 25% off
MG & Combat MG – 25% off
Snipers – 25% off
SMGs – 25% off
Shotguns – 25% off
Pistols – 25% off
Explosives & Throwables – 25% off
Body Armor – 25% off
Grand Theft Auto Online's new Arena War update is out now.