Atlus has today launched a free demo of their upcoming remake Catherine: Full Body and it's available to download from PSN. Catherine: Full Body is a remake of Catherine on the PS3 and PSVita, and the demo gives those players who missed out on the original (or are keen to see how it has been remastered) a chance to try out the game ahead of its Western release date on September 3, 2019.
Catherine: Full Body promises a whole host of additions to the original. Check out the official blurb below on what to expect:
A Full-Bodied Remaster: The captivating tale of 2011's award-winning Catherine returns in Catherine: Full Body – bigger and better than before. Improved visuals and gameplay, brand-new music, enhanced multiplayer options, and much more await in this enticing new package.
From a Love Triangle to a Love Square: Explore brand-new branching story paths centering around the arrival of the mysterious amnesiac, Rin. Dozens of new cutscenes and animated cinematics have been added to delve even deeper into Vincent's complicated present life, as well as his past.
Puzzling Puzzles – If You Desire: Looking for a challenge? Catherine: Full Body contains over 500 puzzles, over twice that of the original game! Additionally, 'Remix Mode' adds complex linked blocks to once-familiar levels, requiring new techniques and strategies to conquer them.
It's Not Cheating: Just looking to enjoy the story? 'Safety Mode' gives players the option to skip any puzzle, letting you sit back and enjoy Vincent's tragic tale
Check out the latest trailer for Catherin: Full Body below:
For those of you that are interested in the game, there are two versions available to pre-order, the Launch Edition for $59.99 which will include a collectible metal games case. Alternatively, for those looking for more of a collector's piece, the Heart's Desire Premium Edition will retail for $79.99 and comes with the following:
Sheep Plush: Be a part of the herd with a fluffy Sheep Plush, complete with Vincent's pink polka dot boxers! (Approximately 5″ in length)
Soundtrack CD: The perfect pairing for a full-bodied bottle of wine – this CD contains a compilation of musical tracks from Catherine: Full Body.
Hardcover Art Book: Lead Designer Shigenori Soejima's tantalizing illustrations fill this gorgeous hardcover art book.
Metal Case: Protect your deepest, darkest secrets in this metal game case featuring Rin, Catherine, and Katherine.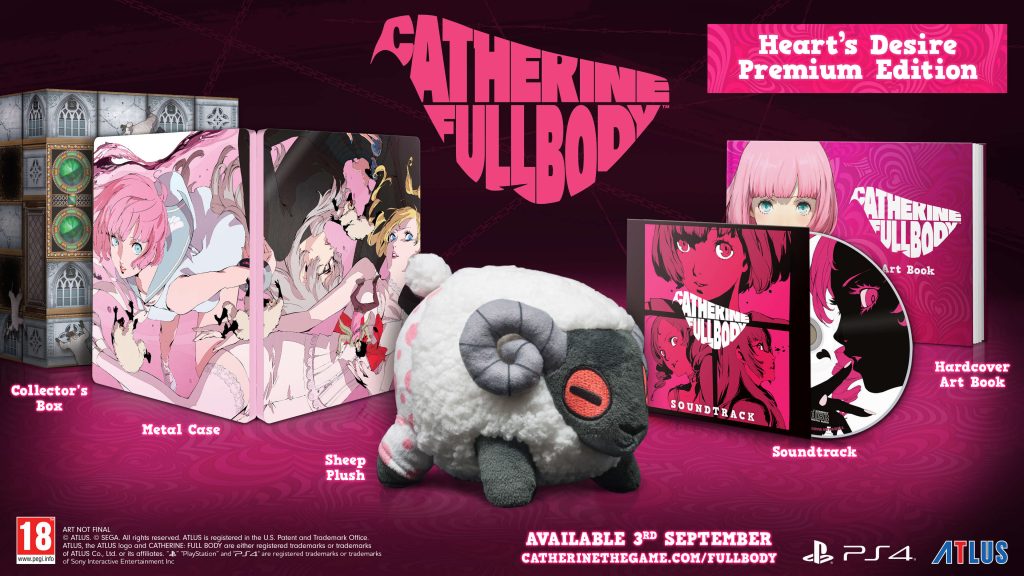 Catherine: Full Body releases on PS4 in the West on September 3, 2019.