What a beautiful device. This is a microphone clearly made for the LED-obsessed #PCMasterRace, although it does come with Mac and PS4 support. With Quadcast as the name it's evident HyperX are marketing this mic at streamers, it'll look great in-shot of any gaming channel content.
In fact, it seems HyperX had casters / streamers in mind with every step of the design, with a mount adapter included in the package, built-in anti-vibration shock mount and an internal pop filter. Of course you don't necessarily need to mount the mic onto an arm, as it comes with its own stand.
Audio quality is fantastic. We recorded a few samples on each mode and compared them in the exact same setup with the competition – the audio quality in our setup was clearly better on the Quadcast than it was with the leading competitor. However, the Quadcast is double the price of a Blue Snowball, so there's that to take into consideration. You can listen to this reviewer's appearance on a recent episode of the GodisaGeek podcast to see what it sounds like in practicality.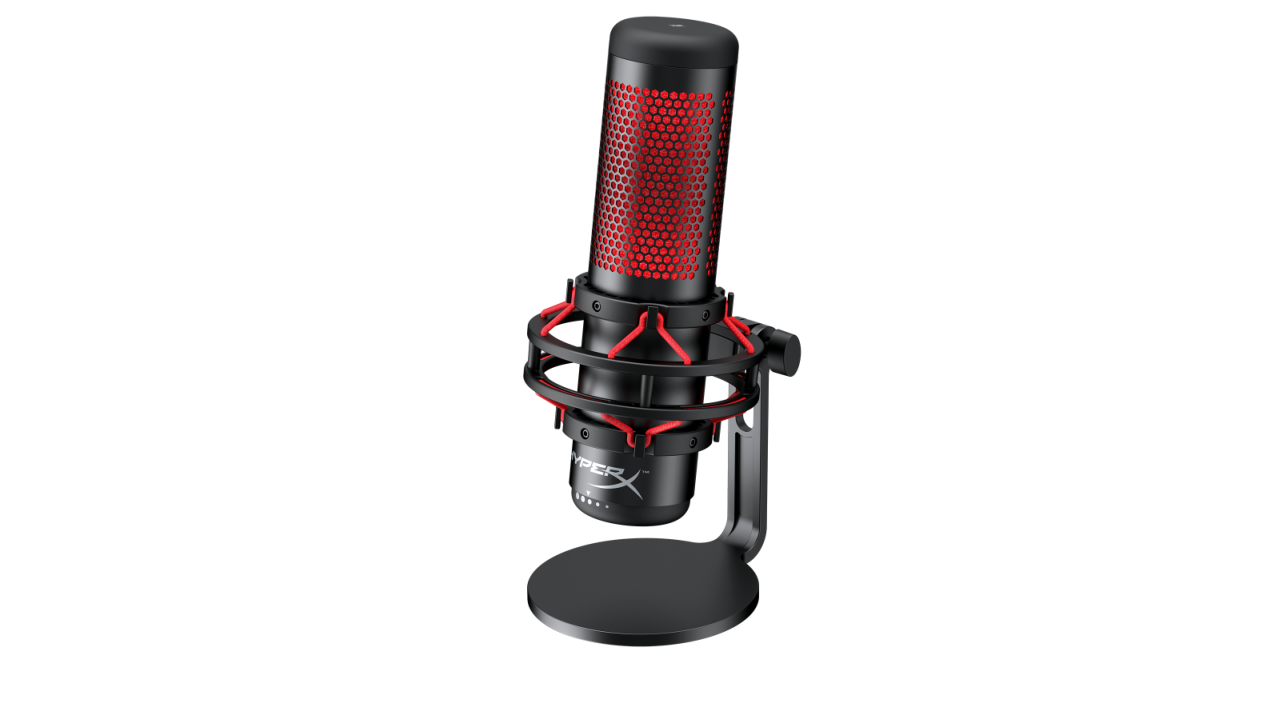 The four selectable polar patterns are stereo (for vocals / instrumentals), omnidirectional (multi-person podcasts / conference calls), cardoid (podcasts, streaming, voiceovers, instrumentals etc.) and bidirectional (face-to-face / one-on-one interviews). These should cover the primary needs of most games casters / streamers.
The 'tap-to-mute' feature doesn't even require a tap – hover your finger closely over the top of the mic and it'll mute the mic. This is a handy feature, but we did find that un-muting the mic caused a static background sound which was picked up in recording, so software muting may be preferable.
Being USB powered, the Quadcast mic will work with computers and the PlayStation 4, but not the Xbox One. There's an in-built headphone jack for live audio monitoring, too, so you can keep that mouth-breathing in check! There's a gain control hardware function in a fancy scrolling knob at the bottom of the mic, which is a handy tool for quickly turning the mic input up/down.
Overall we think the Quadcast from HyperX is much more than just a gaming mic. It's a fantastic piece of kit that anyone doing recordings on a computer should look into.