If you're in the market for a new gaming headset then is this the news for you. Turtle Beach, you know them, are releasing a new Wireless headset alongside a PC Audio Enhancer. Both of which will be shown at Gamescom.
The headset, named Elite Atlas Aero, features the Turtle Beach Control Studio with immersive Waves Nx audio technology. There's also the Waves PC-optimized version of Turtle Beach's Superhuman Hearing as well as the Waves Maxx suite of sound settings. Now I'll admit I'm not up on my audio lingo but that should excite the most ardent Turtle Beach fan. The battery should last up to 30 hours on a full charge so plenty of game time between charges.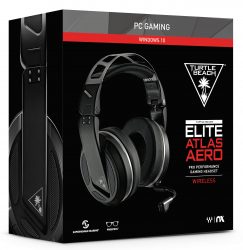 Now, onto the PC Audio Enhancer. Plug the Audio Enhancer into a free USB port, plug your headphones into the jack and, according to Turtle Beach, you'll get a customizable audio advantage with previously mentioned things like Waves Nx, Superhuman Hearing plus more.
The Audio Enhancer cable is just under 70 inches long which is long enough for everybody to be fair.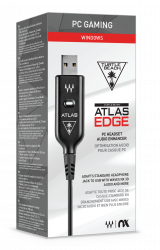 "The Aero delivers an overall incredible audio experience, and when it launches we believe it will be the best wireless PC gaming headset on the market…period," said Juergen Stark, CEO, Turtle Beach. "Aero is an innovative addition to our highly-acclaimed premium Elite line of headsets, as we're working with the GRAMMY® award-winning Waves team, integrating their Nx audio which takes surround sound to entirely new levels by giving gamers full 3D audio in every game they play."
Both the headset and Audio Enhancer are available for pre-order on the Turtle Beach website and will set you back $149.95 and $29.95 respectively.
We've also got an Elite Atlas Zero trailer for your viewing pleasure.