EA and PopCap have today confirmed the launch of their latest multiplayer shooter, Plants Vs. Zombies: Battle for Neighborville. The game is available to play early from today. Despite the full launch not coming until October 18, 2019, fans can access the game early by becoming a Founding Neighbour. This means buying the game now for the lower price of £24.99 and entitles you to the Standard version of the game, which will retail at £34.99 at launch.
As well as this discount, you will also be able to trial the games for six weeks ahead of that launch, and there is a full calendar of events to whet your appetite. Across the six weeks, you'll get to experience the breadth of offering the game has and try out all the modes in all their wacky glory. Furthermore, all of your progress will carry over to the Standard Edition upon the full launch on October 18, 2019. The digital-only Founder's Edition is available now, up until September 30, 2019. From this date up until launch Pre-orders for the Standard and Deluxe editions of the game will be available for those not wishing to partake in the Founder's Edition.
For more info on the roadmap of events ahead of launch, check out the image below: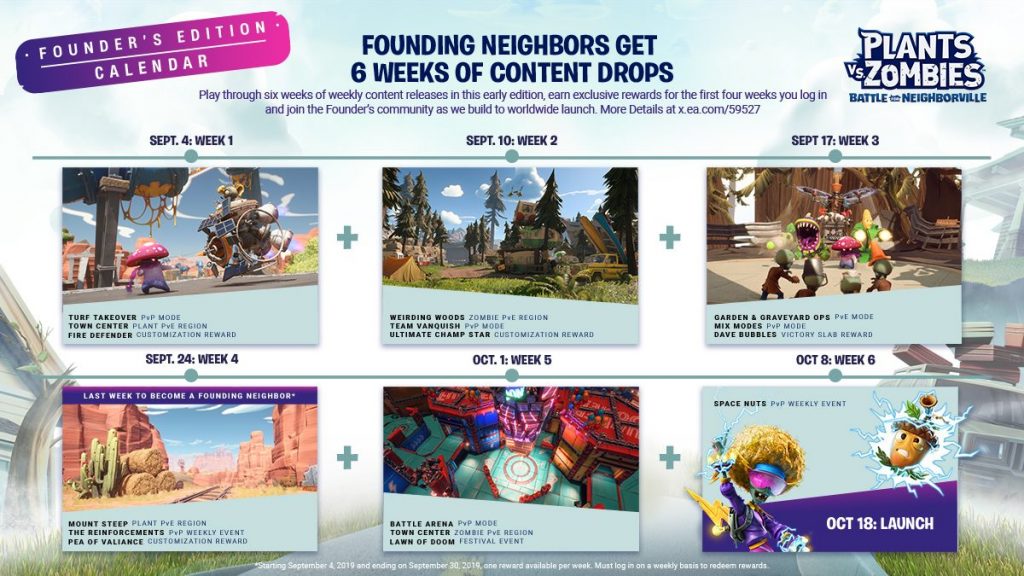 In terms of how this game builds on previous titles, there's plenty of new additions to get excited about. There are now 20 fully customisable character classes for you to choose from. New additions include the mysterious Night Cap, fiery Snapdragon and team players Oak and Acorn. For the zombies, there's 80s Action Hero, the dancing Electric Slide and team player Space Cadet. And, as before you can customise these characters to your heart's content.
There are six online multiplayer modes to enjoy this time around. Defend your territory in Turf Takeover or collect Crazy Orbs in Vanquish Confirmed. There's also Battle Arena mode for 4v4 elimination carnage.
To see more of what's on offer, check out the official trailer below:
Plants Vs. Zombies: Battle for Neighborville is available now in the digital-only Founder's Edition on PC, PS4 and Xbox One. The full launch is on October 18, 2019.