The Noz Stereo Gaming Headset from ROCCAT is somewhat unique among the recent batch of headsets to hit the market in that it somehow, inexplicably, fits my head. Now it's not that I have an abnormal shaped head, as far as I know, it's just that even if a headset is incredibly comfortable, it only takes one look in the mirror at how it sits on my wide, bald dome to resign me to playing in the dark when possible.
Ironically, the Noz is a relatively small headset, too. It does away with some of the more complicated bells and whistles of higher-priced models, limiting its flashier features to a removable boom mic, built-in volume control (something not always included in wired headsets), and high versatility. It works with consoles (including the Nintendo Switch), mobile phones and tablets, or a PC or laptop. The problem here is that it has zero adjustable elements beyond volume. In-game audio tends to sound OK, certainly good enough that I never questioned it, but the quality dips when you're just listening to music.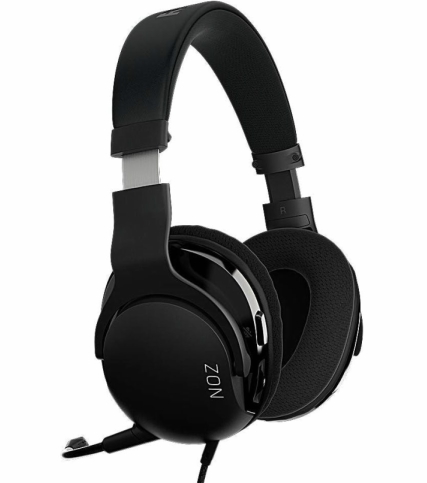 This in itself wouldn't be a major problem. If it weren't for the fact that, at around £60, there are cheaper alternatives that do a better job. The thing about the Noz is that it feels like a budget model, but with a mid-range price that feels a little steep. For example, the design is simple and functional, but the lightweight build and plain aesthetic gives the Noz the impression of a cheaper headset. That said, I did find the headset very comfortable, but that's an entirely subjective view and others may disagree.
One thing that feels like both a blessing and a curse is the length of the cable. With dual 35mm audio jacks you can connect to two devices at once should you need to, but the cable is incredibly long. Plugged into my PS4 controller made the whole thing feel a little cumbersome. It was less of an issue on the laptop where I could bundle the wire up a bit out of the way, but it was definitely a sticking point. It meant I wasn't comfortable just using it to listen to music on my phone while walking around the house even though the headset itself is comfy.
Ultimately, if the Noz was selling for £40 I'd be happier to recommend them. For the current price though, there are models that look nicer and offer more features like variable treble and bass, or that look and feel sturdier while remaining lightweight. As a gaming headset it's perfectly serviceable, and the removable mic is definitely a plus, but they may be a little rich considering the overall performance and appearance.