A good headset can really make the difference to a gaming experience. Anything that enhances the audio is a bonus, of course, but a really good pair of ear-warmers can enhance the atmosphere and feel of a game and take it to another level. For a long time my go-to headset was the Logitech G Pro X, recently supplanted by the LucidSound LS-50X. Despite the number I've reviewed and used over the years, I've never tried a set from RIG until now. And having now used the RIG 900 Max HX for a few weeks, I realise what I've been missing.
Right out of the gate I'll say that the 900 Max is incredibly comfortable. Perhaps the most comfortable headset I've had. There's a soft, padded headband that sits within the tough plastic one, and despite the size and shape, they're surprisingly lightweight. They sit in their charging stand on my desk between uses, the USB dongle nestled beneath, a compact little resting place that looks right at home in my setup. But in addition to the comfort, they're also very good-looking. They look sturdy, expensive, and classy, and sit nicely even on my misshapen dome.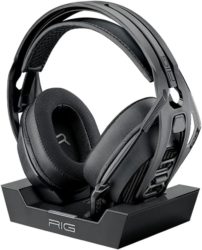 You can of course charge them directly with a wire if you want to, as well as connect them to a device via USB or 3mm jack. You will need to choose between PC and Xbox modes when using the dongle though, so be aware of that if you find they won't connect. To connect to your phone, Switch, Steamdeck, or tablet, you can proceed as usual. It's worth noting that you can download the RIG app on your phone and adjust various audio settings, which of course you can't do for handheld gaming devices.
As for the sound quality, the RIG 900 Max HX delivers a fantastic range of audio. While I did use them for music, I generally prefer smaller buds for that. If I'm wearing a headset it's because I'm gaming. Recently I've been playing the likes of Lords of the Fallen, Diablo 4, and Call of Duty Modern Warfare 3, and the 900 Max absolutely delivers where it counts. 40mm drivers ensure that the ting of every round, the crackle of every spell, the groan of every hidden monstrosity, feels visceral, and the surround is genuinely astoundingly good. When paired with Dolby Atmos, the headset has an intrinsic audio boost that you'll notice when switching between, say, a PC and your Switch.
I don't generally play online all that much, but for communication across various online services or, mostly, discord, the RIG 900 Max HX excels. You can adjust various inputs in the headset itself, such as the EQ presets and volume, but that's pretty standard nowadays. Oh and the mic folds up rather than detaches, which I prefer when it's as compact and hidden as this one.
Easy to set up, nice to look at, comfortable to wear and above all, fantastic to listen to, the RIG 900 Max HX has become my new go-to headset for gaming. It's an expensive headset, though, coming in at around £230 at the time of writing, but if you want a headset to that delivers superb quality and is built to last, you can't go wrong.
Positives
They look great
Permanent Dolby Atmos boost
Compact charging stand
If you want a headset to that delivers superb quality and is built to last, you can't go wrong with the RIG 900 Max HX.