Right out of the box the Speedlink Maxter 7.1 Surround Sound USB Gaming Headset (say that 10 times fast) looks impressive. The chunky red and black design has a sturdy appearance, the thick cord looks like you could chew on it for days, and volume and LED control box suggests hidden features you can play around with for days.
While my last assumption turned out not to be the case, the others were bang on the money. The Maxter headset is a beauty, surprisingly comfortable despite its size and comparative weight. 50mm drivers in the cups deliver a high quality audio experience, while the built-in rumble and omnidirectional feedback put you right in the thick of whatever game you're playing. I will say, though, the vibration feature might not be to everyone's satisfaction, so go in aware that it's one of this headset's more unique selling points.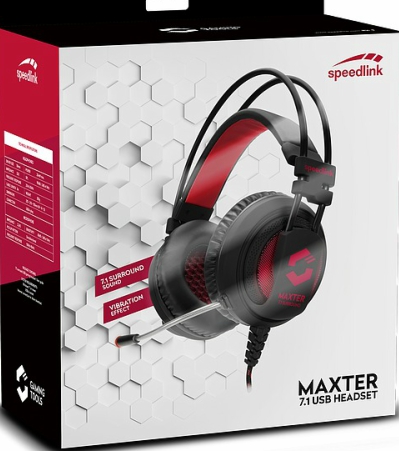 The USB connection does limit its use though. It works perfectly well with PS4, Xbox One or PC, but you won't be able to use it with the Nintendo Switch or your phone for casually listening to music. The 3m cord gives you plenty of free movement and will reach comfortably across most lounges, bedrooms or offices, although be aware: the sicker is heavy, and you'll definitely feel it when it's hanging loose.
One cool feature on the Maxter headset is the LED display in the back of the earcups and on the tip of the mic. If the mic is red, you're live, so you'll always know if you're broadcasting – which is handy because although you can adjust the mic, you can't remove it. The lights in the cups are less essential, and didn't do much but give my 7-year-old a reason to say "wow" he walked by me while I was using them. A button on the control box changes the colour or turns them off, and you've three hues to choose from in red, blue or green. Streamers will get some mileage from the pretty display, I'm sure, but if you're simply sitting in a room playing on your own it's a bit of a pointless extravagance.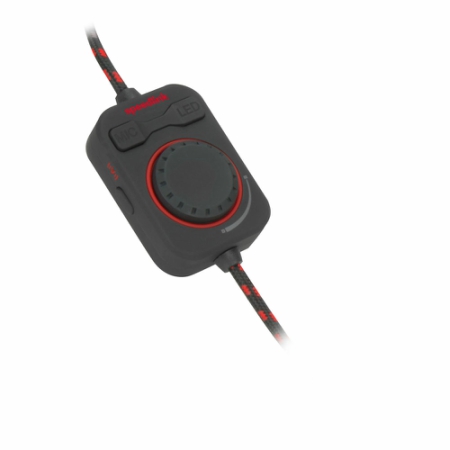 Although you can't fine tune the sound quality, the base delivery is excellent. I have no complaints on the mic quality, but I'm especially impressed with how crisp and clear the audio is through the Maxter headset. Considering these are selling for around £60 and therefore just short of being considered a budget model, they look and feel great and sound better than fine with most games, but especially shooters. Playing Gears of War 5 with the rumbling earcups and competent surround sound really elevated the experince.
A lack of tweakable features and a non-detachable mic are comfortably compensated for by impressive aesthetics, great sound quality and a well-made if slightly heavy design. Not bad at all for the pricepoint.