Developer Behaviour Interactive has revealed its post-launch roadmap for Meet Your Maker, while also giving a quick look at the first major content update, dubbed "Sector 1: Dreadshore".
You can see in the image below, but the release is obviously April 4th (as previously reported), while the first free deco pack ("Hellscape") will be out on April 18th. A Deco Pack includes 2 blocks, 2 props, 1 animated prop, and 8 decals. Then there's new modes and augments (which alter the basic behaviour of a trap or guard) coming as early as mid-April and throughout May. These will be unlockable with playtime, so again, free in terms of cash, but time is required.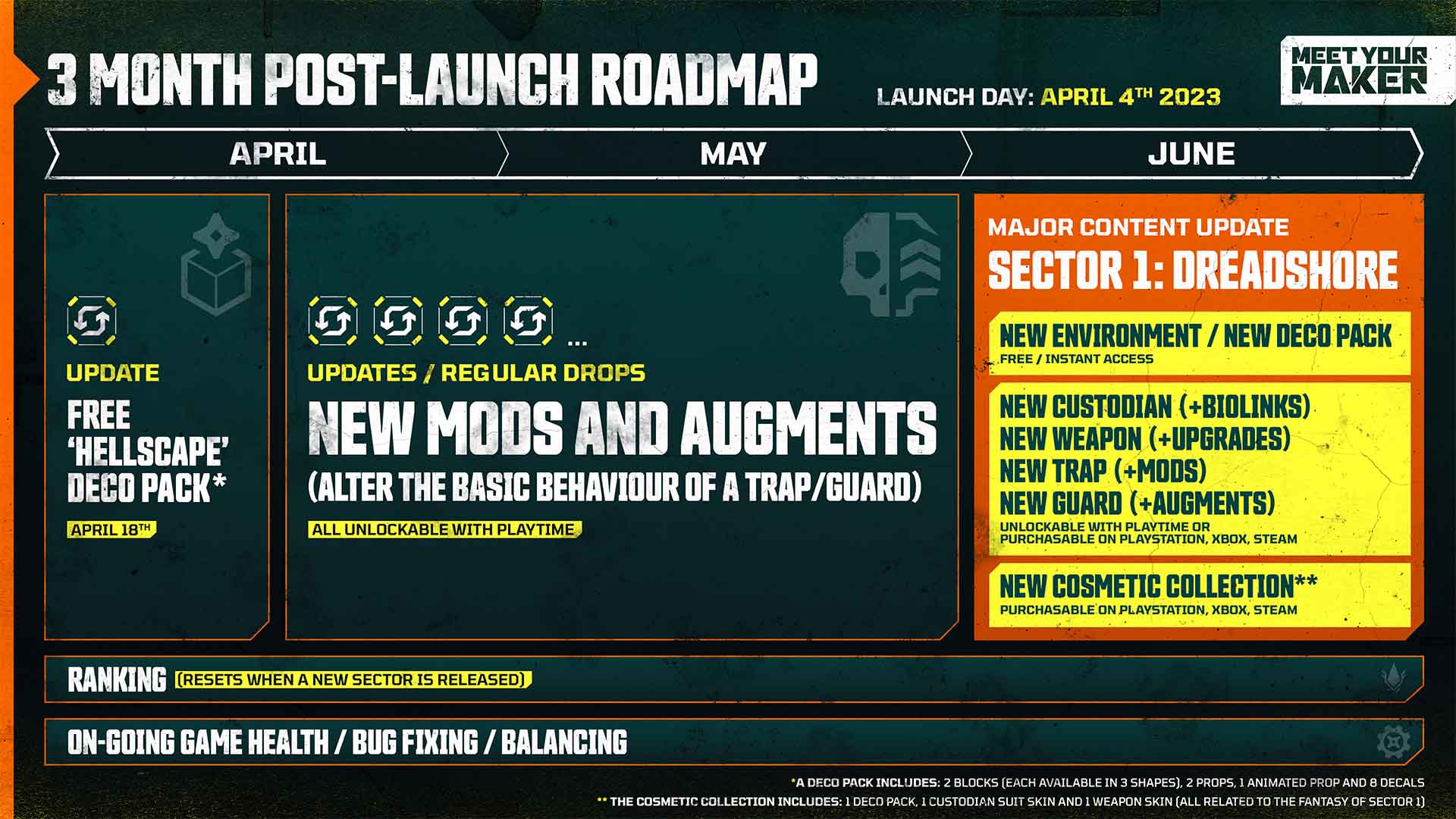 Then there's the first major update "Sector 1: Dreadshore", which is due in June. This will include a new environment and deco pack which is free and everyone will get instant access. There's a new cosmetic collection which you'll have to buy from the relevant marketplace (PlayStation, Xbox, PC via Steam), but there's also a load more goodies, too. New custodian (+ Biolinks), new weapon (and upgrades), a new trap (along with mods), and a new guard (plus augments) are all coming, and unlockable via playtime, or from the storefront.
If you thought the world of Meet Your Maker was confined to the deserts of the Red Sands, think again. Arriving in late June 2023, Meet Your Maker will take players beyond the desert with our first major content update, Sector 1: Dreadshore.

For starters, a new environment and a new deco pack will be instantly available for free to all players as soon as the update is released. The environment introduces a new region of Meet Your Maker post-apocalyptic world where players will be able to build using a new Sector-themed set of building blocks designed to create a completely different style of Outpost.
"While Meet Your Maker will launch with a full arsenal of traps, guards, weapons, Custodians, and more already included for players to discover and master, we have a strong post-launch plan that will be delivering content designed to constantly expand the players' toolbox," shares Ash Pannell, Creative Director of Meet Your Maker. "Keeping things fresh, ever-changing, and always unexpected is our mission when it comes to adding content to Meet Your Maker".
Meet Your Maker is coming to PlayStation, Xbox, and PC on April 4th.