Behaviour Interactive has announced that Meet Your Maker will be one of the leading PlayStation Plus games for April, on both PS4 and PS5. The developer is mostly known for Dead by Daylight, but also the DbD dating sim, Hooked on You, and even the multiplayer title, Flippin Misfits.
"We couldn't be more thrilled to launch Meet Your Maker as part of the PlayStation Plus Monthly Games lineup", says Ash Pannell, Creative Director of Meet Your Maker. "Meet Your Maker is a game about community and creativity. We can't wait to see PlayStation players start raiding each other's Outposts and all the incredible creations this dedicated and highly-engaged community will come up with".
There will be two version of the game at launch, with April 4th seeing the Steam, PS4, PS5, Xbox One, and Xbox Series S|X released. There will be a standard edition, and a deluxe edition at $10 more, which includes "the base game and the Scorched Necropolis Collection that expands their post-apocalyptic toolbox with a full set of ancient-Egyptian-inspired cosmetics".
Meet Your Maker is a post-apocalyptic first-person building-and-raiding game where every level is designed by players for players. ​

In this dying world, players take on the role of the Custodian, servant to the Chimera: a living experiment created as a last resort to save life on Earth. They'll enter a tactical battle for the planet's most coveted resource and the key to the Chimera's evolution: pure Genetic Material (GenMat). Players will need to build and fortify maze-like Outposts that extract and guard the precious GenMat, or infiltrate and outsmart other players' creations to gather more. ​
"We are truly thrilled to unveil our first Collection that will allow Meet Your Maker players to build and raid in deadly new directions. Players can use these cosmetics to create distinct post-apocalyptic pyramids and temples, or gear up with golden weaponry and Custodian Suits to take on other players' creations," shared Ash Pannell, Creative Director at Behaviour Interactive. ​ ​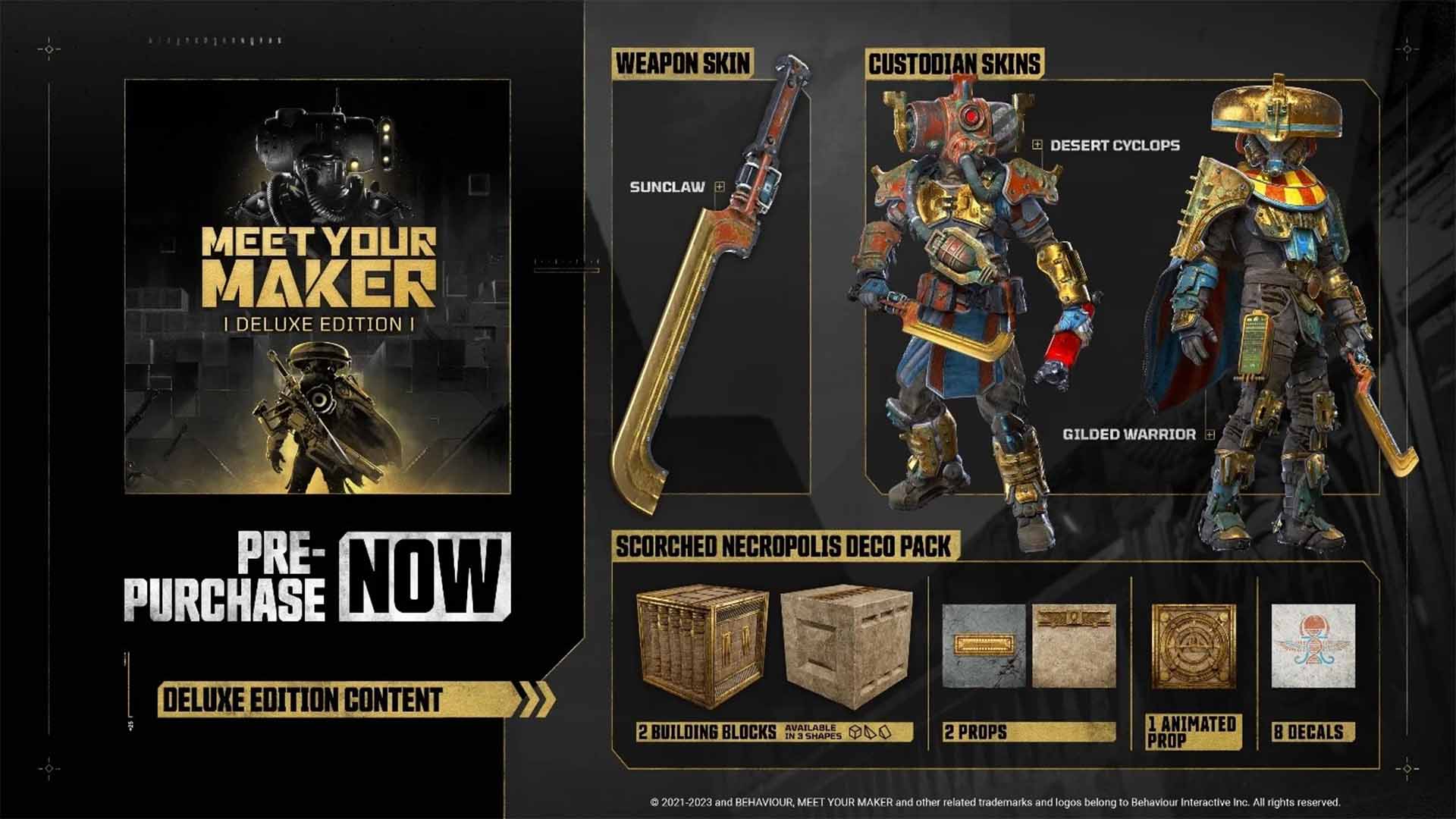 Here's the deluxe edition contents in full, and by the way, if you fancy it, you can buy this pack later separately but it'll cost a little more at $14.99.
Meet Your Maker Base Game ​ ​
Scorched Necropolis Deco Pack ​
2 Blocks (available in 3 shapes each): Limestone, Golden Age
3 Props: Winged Molding, Temple Light, Spinning Enigma ​ ​
8 Decals ​ ​ ​
1 Scorched Necropolis Weapon Skin ​
Sunclaw
2 Scorched Necropolis Custodian Skins ​
Desert Cyclops, Gilded Warrior ​ ​
Meet Your Maker is coming to PC, PS4, PS5, Xbox One, and Xbox Series S|X on April 4th.