EA Sports has unveiled Madden 24, confirming Josh Allen as the first ever Buffalo Bills player to be on the cover of a Madden game, while also announcing the release date, pre-order details, and features for the latest generation of consoles.
First up, Madden 24 will be released on August 18th, and it'll have cross-play and feature parity between PlayStation 5, Xbox Series S|X, and PC versions, meaning friends can play together whichever version they buy.. EA says there are "dozens" of improvements that have been made since Madden 23 last year, but is also confirming the return of SuperStar Mode and minigames, which it says will "deliver fun new ways to play and learn the game".
As usual, a new EA Sports game means a new feature, or a major update, and it seems that FieldSENSE is getting some attention this year. "We set a new foundation for football gameplay with the introduction of FieldSENSE last year, which was one of the best-selling years in Madden NFL franchise history, and we're going even deeper in the areas our fans want most in Madden NFL 24," said Mike Mahar, Senior Producer, Madden NFL. "We've added more ways to play with mini-games and Superstar, more realism through FieldSENSE, deeper immersion with dozens of foundational football improvements and the introduction of SAPIEN Technology – all of which bring the game closer to what fans see from the NFL".
"As a fan of Madden NFL since childhood, I'm honoured to be the first Buffalo Bills player on the cover, and I wouldn't have gotten here without the support of my team and Bills Mafia," said Josh Allen. "Superstar and mini-games are back in Madden, and I'm really excited for fans to see how the experiences have evolved".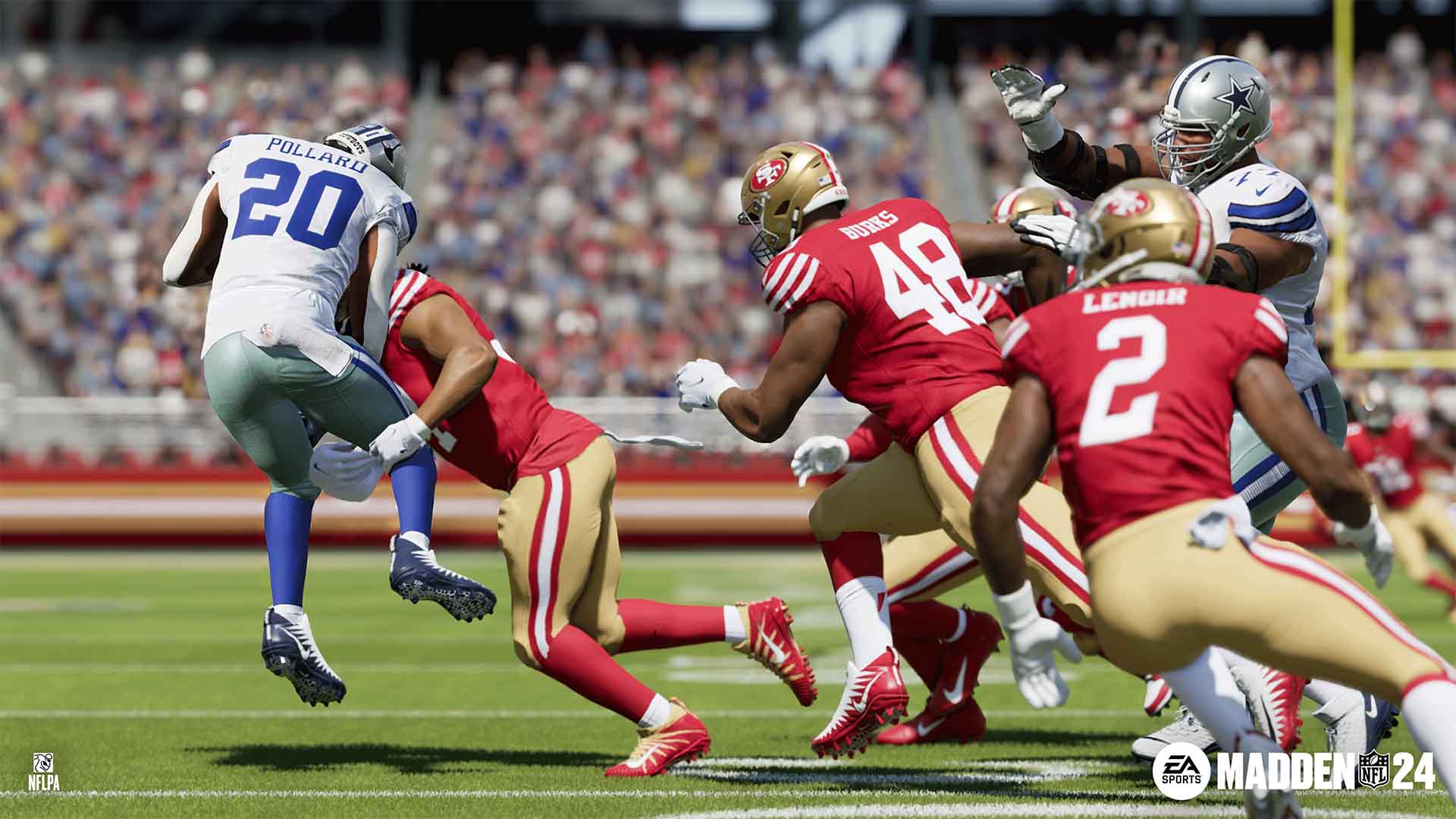 Here's the list of major features that EA is addressing for Madden 24:
Hit Everything: New contested catch tackles provide more control to play the receiver and new tackle types like: Wrap tackles, Scoop tackles and all-new Hit-Stick animations add personality and more variety on defense. Dynamic branching tech now expands to blocking as well.
Skill Based Passing: Skill Based Passing makes throwing and catching feel more fluid. An overhauled catching system ensures that receivers consistently maintain their momentum when catching the ball. It feels better than ever to hit a receiver in stride, giving you more control to get loose and get up-field after the catch. A variety of new passing and catching animations capture the authenticity that players expect – dive catches, no-look passes and some game-changing moments never before seen in Madden.
Foundational Football: Enhancements across blocking, ball carrier pathfinding, quarterback decision making and defensive back behaviors not only provide confidence your AI teammates will execute your gameplan the way you intend, but also deliver an authentic challenge. An all-new post-play engine brings the emotion of an NFL game to life through more realistic reactions and more emotive celebrations and frustrations.
Superstar Mode: Superstar returns with modernized versions of beloved experiences like your journey through the NFL Combine and Road To The Draft. New additions like 3v3 Superstar Showdown give fans the ability to live their NFL fantasy with friends.
Mini-Games: Test your skills with dozens of new mini-games, including moving obstacles and destructible targets in Franchise training camp or weekly strategy; every week in Superstar Mode; and playable from the main menu.
Franchise: Added depth in one of the most popular Madden NFL modes addresses top community requests like contract restructuring, trade improvements and deeper customization to name a few. Plus, mini-games are back with training camp and weekly training.
If you pre-order the game, you can get three days early access to play it, 4600 Madden Points, and dual entitlement to be able to upgrade from last generation consoles to the current ones. If you pre-order the deluxe edition by July 22nd, you'll also get a player item for Ultimate Team.
EA Sports Madden 24 will be released on August 18th.