EA Sports has revealed a bunch of key information regarding the return of its popular MMA series with UFC 5, and we've got all the important information you need. From cover stars, and gameplay, to future DLC, we've put everything we know about UFC 5 in one article, and it's safe to say there's a lot for fans to get excited about.
When does UFC 5 release?
UFC 5 will be releasing on October 27th on PlayStation 5 and Xbox Series X|S.
What editions are there?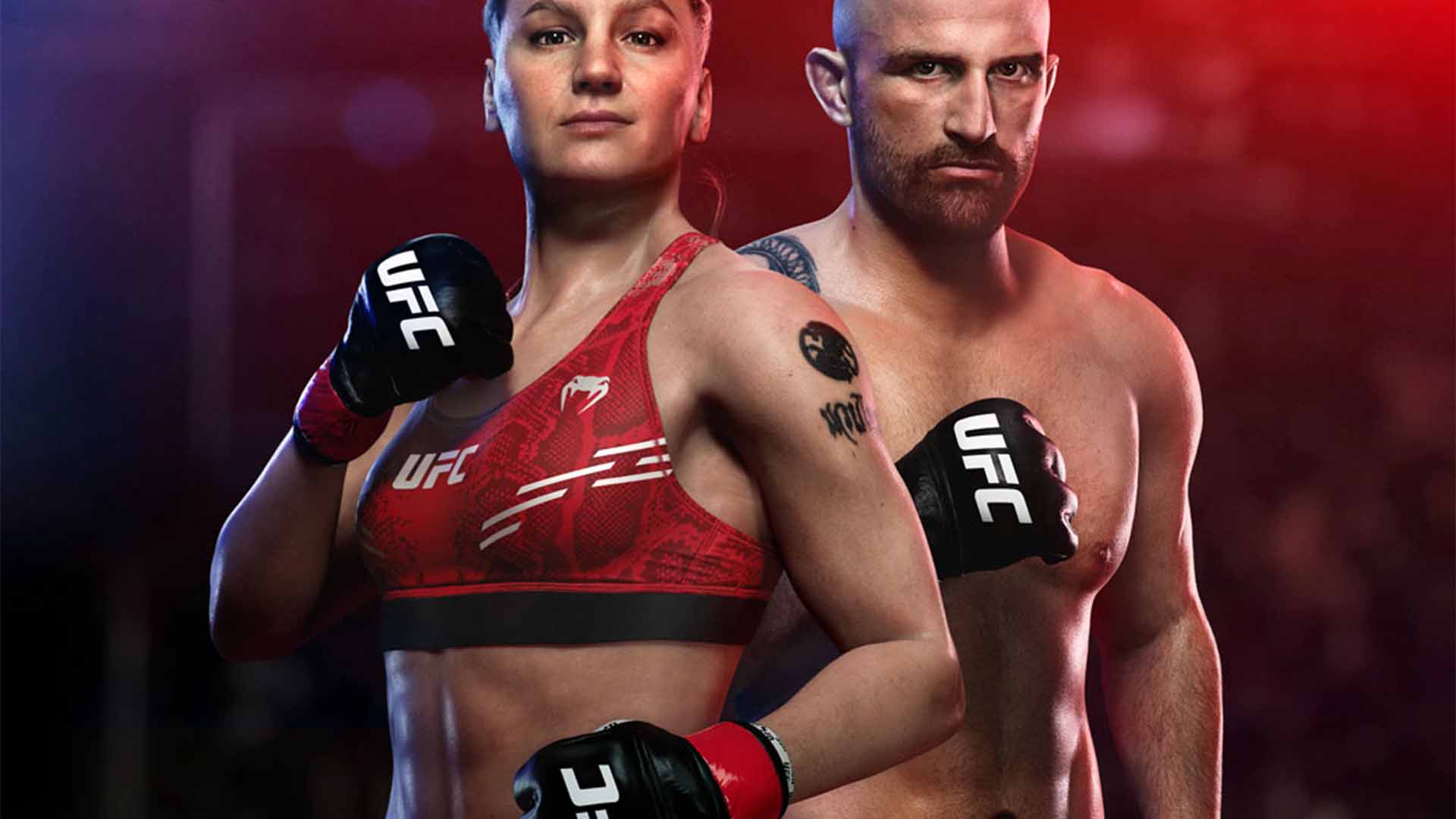 Valentina Schevchenko and Alexander Volkanovski will be the cover stars for the Standard Edition, while the digital Deluxe Edition will feature Israel Adesanya. Pre-order bonuses will include Muhammed Ali, Mike Tyson, and Fedor Emilianenko.
Looking good
UFC 5 has a clear focus on those important milliseconds of combat, as fans of the sport know one swift punch or kick can change the outcome of a fight. It's set to feature 60fps game sim and rendering to improve the accuracy of gameplay results, with new enhanced slow-motion replays. It will also be the first time one of EA Sports' UFC titles has been built within the Frostbite engine, meaning characters are highly detailed and the environments and presentation is the best it's ever been. We saw various footage of walk-outs and fighter entrances, and it's safe to say the improvements are obvious from the get-go.
The Frostbite engine has also allowed UFC 5 to feature incredible fighter likeness. These improvements include advanced dual-lobe skin and eye-shading, strand-based hair, new facial animation technology, and advanced body tech to offer unparalleled likeness. Buzzwords aside, it's obvious in the footage, with all fighters on show looking just like their real-life counterparts. These visual upgrades play into fighter damage as well, with specific strikes putting focus on where the damage has been done.
Damage advancements
Cuts and bruises swell realistically, and can affect how your fighter performs, and damages to limbs can affect movement and how impactful your strikes become, altering gameplay for both the player and the opponent. For example, a broken nose will affect your stamina, and impaired vision will make you more vulnerable. It's impressive how the injuries advance throughout fights, and it puts more emphasis on when to land an important strike, and when to pick the perfect moment to take a fighter to the mat for a submission attempt.
There're 64,000 possible combinations of damage, which quite frankly, is amazing. With how damage impacts fights, doctors can now be called into the action who'll decide whether to stop the fight or not. It starts a cutscene where you'll see the frustration on fighter's faces, and the fans will start to boo if the decision to end the fight is made.
New replays, strikes, and submission system
As we touched upon earlier, slow-motion replays are phenomenal. They're more cinematic, making the most of the improved lighting and sound, as blood trails flow through the air and hit the camera lens, as well as fighters falling in a particular way depending on how they were struck. UFC 5 is the first EA Sports title to be rated M for mature, and it's clear to see why. These knockouts are brutal, and the level of detail is staggering.
UFC 5 features a ton of new strike animations, such as ground and pound elbows on the mat, new calf kicks, and new spinning strikes. Submissions have been streamlined to make them more intense and faster. They still feature transitions, but it's been made to feel less daunting for those like me who hated the pressure of success on the mat. Essentially, minigames have been removed to allow players to focus on the entire fight and enjoy the seamless transitions UFC 5 will feature.
Career mode improvements and Fight Week
The Career mode sees the return on Coach Davis who'll guide you through your career, featuring better training camps and new cinematics. The introduction of The Performance Institute will make training more enjoyable, and new cinematics featuring your fighter are going to add variety as you progress to become the greatest of all time.
The Performance Institute offers a new onboarding experience that focuses on improving striking, grappling, health, damage, and stamina. You'll get to meet various fighters like Valentina Schevchenko, who'll help you improve your core stats. One of the best announcements was how training camps have more focus on variety, but how you only need to play them through until you're happy with the result, then simming future ones at the highest grade you achieved.
As well as playing a career alone, there's also a new online career mode where it is purely created fighter vs created fighter. The mode is limited to four divisions with different created fighters in each division, showcasing plenty of character customisation and vanity items to unlock. While there are similarities to ranked from previous UFC titles, Fighter Evolution provides points by fighting, where you can invest them to improve your fighter, max them out, then push for a prestige ranking.
When it comes to the real sport, Fight Week delivers new modes to connect players with real UFC cards. Daily Fight Week Contracts allows players to fight opponents with certain pre-sets to allow players to earn rewards, getting gradually tougher as the week goes on. Contracts will also be themed based on upcoming events. Fight Picks returns to allow you to earn rewards for guessing how actual cards turn out, who wins, and in what manner. Another new feature for Fight Week is Alter Egos, where you can unlock different versions of fighters, such as Jon Jones' debut and Volkanovski's rugby career.