Behaviour Interactive has released a roadmap for Meet Your Maker that details lots of content is coming between now and December.
First up for Meet Your Maker is the September 26th launch of Sector: Shattered Peak. Behaviour explains that this "will introduce players to the chilling fear and brutal weather conditions of the Arctic wasteland", adding that "We'll also be closing 2023 with another new Sector, one that takes Meet Your Maker down an unexpected visual path, temporarily referred to as codename: Acid. With these new Sectors, players can not only expect new environments, but also deadly new Building and Raiding tools for even more destruction and carnage".
Take a look at the roadmap, below: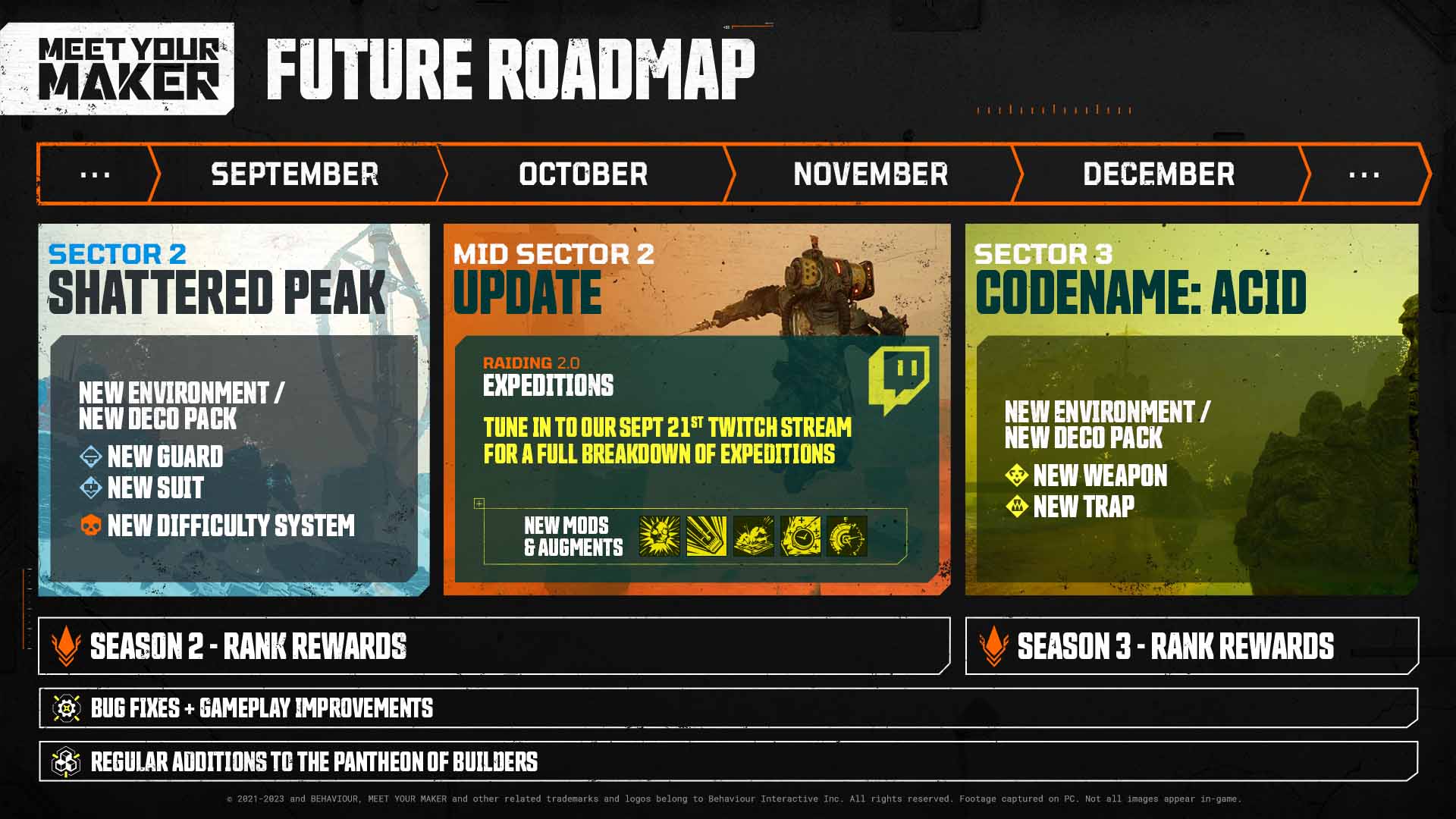 After the September Sector 2 release, then, will be "Raiding 2.0 — Expeditions", in October, which Behaviour explains "will offer a brand-new way to engage with the game's Raiding experience, claim amazing rewards, and may even change how players approach their next Outpost". The developer also added that fans should "stay tuned for a full breakdown of the new mode in an upcoming livestream on September 21st at 10 AM PT / 1 PM ET / 6 PM BST".
We recently spoke to Behaviour Interactive's CEO and Executive Producer Rémi Racine and Executive Vice President Wayne Meazza, and asked them about the game, Meazza said that "Fundamentally we are incredibly happy with the game, it's a really awesome game. And I think if you look at the critic scores and the user reviews, it's not us saying it, it's the players saying it. And we're continuing to add major updates as you just mentioned, we continue to support that title".
In our review of Meet Your Maker, Mick said that " knowing that you're potentially ruining someone's day at any given moment, whether getting away Scot-free or receiving a rating of "Brutal" or "Ingenious", is an intoxicating feeling. Combined with an interesting, deep, and compelling progress system and some very competent FPS-style platforming gameplay, this marks Meet Your Maker out as one to keep an eye on going forward".
Meet Your Maker is out now for PC, Xbox, and PlayStation.