Bandai Namco has released details of the upcoming October closed beta test for Tekken 8, so fans can get an early taster of the game while stress testing the servers.
The Tekken 8 beta will take place from October 20th and will only be available on PlayStation 5, Xbox Series S|X, and PC. You can register for the closed beta test right now, at this link.
The closed beta will have 19 characters in it ("Jin, Kazuya, Jun, Paul, Law, King, Lars, Jack-8, Xiaoyu, Nina, Leroy, Lili, Asuka, Hwoarang, Bryan, Claudio are coming back to this beta test, while Azucena, Raven, and the newly announced Feng will join the playable roster"), and there will be plenty of stages to try the fighting out in such as " Urban Square (Evening), Yakushima, Rebel Hangar, Sanctum, Arena, and Ortiz Farm, a new stage that has been added since the Closed Network Test".
The Tekken 8 CBT will let players test online head-to-head competitive play with cross-platform matching, raising the level of competition by letting them pair with others regardless of where they play.

They will also be able to test the Tekken Fight Lounge, an immersive lobby where players can interact with one another and access new features and game modes. In the lounge, players can create custom Avatars, communicate with other players via chat and emotes, set up matchmaking, and experience the deep customisation and variety of game modes via four distinct areas called Battle Area, Customisation Shop, Tekken Dojo, and Beach Area.

The lounge will also feature the return of Tekken Ball, the beloved mini game that first appeared in TEKKEN 3 where epic battles are "fought" on a beach volleyball court. The Tekken 8 CBT will let testers try out features in the Battle Area and Customisation Shop, while Tekken Ball will not be available. More features for the "Tekken Fight Lounge" will be announced soon.
Tekken 8  Beta test dates and details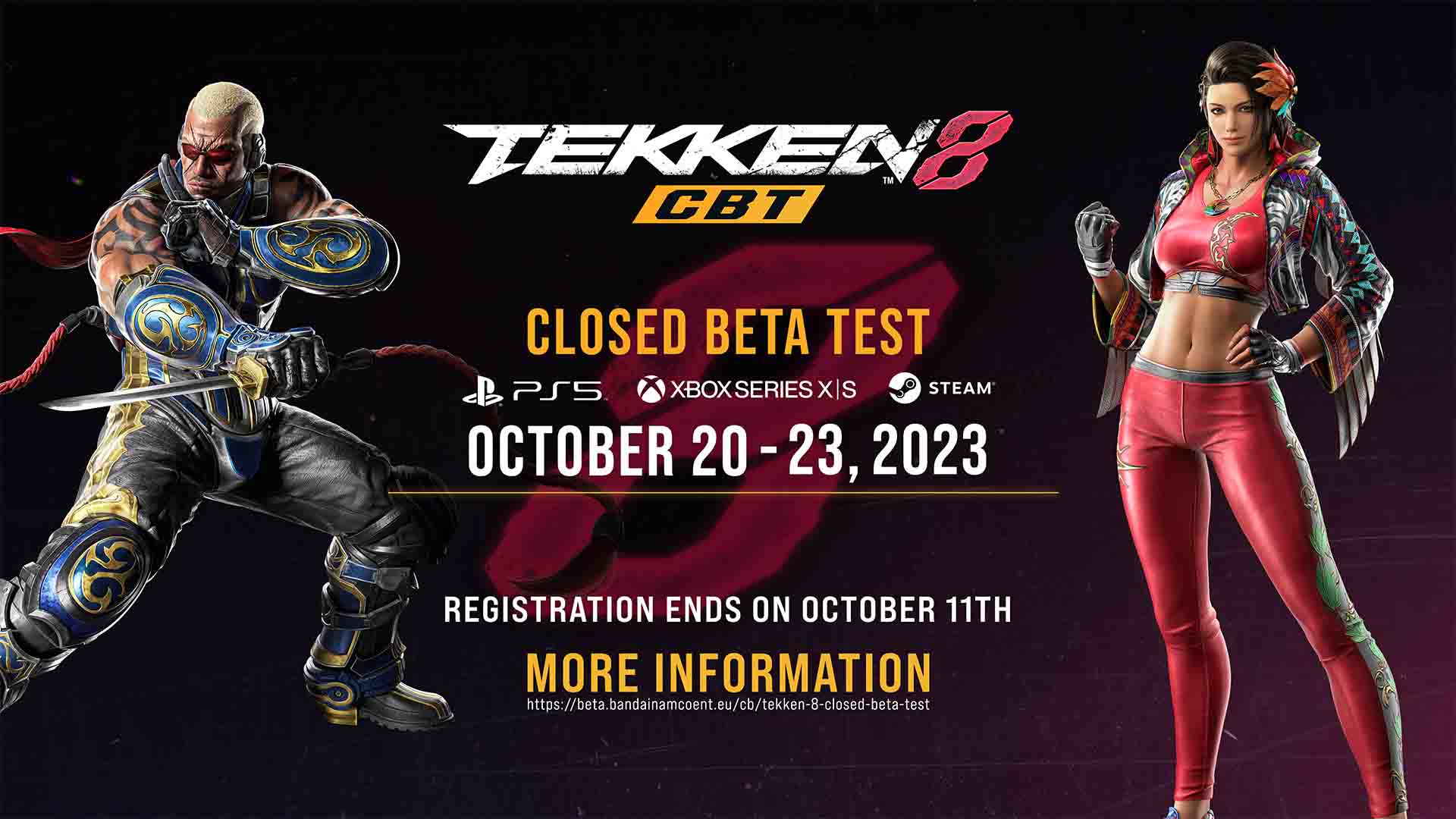 11th October at 08:00 a.m. BST – Registration ends.
18th October at 08:00 a.m. BST – Selected testers will be notified and provided codes to redeem.
20th October at 09:00 a.m. BST – Closed Beta Testing starts.
21st October from 09:00 a.m. to 12:00 p.m. BST – Closed Beta Test downtime for server maintenance.
23rd October at 09:00 a.m. BST – Closed Beta Testing ends.
You won't need Xbox Live Gold of PlayStation Plus to take part in this beta, and people who played in the June 2023 closed network tests will be able to play this new beta test after updating the client for the game.