CI Games and Hexworks has announced that Lords of the Fallen is getting a free update today (November 21st), adding a new questline. The quest celebrates an NPC that the community really likes, and comes with extensive balance adjustments, as well as some major changes regarding difficulty, too, following user feedback.
Hexworks explains that "The Way of the Bucket" is new content featuring "the eponymous community favourite NPC, a new corresponding weapon and armour set, six new spells, and a bucket load of performance, stability, and optimisation enhancements. The release comes just weeks after the positively received "The Pumpkin Patch", the first post-launch content drop for Lords of the Fallen".
In terms of difficulty for Lords of the Fallen, the developer says that "enemy density has been extensively re-proportioned throughout the game", with some areas getting 30% less enemies. The accuracy of ranged enemies has also been reduced over long distance, and enemy leashing has been improved so you won't be chased as far by foes. The team says it's also completed a "complete overhaul" to all bosses, with increased AI, and says that "many bosses now have additional and more aggressive movesets; plus hit points and damage outputs have been rebalanced".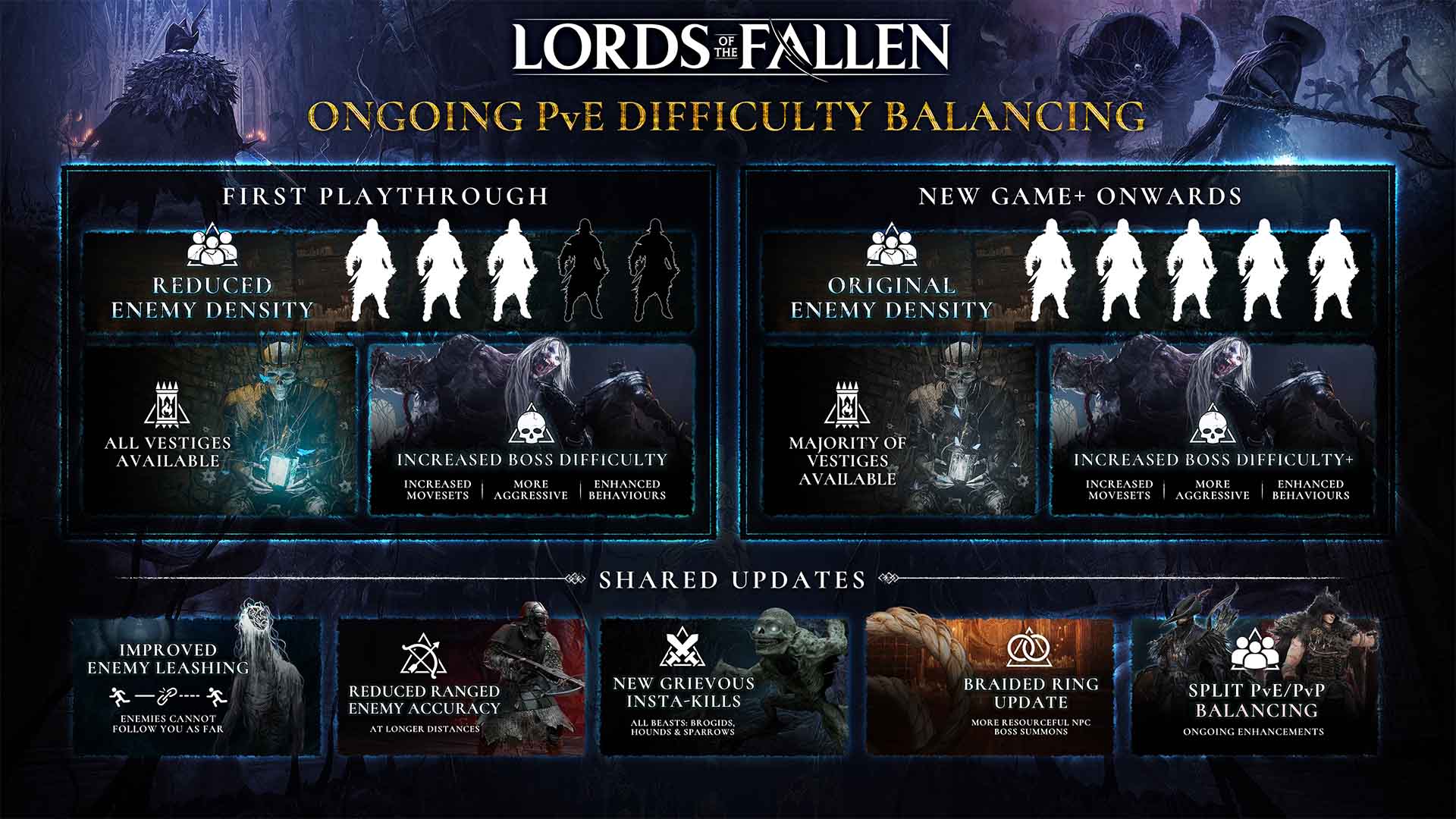 Saul Gascon, Executive Producer on Lords of the Fallen said: "Thank you to our dedicated community for your ongoing passion and support while we deliver our packed post-launch content roadmap. Your incredibly positive response to its recent reveal is extremely motivating," adding "Alongside the significant progress already made to performance and stability, we're confident the latest difficulty balancing updates truly nail the sweet spot between challenge and enjoyability".
Marek Tyminski, CEO, CI Games explained: "It's been a little over a month since the Lords of the Fallen's successful launch, which – considering the tempestuous year it's been for the wider games industry – is an achievement we are proud of. This year, more than most, has seen the frequent release of extremely high-quality games launched against a backdrop of global macroeconomic challenges that means gamers are having to be much more selective about their purchases than in recent years".
Tyminski continued: "Furthermore, as cutting-edge technology continues to outpace older hardware, developers are having to be increasingly diligent when it comes to optimisation across an ever-broader range of devices – something many titles have struggled with throughout 2023. We are proud of the great strides we have already made with Lords of the Fallen, and will continue to work hard to further enhance the game".
If you haven't grabbed the game yet, it's 30% off for the Black Friday sales. That 30% is for the PS5 and Xbox Series S|X version, and there are various discounts depending if you're getting the standard or deluxe edition of the game.