Release Date
September 27, 2016.
So far, we've seen some stunning environments in Hitman, all with opportunities galore and plenty of chances to sneak past the unsuspecting public. Sure, there've been times when you've scraped by mere seconds away from being discovered or you've made the occasional sloppy mistake, but you've managed – just. Each of the locations have offered pockets of seclusion where you can wait until everything blows over; the thing with Colorado is, you're going to have to be at the top of your game, letting any of the silly errors you've made to date be thrown to the wayside, because things are harder and people are smarter and less forgiving.
The fifth entry in 2016's Hitman takes place on a Colorado farm, which militia have commandeered as a training camp. It's the first chapter where you have not two but four targets, and there is no respite here; you are pushed to the very limit, using everything you've learnt up until now to get the job done. There are soldiers all over the farm, normally in pairs and always carrying automatic rifles. It's much harder than before, and you are constantly looking over your shoulder in case any one of the militia spots even the tiniest of mistakes.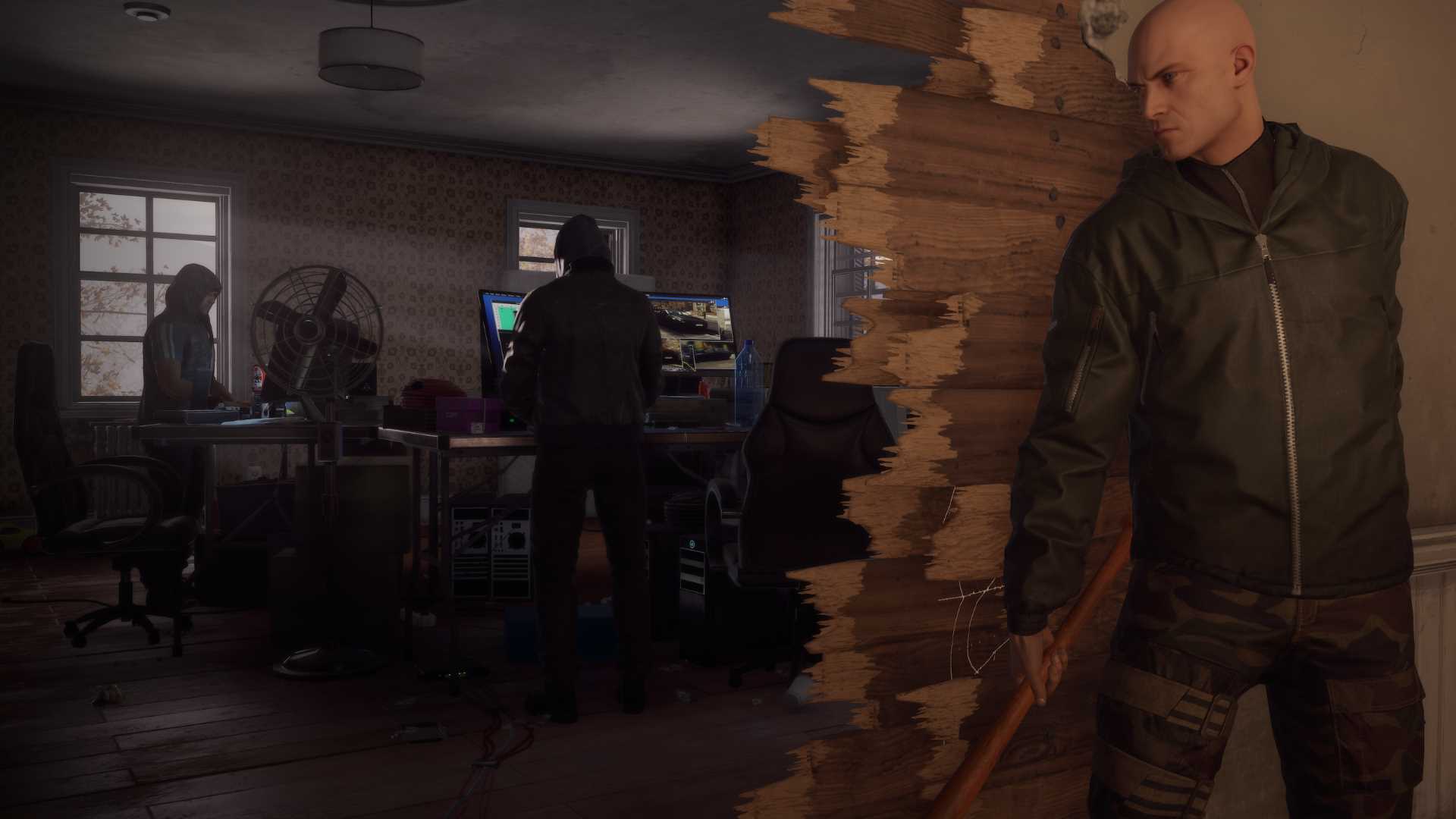 Patience is a virtue, and if you're not prepared to wait for your hit, combat is inevitable. In Bangkok, I spent a lot of time waiting patiently to escape the hotel after the last assassination, but I was trying to escape past suspicious roadies and hotel workers. If you give up your cover in Colorado, there's a wave of soldiers with powerful weaponry ready to gun you down without hesitation. Everywhere you turn there's a smarter soldier who'll be suspicious of you regardless what uniform you're wearing, so don't expect to kill each target without one hell of a challenge.
It may not be as gorgeous as Sapienza or Bangkok, but the compound is excellent in design; run down barns, a grand farmhouse filled with special tech, a filthy swamp and plenty of wooden and metal equipment dumped in the long, unkempt grass makes Colorado a very different animal than before.
I found the four targets tricky to get alone, but after a while, everything you've learned up until this point starts to kick in. Ezra Berg, one of the people you're trying to kill, wears a weird Michael Myers-type mask and he'll spend a lot of time in a garage filled with chemicals and gas canisters. I distracted the guard waiting by one of its windows by throwing a brick at a fence so he'd go away and investigate. As he left his post, I shut down the power so the guard inside the garage went to turn it back on. With only Ezra inside, I moved in, strangled him to death and threw him in the cabinet that stood inside. Nobody noticed a thing, and the whole assassination went without a hitch.
At first, you may not find a lot of different equipment to use. There're still wrenches and screwdrivers scattered around which you can use to pierce oil drums or tamper with electrical equipment, but until you infiltrate the bigger, more secure areas items aren't as varied. I found some cool stuff in the farmhouse, such as an exploding watch and a baseball, and there's a 3D printer upstairs which you get to use as part of one of the objectives.
In the penultimate mission, Hitman offers a different kind of challenge from what you've experienced so far. There's military everywhere, and your stealth needs to be up to scratch because these targets are constantly surrounded by their guards. It's not as pretty, but it's still meticulously designed, offering the same level of detail and intelligent NPCs you've come to appreciate. The story has started to pick up, and when you come across a web of clues and information at the end regarding the bigger picture, you're finally left with a genuine interest in what will happen to Agent 47 and the International Contract Agency. I think Hitman is one of the best games of the year, and Colorado only adds to its marvel, but it's a shame the load times are still an issue.
Positives
Four targets that are equally challenging to take down
Same great gameplay
Story is finally picking up
Negatives
A lot of waiting around
Load times still an issue
The targets are harder to kill and the environment isn't as pretty as previous missions, but Colorado offers excellent gameplay and tons of replayability.