Milestone are kings of the road in every sense, and while there's a steep learning curve for new players wanting to become a seasoned racer, MotoGP 23 hits the sweet spots when it comes to moment-to-moment gameplay. Perhaps the standout mode this year is the Career, putting you to task against a wealth of other riders through an official season regardless of what class you start with. New implementations such as the social media aspect adds a personal element to your season, and when the decisions you make online start to impact you on the track, trying to finish on the podium becomes a whole new challenge.
In our preview, we acknowledged that MotoGP 23 is going to be a tough cookie to crack for new players. While this is still the case, there're various options known as Neural Aids that can help you drastically, if a little too much. On the most easiest setting, all you have to do is use basic turning to remain on the track. Acceleration, breaking, and controlling the bike is practically done by the game itself, meaning you have little control over the bike. It's a good feature if you're coming in fresh, but the stabilisers feel well and truly stuck to you without any real wiggle room to move.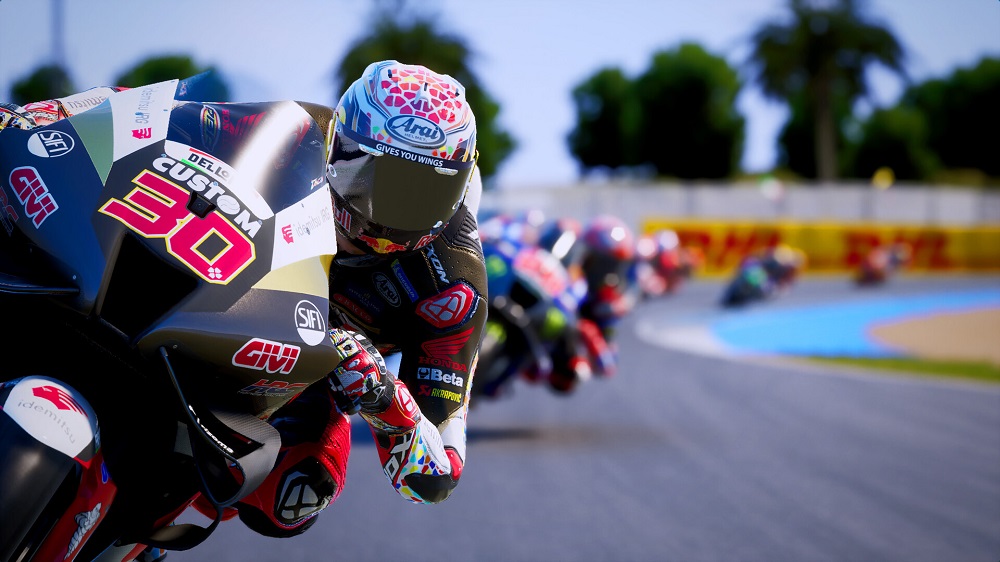 If you feel too constricted this way, the next setting is much more relaxed, but the difficulty spike is rather large. Learning every aspect of the nuances of handling is going to take time, along with many falls off your bike, but if you're willing to stick to it, there's a challenge that once conquered, makes MotoGP 23 a thrilling racer. It's tough, especially when the new dynamic weather plays a part, but learning the importance of when to break, take advantage of tight corners and long straights, and track layouts, is all part of the fun, and teaches you to become a better driver.
The dynamic weather is an excellent feature in MotoGP 23. You might start a race with the weather being a touch overcast or even sunny, and after a couple of laps the heavens will open and you'll be forced to change how you race. With rain pouring down onto the tarmac, it's easier to lose control. In one of my races in the Career mode, I had the red flags stop the race due to dangerous driving conditions. While it was frustrating as I'd fought hard to take the lead, I like how the real-life elements show themselves.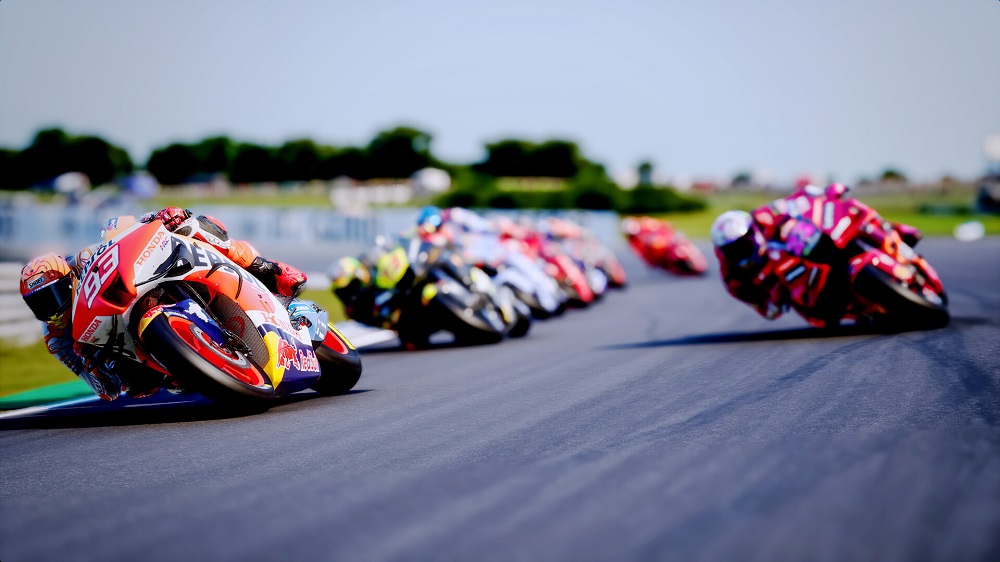 The Career mode is the best feature of MotoGP 23. Starting as a rookie, you'll race to win and rise the rankings, all while having to deal with other racers through social media. Certain people will message you, be it a rival or someone within your own team, and how you respond can affect the way they race against you on the track. Do you want to create a salty atmosphere and risk aggressive driving, or play it safe and be nice? The option is yours, and while I noticed some of these choices come in to play, it wasn't always obvious. There are also objectives like beating a rival in a competition or finishing in a certain position, giving you something else to work on while playing.
As you progress through your career, you'll be able to upgrade your bike, choose teams to race for, and more, giving you plenty of things to think about in-between races. While the career has improved since last year, the racing is where MotoGP is at its best. What makes this better is how good it looks. Tracks around the world are intricately designed, as are the bikes and their racers, but so too is the weather. When it rains, you'll see rain drops on the screen which can affect how cautious you have to be, all in all creating a realistic experience.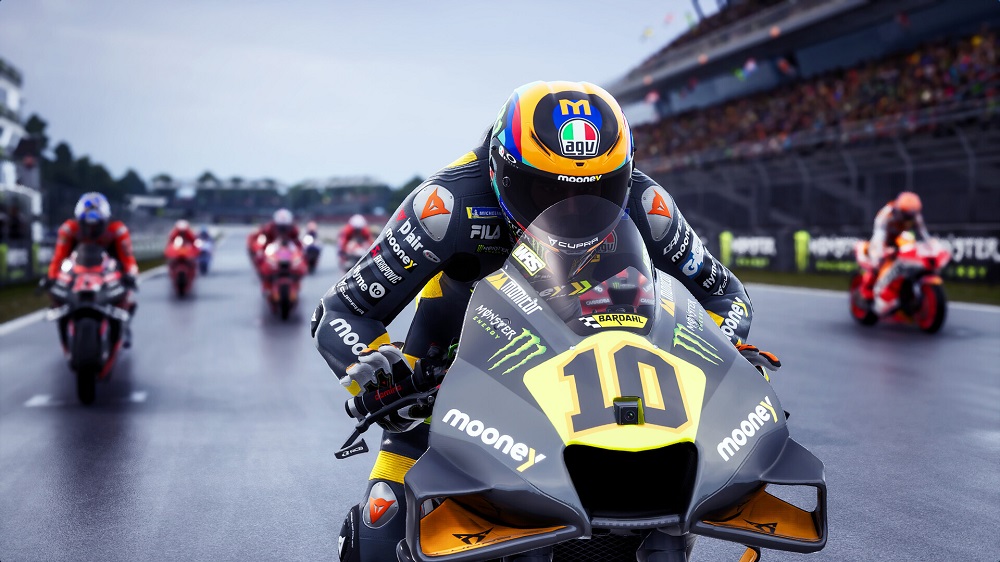 The haptics on the DualSense are remarkable, with every small bump or terrain change felt, along with gear changes and throttle being felt in the controller. A lot of focus has been put onto how MotoGP 23 performs on modern consoles, and it's more than noticeable. While there aren't a ton of modes to choose between, you can still create your own Grand Prix, take part in time trials, and go online against other racers. There's also a ton of customisable options for your racer, adding a personalised touch to proceedings.
MotoGP 23 is an improvement on last year, with a Career mode that's trying out new features to make each season feel different to the last. The dynamic weather is a standout, as it forces you to change on the fly when the rain starts to fall, and the visuals elevate the feature while also leaving you impressed with how good it looks. While it still features a tough learning curve, there're aids in place to make the transition between difficulty levels easier, helping to offer a smooth racing experience whatever mode you're in.
Positives
Patience is rewarded
Gorgeous visuals
Dynamic weather is a great addition
Career mode is fun
Negatives
Difficulty curve is massive
Not a ton of features
Some neural aids are too constrictive
MotoGP 23 has added dynamic weather to make racing a whole new beast, and the Career mode is a solid feature to keep you hooked.