Release Date
September 8, 2023
It's time once again to sound like a broken record, as NBA 2K24 comes out and locks any real sense of achievement behind its depressing paywall that is Virtual Currency. While gameplay is so good thanks to the inclusion of ProPlay, MyCareer is once again hampered by microtransactions that hinder progression, but also enjoyment. I love what Visual Concepts has created with the City, as it's bigger than it's ever been before, with tons of games that can be jumped into and various shops to improve your drip. It's just disheartening that real money needs to be spent to get the most out of its flagship mode.
On the court, NBA 2K24 is mostly exceptional. The inclusion of ProPlay allows real-world plays and moves to transition into the game, meaning signature shooting, crossovers, and plays by the likes of Steph Curry and Ja Morant are replicated by their digital counterparts when playing. It means the action is more fluid, and when it comes to facing them in a game, you feel the nerves more as they're potentially going to school you in front of your fans. You can also harness the abilities of NBA stars, and pulling off signature moves to get points and break away from the opposition feels amazing.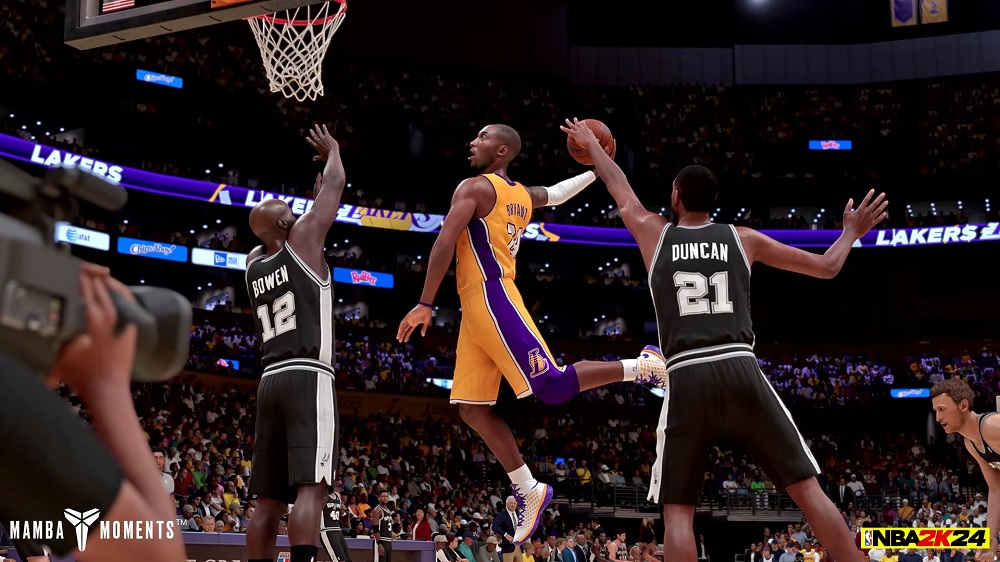 AI players act quicker, and getting into space for you to send a pass out feels more responsive. One of the few downsides to gameplay is a problem that's been present for a while, and that's a fast break down the court. Basketball is the most thrilling sport around, where games can be decided in seconds. Therefore, it's baffling that players don't move quick enough down the court following a defensive rebound or dunk to try and get a quick two or three points. Despite this, every facet of play has been tweaked a little to provide responsive inputs when shooting or moving, but it remains fairly similar to last year.
Mamba Moments is a tribute to Kobe Bryant's historic NBA career, and getting to relive some of his biggest moments is an honour. Whether you think he's the GOAT or not, there's no denying he's one of the best to ever play, and each challenge, whether scoring 12 three-pointers against the Supersonics or by putting 62 points past the Mavericks in only three quarters, is tough. However, by doing so you'll earn stars that unlock Kobe-specific rewards. There're less challenges than last year's Michael Jordan-focused mode, and not featuring Kobe's 81-point classic seems criminal. It lacks the polish and flair of Jordan's as well, which felt a bit disappointing.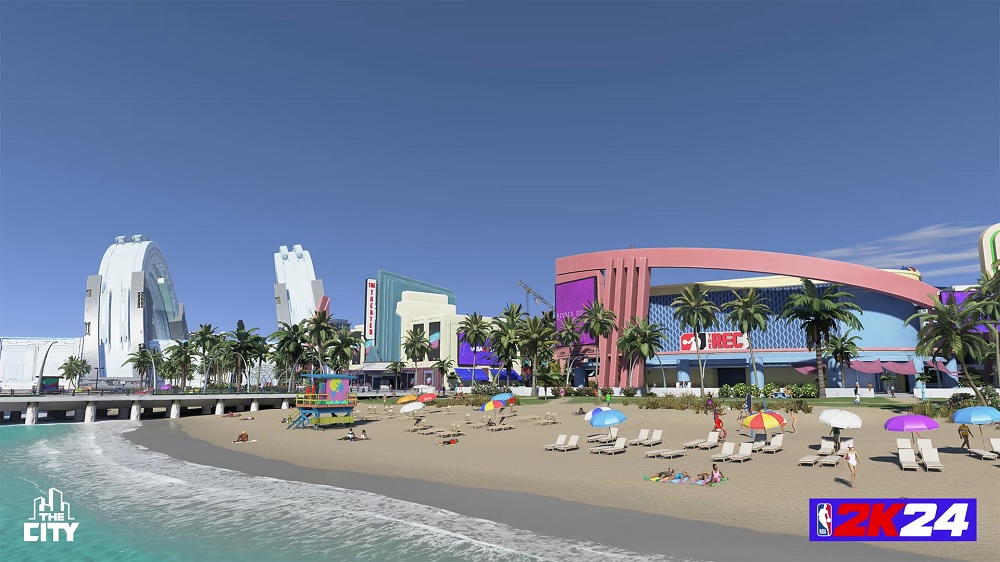 NBA 2K24 packs in a lot, with a mode for everyone. While there's a huge focus on VC-heavy modes (we'll get to those shortly), MyNBA gives players a chance to relive some of the best eras through NBA history. You can relive the Larry Bird and Magic Johnson rivalry from the 80s, but one of the coolest was getting to play with LeBron James, Chris Bosh, and Dwane Wade at Miami Heat in the 2011 era. It was the birth of the modern era, giving us our first taste of now icons of the sport like James Harden and Kevin Durant, and the mode reminds us of the last great era to exist.
As for MyCareer, this is where NBA 2K24 will frustrate anyone that doesn't have hundreds of pounds to spend on VC. For those buying the standard edition, you'll be grinding for tens of hours to improve your rating. Starting off at 60, there's a huge mountain to climb if you ever want to properly compete with other real players. Most players are already on level 90 and above, and doing so by simply playing is virtually impossible. It's so annoying because all I want to do is play online, but having to grind through playing with such a steep curve takes away all the fun.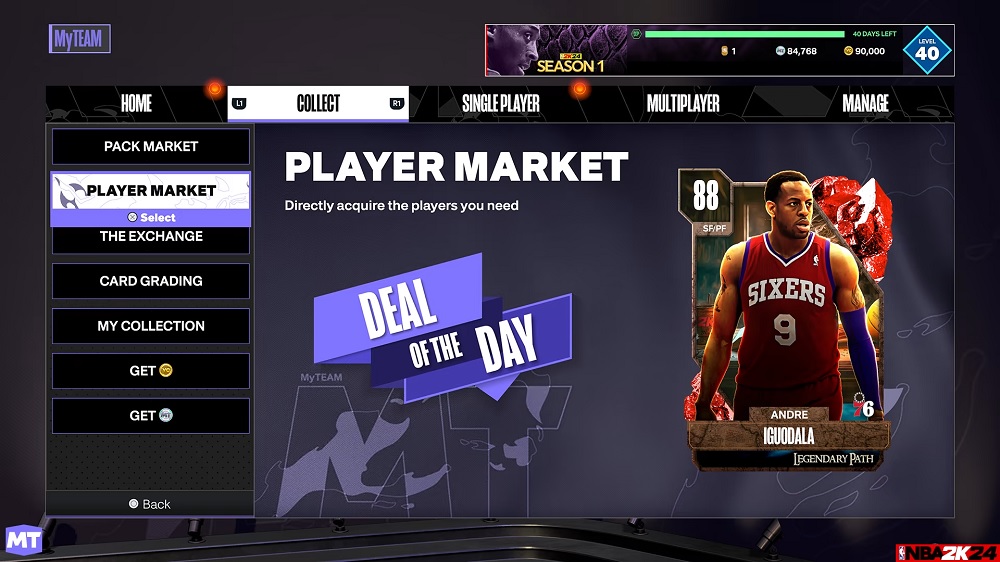 There's a modifier that allows you to earn more VC at higher difficulties, but playing through the career mode that lacks any real story is basically a straightforward experience with little to look forward to. The presentation is superb, and joining your team of choice and seeing social media posts from the likes of Quavo from Migos, and recorded clips from NBA players and more adds to the authenticity. It's just a slap in the face when you're being compared to the likes of Jordan and Bryant, where everyone is telling you you have the potential to be the GOAT when you're sat at a poor rating with potentially hundreds of hours to play before you're close.
The City is filled with shops for you to spend VC, however, a nice new top or pair of sneakers will mean you can't get a few more stats, so it's whether you want to keep wearing that horrendous brown tee and build your rating or look like Harden on gameday minus the skill. I don't know what the answer is, as only 2K can change this, but when players are already spending so much real money why would they change? MyTEAM also requires you to spend VC on card packs from the store, so if you enjoy that mode as well, you're going to struggle to acquire decent players from the start.
NBA 2K24 is packed full of modes, but VC affects how successful you are in them. If you're willing to play the game and little else, you'll start to see some benefits after 10 to 20 hours, but that's only a fraction of where you need to be if you intend to compete against others online. Gameplay is excellent in most areas, and the presentation is excellent, including the ever appreciated team of Ernie, Kenny, and Shaq at halftime. I love playing it, but I resent the huge amount of time I'm supposed to put in in order to see any real progression.
Positives
Visually impressive
The City is huge
Gameplay is fantastic
Negatives
Mamba Moments missing some key events
VC is far too prominent
Sense of progression isn't enough
NBA 2K24 is fantastic to play on the court, but Virtual Currency stops your everyday player from seeing any proper progression for hours.