Release Date
October 13, 2016.
With every new piece of hardware released in the gaming world, there's a piece of software that also comes out designed with one idea in mind: show off the new tech. That's what VR Worlds does and, as such, is pretty successful. So far there's a lot of different ideas behind games in a virtual world, the consensus being that there's something for everyone. Some games are just controlled by the headset, others are more in-depth, but if you're looking for a game to demonstrate PSVR, this is the one for you.
There's good variety on show: VR Luge lets you lay back on a luge and uses the motion of your head moving side to side to steer, dodging oncoming traffic and everything else that gets in the way of a fast, downhill-moving luge. There's a game called Ocean Descent that sees you dropped in a shark tank and slowly lowered into the depths of the ocean brine, and while I won't spoil what it has to offer, despite the lack of any meaningful control, it did make me jump at one point. Ocean Descent, though, is another game that doesn't require the controller, it's all about immersing you underwater in the shark cage, showing off how VR can make you feel like you're in a place you wouldn't normally be. Cynicism aside, it will grab you, even when you think it can't.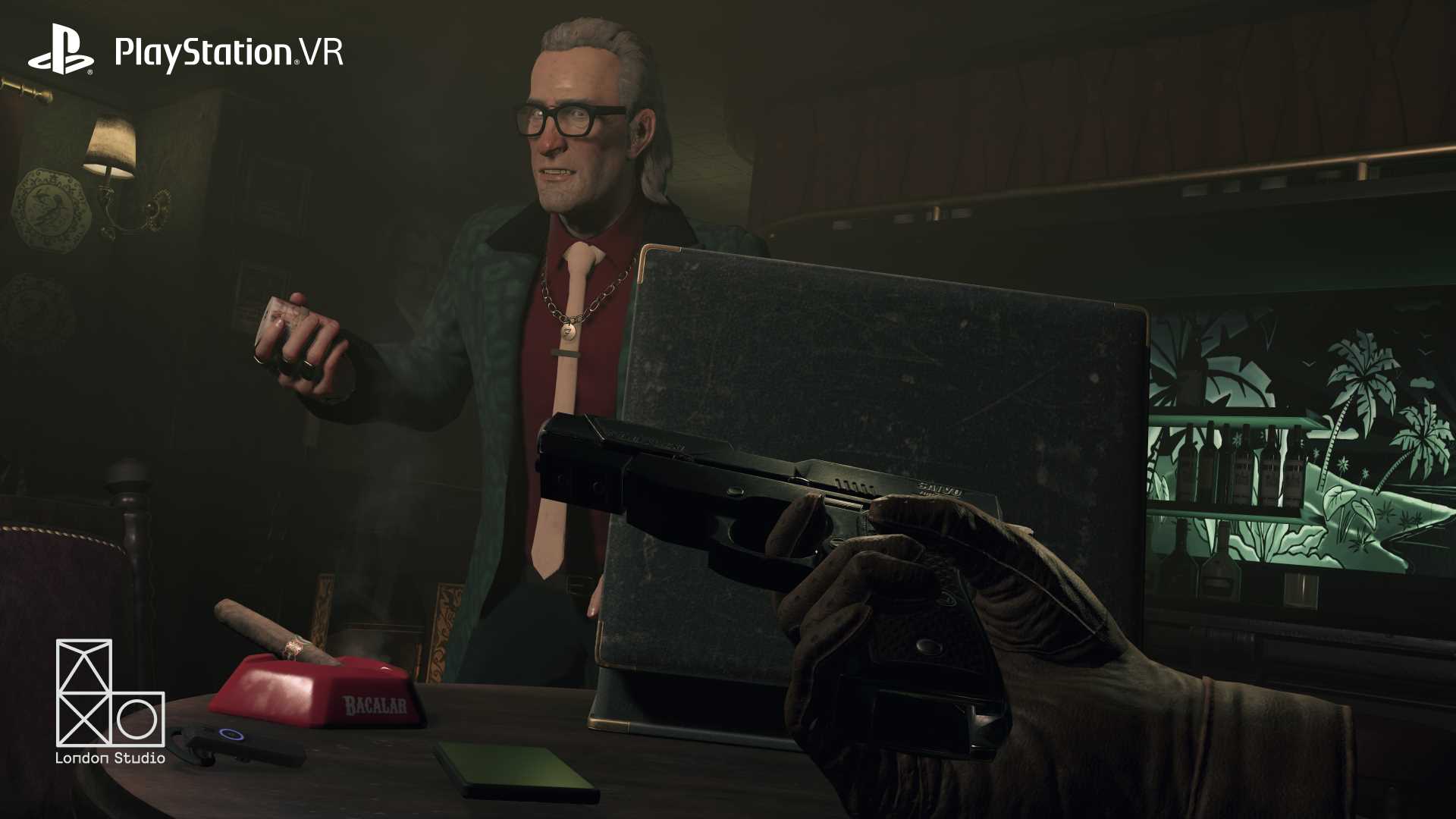 It's a mixed bag, though, The Caper has full on cockney (London) accents that are as hilarious as they are entertaining. A full on cockney style "Na go 'an, piss orf" is funny, whether it's intended to be so or not, and a huge man threatening you and tell you to "faaak orf", is a bold move, but one that falls a bit flat. That said, it's got some nice touches inside the Laaaandon world, as you can touch the huge man's chest while he gesticulates violently towards you and he'll react to it, or if you aim an Uzi near him, he'll react to that, too. Elsewhere, you can interact to such a high standard in a car that you can even change the radio station and open the passenger door of a moving vehicle. More of that in VR, please, Devs, we want the world to react to our presence, and Sony London should be commended for including it in such an early game on the platform. It's a fun game that shows off lots of different VR concepts: shooting with direct control over a gun, exploring drawers and the like, but it's not overly long, even if it does offer difficulty selections and even a shooting range to muck around in.
Scavengers Odyssey is an interesting game, based around a first person shooter, but one in which you control the aiming with your head (tracking) and the rest of your craft with the traditional sticks. Leaping around the debris of destroyed asteroids is fun, and a good tester to see if you get motion sickness in VR. Rudimentary shooting and grappling is the order of the day, and it's nice to look around the vastness of space in VR, no matter who you are.
Danger Ball rounds out the set of five games, and is basically a VR Air Hockey game. It's neither amazing, nor terrible; it just exists. You can swerve your ball by attacking it with your face and putting some spin on it. It's cool at first, but as with a lot of VR games, it's not something you'd swap a controller for in a hurry.
It feels harsh to say this as there's plenty of love and care on show, but VR Worlds feels like it should be a pack-in product. Not because it's bad, quite the opposite in fact: it's good at showcasing what VR can do on PS4, but it doesn't have anything approaching real staying power. With larger, more full VR games out there, VR Worlds is a curio to use when showing off your shiny new product, but one that's otherwise consigned to the shelf.
Review code provided by publisher.
Positives
A great demo of what PSVR can do
Ocean Descent is well done
Negatives
Won't hold attention for long
VR Worlds is a curio to use when showing off your shiny new product, but one that's otherwise consigned to the shelf.