Release Date
October 13, 2016.
If first impressions are all you go on, RIGS might be a game you start and never play again. Hopefully, though, you're not that kind of person, because otherwise you've already stopped reading this review, and that'd be unfair on me, and unfair on Guerilla Cambridge's first-person mech-shooter-cum-sports game. Because underneath a veneer of borderline patronising tutorialising lies an excellent game that, if enough people buy and play online, will be a superb competitive online game.
But let's start with that tutorial, because it's so heavy-handed that it actually made me angry. It took around forty minutes before RIGS let me be free to play a game. Now sure, I'm experienced and have played games for well over twenty years, but unless you have never played a first person shooter before, I find it hard to believe any of this will be helpful to you. You cannot skip anything, which is annoying, but having your hand held to the point where you have to be taught movement and shooting is a bit much. Sure, it's a "new" experience, because it's VR, but it's also a first-person shooter… in VR. That means you control it much the same as you would elsewhere, and the "VR-ness" comes from the fact you're, well, in VR.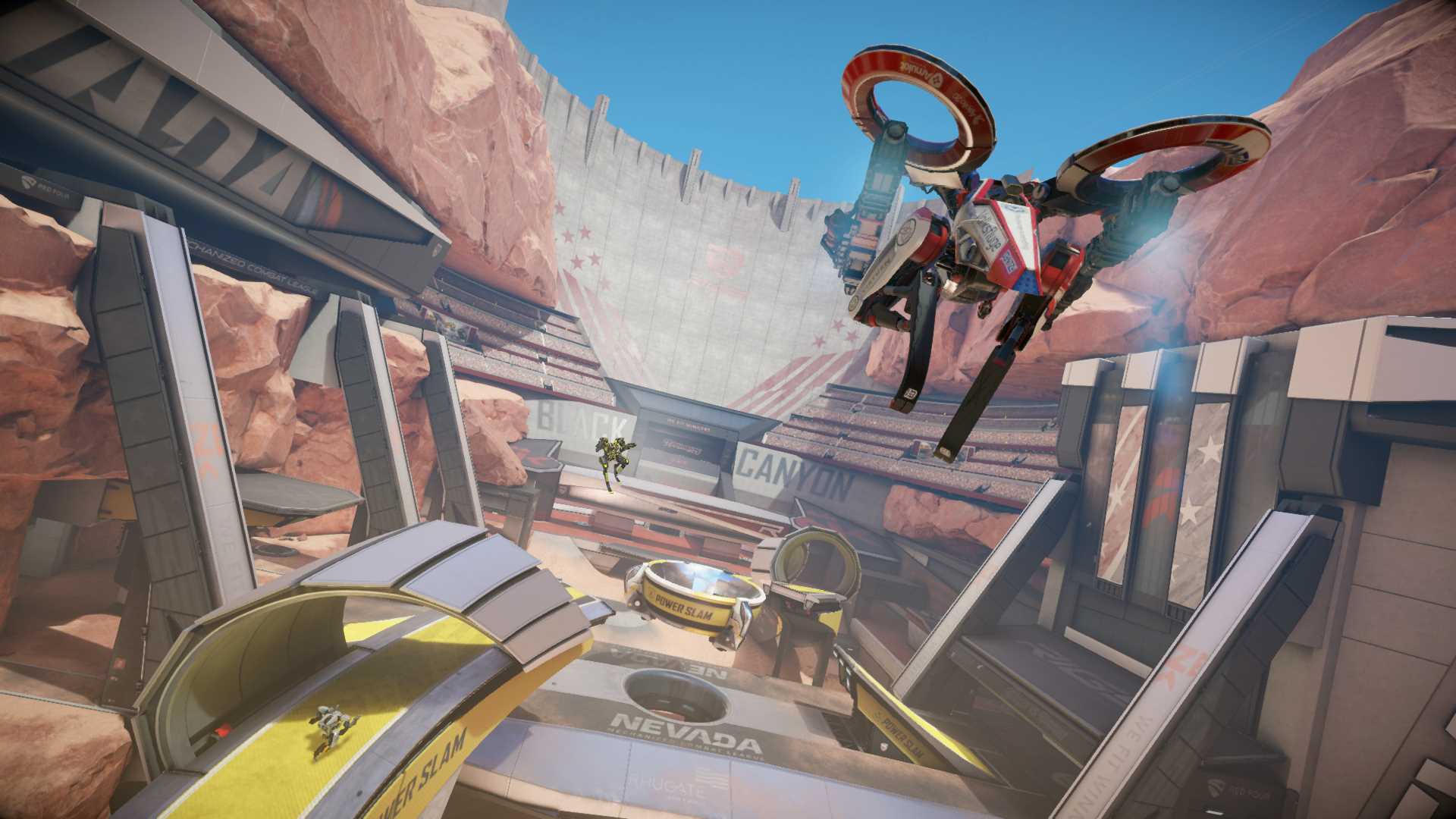 It's a pain in the arse, quite frankly, that's compounded by the fact that it feels as though Guerrilla think they're making something too unique and new for us to understand. Take the game modes, for example: each time you see a new one you are forced (again: you cannot skip this) to watch through a video with an obnoxious eSports shoutcaster-style voiceover explaining how everything works. Here's how you score, here's what happens if you tie after full time – it goes on. But then, after the video, a single screen appears with three to five bullet points explaining everything he's just told you. That screen would be more than enough explanation, but you must watch it every time you see a new game mode.
So thank God, then, that the actual game is so impressive and fun to play. As someone who's played a lot of VR, I turned off all the comfort settings and threw myself into the American football style mode called Endzone, and it's an absolute blast. Even offline against AI, you and your two other teammates have to grab the football (American football shaped) and get it to the opposition end zone, and across the goal line. The control option I found that best suited me is to control as a traditional FPS (move with left stick; look with right), but the twist is while you move your mech's trajectory with the right stick, you aim with the headset by looking at your target. This makes for some exciting plays at breakneck speed, despite the hulking great mechs you are piloting.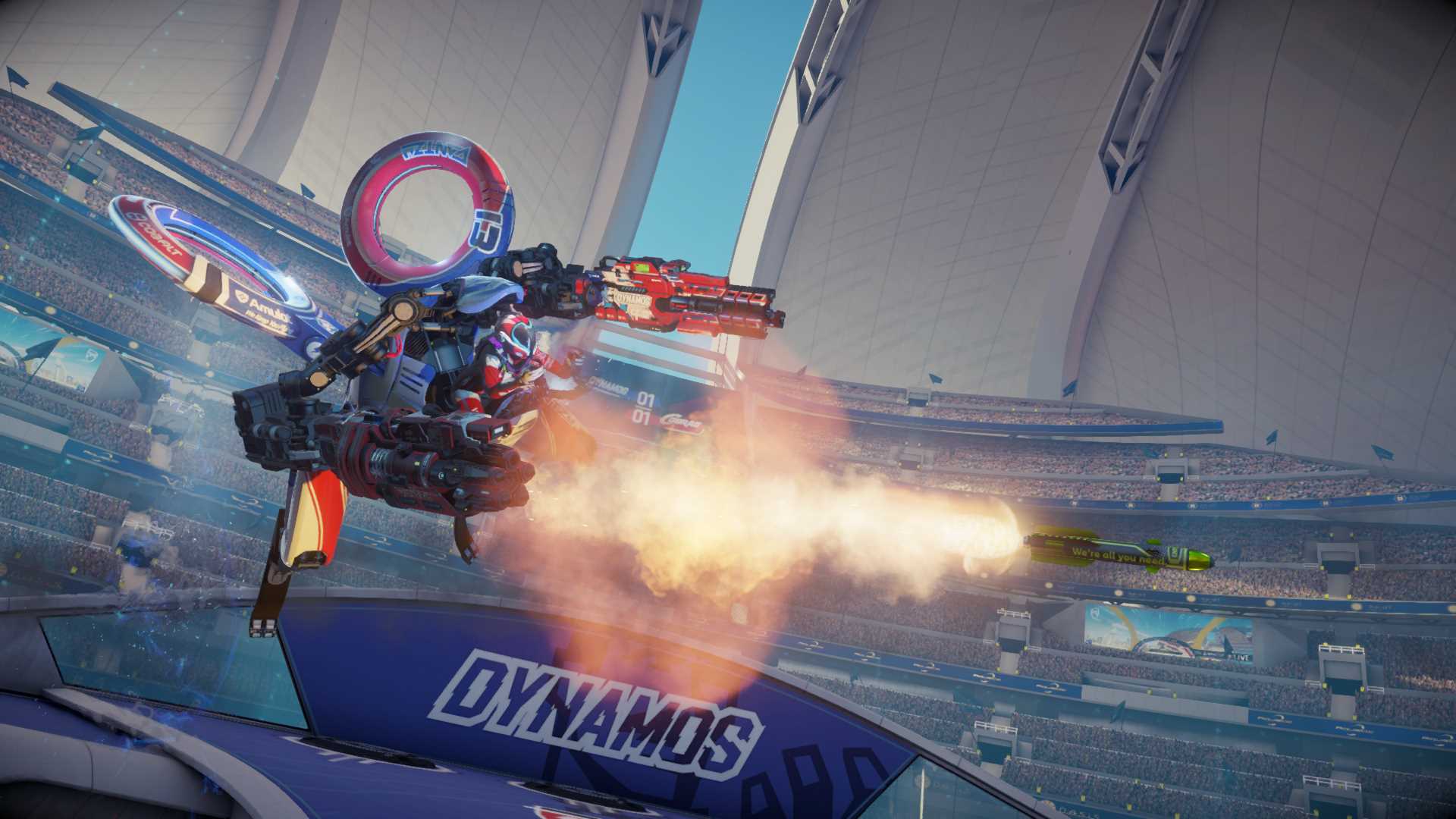 There are other modes, of course: a standard 3 on 3 deathmatch (Team Takedown) is par for the course, but the mode called "Power Slam" that sees you have to reach overdrive mode (by performing well and collecting powerups on the playing field) which makes you stronger and faster, before you can jump and drop yourself into the goal to score is also excellent fun. It's frenetic, and it feels natural in VR, but I would recommend easing yourself in, because even with an obscene amount of time in VR prior to RIGS, I found myself feeling slightly off-kilter after a few matches.
The RIGS themselves all vary in size and weapon type, but they also have abilities which can change the outcome of a match. One such ability of note is Vampire, which means when you kill someone you get health. It's that kind of thing, and you'll either love it or pick a loadout and stick with it. I experimented, but found myself sticking with a quiet mech that let me get up in the air and rain laser death down upon my opponents.
It's all built up as though it's an American league sport, and you pick a team to represent, a sponsor (each one comes with a perk, so yeah, the game has perks like most shooters), you try to win MVP, you select your teammates, you choose your clothing and your helmet – it's all very first person shooter-like. It stands out, though, because of the actual gameplay. On first inspection a simple FPS becomes more tactical as you can switch between three combat modes on the fly with the face buttons. The three modes, respectively, repair you, increase your damage, or increase your speed, and a simple tap of square, cross, or circle switch between them. Once you are eliminated you burst up into the air, and if you've the comfort modes turned off, this is as startling as it is exhilarating – you then select a respawn point and get back into the action, trying to get your team more goals or points before half time, hopefully making sure it doesn't go to extra time.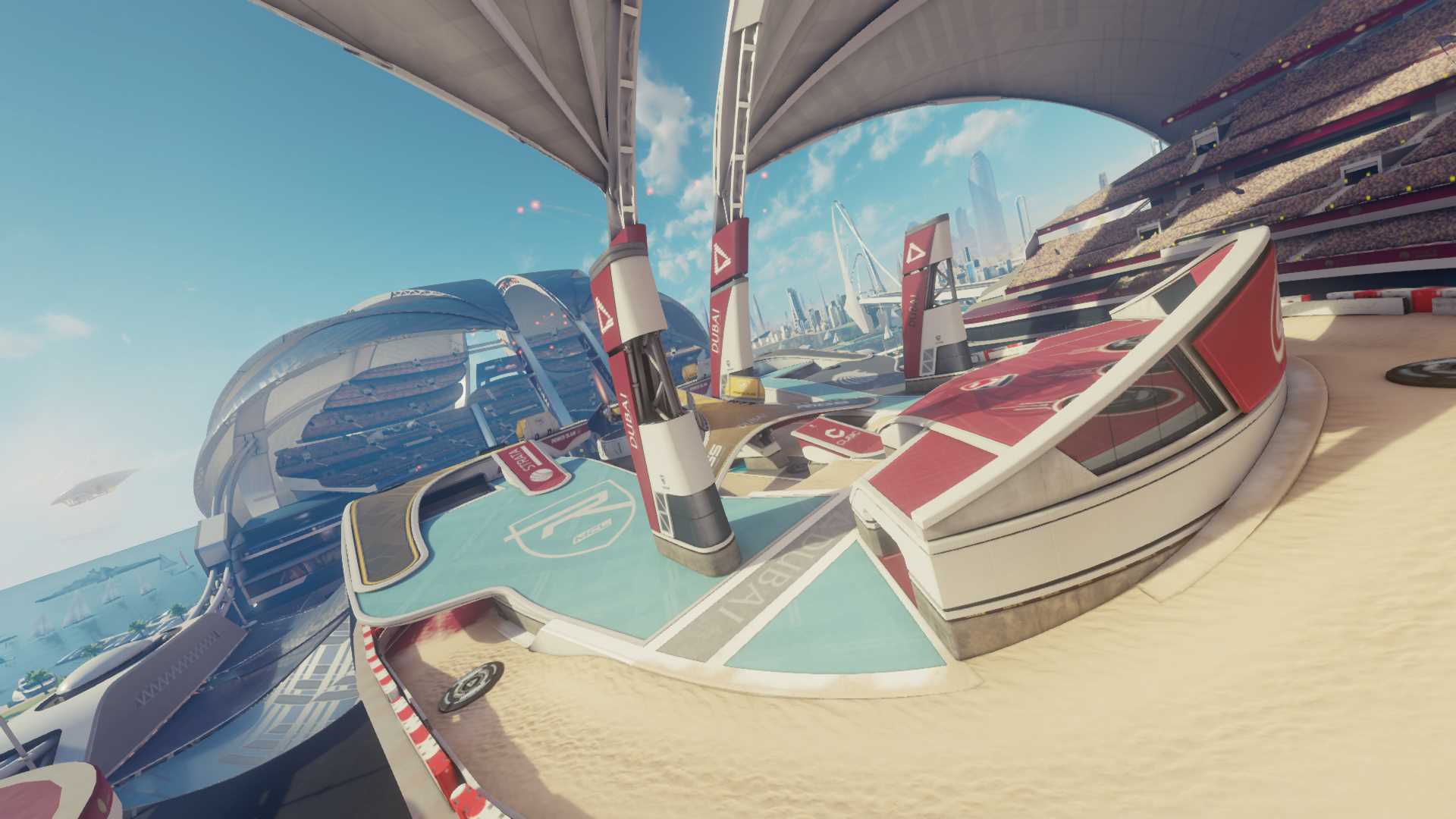 And look, yes, there are moments of stupidity. Whether it's my setup or the game, I don't know, but when sitting in one of the many menus, my head was slightly too far forward meaning I could occasionally see inside my own neck-space, and yes, the Scottish guy known only as "Chief" is an outrageous gobshite who won't shut up, and for sure, nobody seems to ever take their helmets off even when not inside a mech, but the actually gameplay is so damn good, I can forgive it. Even those tutorials seem a distant memory as I suit up ready to play yet again.
There's a chance Guerrilla has taken itself too seriously, here, and the gameplay and "narrative" (for want of a better word) could work together if it was more tongue in cheek. But playing RIGS there's a sense of elation and immersion that makes it a standout moment in PlayStation VR's launch lineup. For those that decry VR and say "there are no actual proper games", RIGS stands tall, because it's a game alright, and a very good one at that.
Review code provided by publisher.
Positives
Loads of customisation
Excellent competitive shooting
Interesting and fun modes
Negatives
Outrageous tutorial length
Takes itself too seriously
Could do with more maps
It might take itself far too seriously, but RIGS delivers where it matters: the gameplay. One of the best games in the PSVR launch lineup.