Today's Switch Re:Port Review features one of my most wanted Switch ports ever, Chris looking at a trilogy I was surprised to see not be day one with other platforms, and more. If you missed the last Switch Re:Port Review, check it out here. Today's edition features reviews for Spyro Reignited Trilogy and DC Universe Online from Chris White and Transistor from me. If you're new to the Switch Re:Port Reviews on the Geek, I (with the help of the fine folk here) look at the Switch ports of games that have been released on other platforms. These reviews aren't just to talk about the game but to look at how the games run and play on the Switch and how they use the Switch features.
Spyro Reignited Trilogy
Chris White
Originally released on PlayStation 4 and Xbox One and scored 8/10 on PS4
The Nintendo Switch version of Spyro Reignited Trilogy is the same game as seen on the PS4 and Xbox One. It runs relatively well both docked and in handheld, albeit some minor lagging during the travelling between different worlds. Occasionally after a scene when you're interacting with one of the NPCs, the camera tends to jump a little and you're forced to re-centre, and in general the camera gets itself into some awkward positions. As you play through each game in the trilogy, the movement gets a little better, so the same issues start to disappear, but whenever you're in an enclosed space there's no escaping a poor view of the action.
There's also a huge problem with button responsiveness, especially in the original. There were plenty of times when I tried to shoot flames at an enemy and nothing came out, leading to me losing part of my health. I never had an issue with charging – other than the lack of control also present in the PS4 version – but using flames was a constant problem. Not only that but trying to glide after a jump was failing quite substantially, and it made me replay the same section a fair few times.
It was such a shock as I never had that issue on the PS4, making it rather disappointing on the Switch. Visually it's a pretty game, but detail does feel sharper whilst in handheld. It's still lovely to look at whilst you're playing docked, but it's not as crisp. If it wasn't for the problems with the control's response time, I could easily play through the games again, however, if you're only interested in playing for the portability factor, it's still decent enough to take with you on your travels.
6/10
DC Universe Online
Chris White
Originally released on PS3, PC, PS4, and Xbox One and scored 6/10 on PS3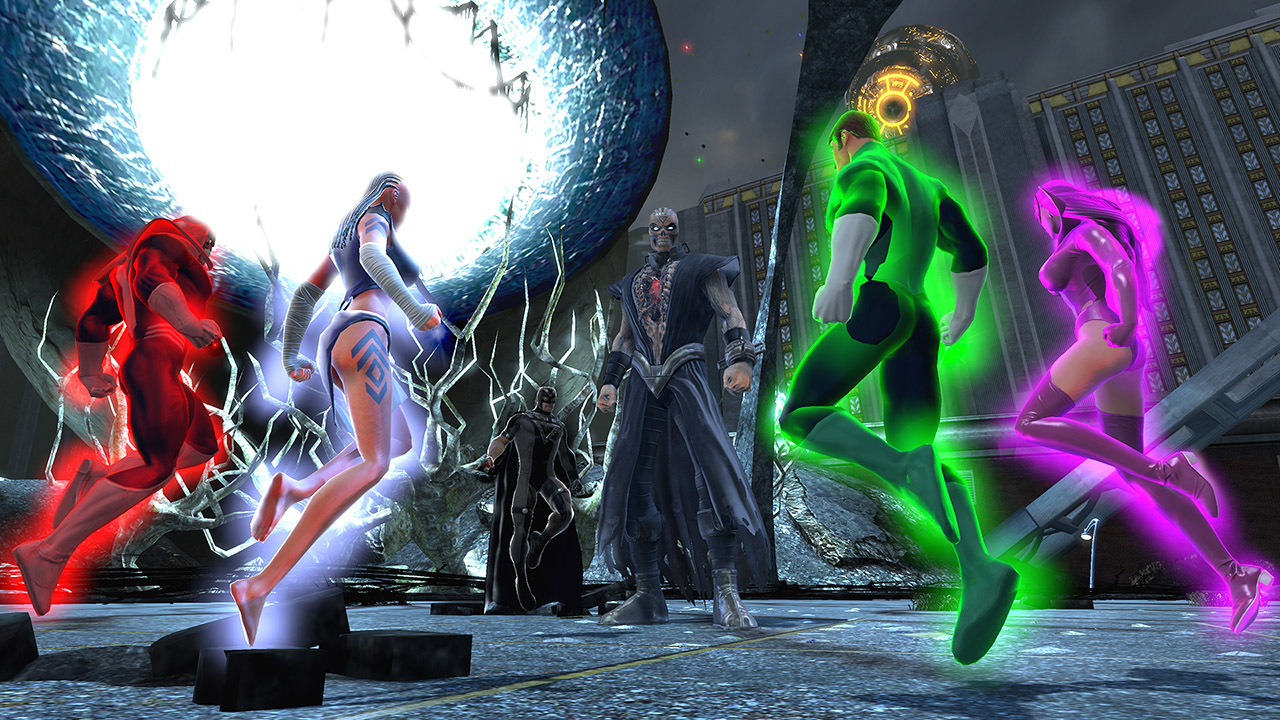 DC Universe Online came out in 2011, and has featured on both the current and last gen PlayStation consoles, as well as the Xbox One and PC, but now, we finally get to give it a spin on the go with the Switch release. Whilst it's one of only a few superhero MMOs on the market, the amount of free content available for it is impressive.
You can't transfer your older characters to the Switch (at the time of writing this review), meaning you're going to have to start all over again. The grind is probably not going to be something you consider, however, if you're new to DC Universe Online and fancy giving it a try, it's a perfect title to take with you on the go, providing you have a constant internet connection. When you first get stuck in, there's plenty of stuff to do, and if you're a fan of DC Comics in general you're probably going to love running around the various locations such as Gotham City and Metropolis.
The environments are pretty dull, though, and for saying there're plenty of famous locations within the comics such as ACE Chemicals and the Daily Planet, they all feel a bit barren. I'm a big fan of the movement in DC Universe Online, and getting from one place to the next becomes much easier when you're allowed to fly or use your super speed, depending on what you chose during the character creation screen.
Within the first few hours of DC Universe Online, I'd already foiled the fiendish plans of Scarecrow, Bane, and Braniac, and met up with Nightwing, Wonder Woman, and Batman. I'd started to build my own unique hideout, explored some of the sites of Gotham City and Metropolis, and beaten up hundreds of enemies. Combat can become repetitive especially if you're not playing around with the different techniques you have – or unlock – but it's no different to other MMOs for the first 10 hours or so. Grinding through these missions is essential, and once you hit level 30 the game opens up giving you more freedom and options to improve your Combat Rating (CR). Whilst the visuals remain unchanged, the sorcery traits I was using looked pretty cool when tussling with gangs of thugs, and getting out my bowstaff to dispatch them was equally satisfying.
It took a long time before people started to play DC Universe Online on Switch, so I didn't have many chances to test out the PvE and PvP game modes, but as I've spent more time playing, finding a team of heroes to fight with takes much less time than it did at the start. There's plenty of content right from the start, but depending on how invested you are in the story and characters, the repetition sets in, and without any noticeable upgrades to the environments and the visuals, you may start to grow tired of it.
For a free-to-play MMO, DC Universe Online is more than worth getting, and depending on how much you enjoy your time with it, you may consider sinking some cash into it. Getting to interact with all the superheroes and villains within the DC Universe was right up my street, and spending my cash to buy new upgrades and gear, as well as a sidekick that followed me around Gotham, made the time I had with DC Universe Online worth it.
7/10
Transistor
Originally released on PS4, iOS, and PC platforms and scored 10/10 on PS4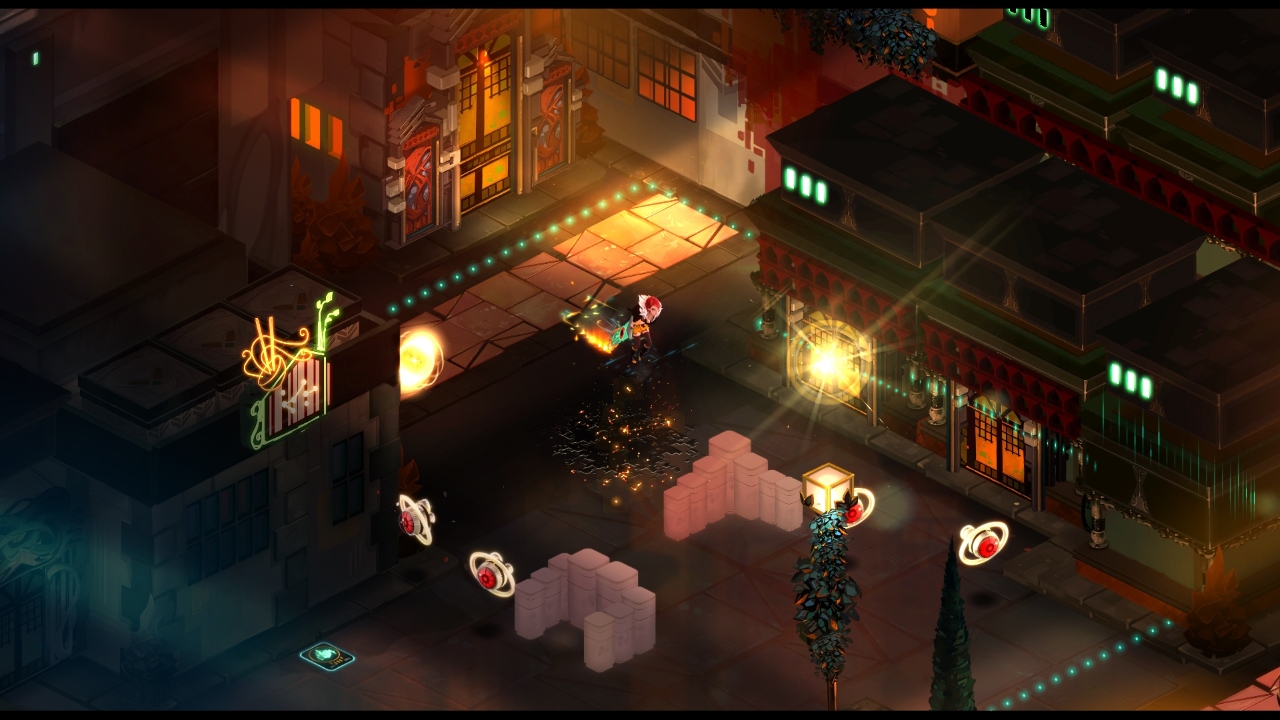 I still remember discussing Transistor when Adam when he reviewed it back when it debuted a few years ago on PS4 and PC. I loved Bastion but Transistor is one of the best games ever and Supergiant Games' peak by far. I ended up buying it everywhere and have now played it about four times across PS4 and iOS and now Nintendo Switch. When they announced ports for Bastion and Transistor for the Switch, I knew I had to buy it again because Transistor is something that everyone should play.
The Switch port of Transistor has the same content as other versions of the game. Supergiant Games has done a good job with rumble feedback for a lot of the game but the new control options in the iOS version are absent here. If you played this on PS4, you know how amazing the controller speaker experience was in Transistor. That is obviously not here thanks to the hardware but the Switch version makes up for it with the ability to play at home or on the go. Unlike Bastion, Transistor was never ported to the PS Vita so this is the only system that can play it on the go outside iOS.
In terms of visuals and performance, Transistor looks and runs well in both modes. The only small issue I noticed was with a few instances of slight frame pacing during movement in a few areas. The rest of Transistor runs great and this is absolutely a fantastic version of the game.
Overall, this is a great way to experience on of the best games ever. I really wish they had added the touchscreen functionality from the iOS version as an option to make this the definitive version of the game. If you don't care about touchscreen controls, the Switch version is amazing and absolutely worth getting if you've never played this game before.
9/10