Firemint Announce New iOS Title – Agent Squeek

Dust of that suit and fire up those James Bond one-liners because Firemint, the creators of the popular iOS games Flight Control and the Real Racing series, are back with a brand new title for iOS devices. Agent Squeek.
This highly-anticipated third title will launch in 2011 and deliver Firemint's trademark quality, polish and addictive gameplay in a brand new, spy-inspired tale of intrigue, stealth and misplaced cheese!
Play as Agent Squeek, the dashing and debonair undercover mouse. Outsmart ferocious felines and crack fiendish challenges! Sneak, sprint and strategize in your quest to save every precious piece of missing cheese.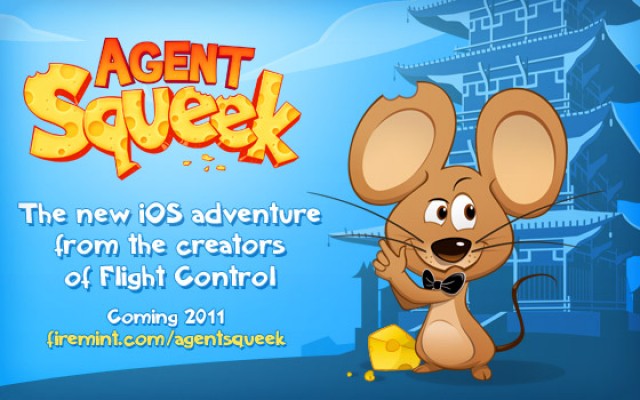 Are your Special Agent credentials up to scratch? Are you prepared for the biggest, smartest casual game of 2011? Cat got your cheese? Then head to Facebook, become an Agent Squeek operative and stay tuned for the first clue!
Agent Squeek is due to be release for iOS devices some time in 2011. Be sure to check back here often to get all the latest news and information. As soon as we know anything more, so will you.