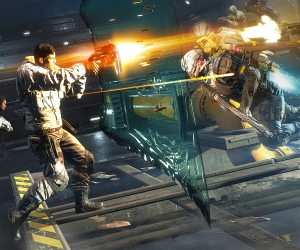 EA and Insomniac Games have today revealed brand new screenshots for their upcoming squad shooter, Fuse.
Previously known as Overstrike, Fuse sees players take control of special operations team Overstrike 9 and attempt to stop a terrorist organisation called Raven from dominating the world's supply of a rare alien super-fuel known as Fuse. Gruff and snarky Dalton Brooks is Overstrike 9's team-leader, backed up by lethal science whiz Izzy Sinclair, mercenary detective Jacob Kimble and tech-savvy career criminal Naya Devereaux.
The game features the voice talents of Mass Effect's Jennifer Hale and Ali Hillis (FemShep and Liara T'Soni), and allows for four-player co-op using a variety of weapons fashioned in a distinctly "Insomniac" style – think Ratchet & Clank meets Brute Force and you won't be far off.
These sparkly new screenshots show-off Fuse's beautiful art style, similar in tone and atmosphere to People Can Fly's Bulletstorm, particularly where that striking colour palette is concerned. Given the locations on display we can assume that despite the futuristic, sci-fi overtones, at least a large portion of Fuse will take place on Earth, in a variety of locales ranging from an apparently Middle Eastern city to a snow-swept mountain range. Interestingly, one of the shots shows the four protagonists fighting alongside a mech – and whether controllable or AI, ally mechs are always good news. Check out the screenshots below.
Fuse is scheduled for release in Q2 2013 on PlayStation 3 and Xbox 360.