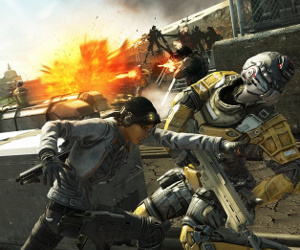 Insomniac's first post-PS3 exclusivity excursion begins this Summer. Electronic Arts has announced that Fuse is coming to North America on May 28, with Europeans getting the game three days later on May 31.
EA have also announced some pre-order incentives for the Ratchet & Clank developer's co-op shooter. Those who book the game at participating retailers will get a Quickdraw Team Perk which increases weapon damage. As well as that, gamers will acquire four armour skins and four weapon skins.
Publisher and developer have received some flack because of the name change from Overstrike to Fuse and changing the visual style from cel-shaded to generic, but let's reserve judgement on Fuse. When looking at their back catalogue, anyone can see that Insomniac are definitely not slouches, so there is certainly hope for the game.