Lollipop Chainsaw Halloween Trailer Brings the Blood
After being announced back in August 2011, Warner Brothers and Kadokawa Games have today released a special Halloween trailer for  Grasshopper Manufacture's upcoming title, Lollipop Chainsaw.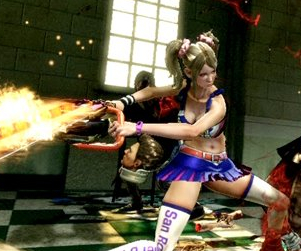 The first trailer gave us the opportunity to get a glimpse of zombie slaying cheerleader, and main character, Juliet Starling, while the rather explicit Halloween trailer below introduces us to Morikawa, a second-generation zombie hunter who looks after Juliet in the Suda51 creation.
Lollipop Chainsaw is an over-the-top horror-action title that will be releasing next year for Xbox 360 and PlayStation 3, for those of you that haven't heard of it. Grasshopper Manufacture's head, Goichi "Suda51" Suda, is known for his off-the-wall gameplay, and Lollipop Chainsaw is shaping up to be no exception.
Check out the trailer below, but beware of the violence, sex references and swearing, kids.
We told you it was explicit. Lollipop Chainsaw is looking like it's going to be an utterly mental game. If Quentin Tarantino made games, we are pretty sure it would be along the same lines as what Suda51 is getting at with this title.
What do you think of Lollipop Chainsaw so far? Are you a fan of Juliet Starling? Let us know in the comments below.
Lollipop Chainsaw is due for release on Xbox 360 and PlayStation 3 in 2012.
Thanks, DTOID.