Codemasters Announce F1 2011 Release for Nintendo 3DS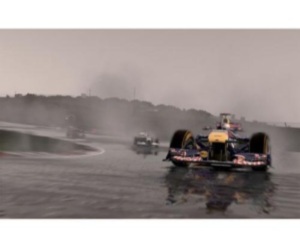 That's right F1 fans and owners of the Nintendo 3DS, Codemasters have announced that F1 2011 will be available on Nintendo 3DS in the very near future! As yet the release date in America has not been confirmed but Europe will be able to pick up a copy from the 25th of November.
This release will be the first time ever that a Formula 1 title has been available in full 3D. To check out some of the gameplay footage (which looks as stunning as ever), just let your eyes focus on the trailer below (the trailer does not show the 3D aspect).
You will see from the trailer that Codmasters' exclusive worldwide agreement with Formula One World Championship Limited, means that this version will also include all official drivers, teams and circuits including the latest track on the scene; India.
Competing to become the World Champion, picking up to play a quick Gand Prix, Time Trial or taking on the new and extensive Challenge mode, F1 2011 on the 3DS will suit any on-the-go gamers. The Challenge mode features new objectives that include check points, gate's and over taking challenges. This sounds like something the console gamers will be highly jealous of!
Fear not, the fun is not limited to just single player modes. You can take to the race track in a Grand Prix with up to four other players, go head-to-head in Time Trials or begin a co-op career. Just like existing versions, you get to decide how involved you are with the whole racing experience by making adjustments to race distance, tuning, driving aids, tyres, fuel and weather. To get some idea of what F1 2011 offers, check out our review on the Xbox 360 version.
Hand held racing looks like it will never be the same again!
F1 2011 is available now on Xbox 360, PlayStation 3, PC and Mac. A version for PlayStation Vita is due later this yeas and the Nintendo 3DS version will be available from the 25th of November.