New Trine 2 Screenshots Released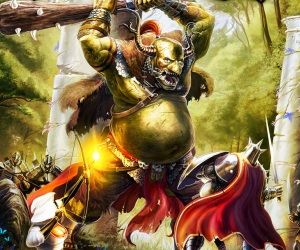 Today is a good day, dear readers, as FrozenByte and Focus Home Interactive have decided to release four new screenshots of the stunning looking (and highly anitipated) Trine 2.
If you haven't played the original, you should make it your mission to do so, as it was a fantastic game available on PC and PlayStation 3. Trine was a wonderful co-op experience, with three different classes of character all working together, with their different skills, to a common goal. The genius of the game was the way that all classes were required for success, but the game was an absolutely stunning visual feast as well and the sequel is looking like it may well even exceed the luscious looks of the previous game.
So without further ado, here's the four new screenshots, as well as all the screenshots you may have missed to date.
[nggallery id=647]
Trine 2 is set for a December release for PC and Mac. There will also be a collectors edition that includes the original game soundtrack by Ari Pulkkinen (of Angry Birds fame), an artbook and the first Trine game as well.