Launch Trailer and DLC Announcement for Final Fantasy XIII-2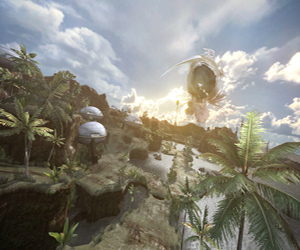 Today I started to wonder how the numbering system for Final Fantasy games would work if they announced a sequel to Final Fantasy XIII-2. Would they call it Final Fantasy XIII-3? Or perhaps that might opt for Final Fantasy XIII-2-2? Personally I think they should start using the imaginary numbers, which would leave us with something along the lines of Final Fantasy -(13*i*i).3. Obviously there's room for improvement, but it's a start.
But enough of imaginary mathematics, the real news is that Final Fantasy XIII-2 is launching this Friday (February 3rd) in Europe, with the game already on store shelves in North America. To celebrate this Square Enix have a released a brand new trailer, which features a mix of CGI and in-game footage to entice you.
Square Enix have also announced a host of DLC that will be made available for the game. Beginning on February 7th for Xbox 360 owners, and February 8th for the PlayStation 3, the first piece of content will be the "Lightning & Amodar" Coliseum Battle, which will see players facing off against characters from previous Final Fantasy games. Defeating these friends and enemies will allow the character to be recruited into the player's party. Alongside the Coliseum Battles there will also be story-based DLC episodes that complement the main campaign, focusing on characters such as Lightning. Details of these episodes will be unveiled at a later date.
Are you going to be buying Final Fantasy XIII-2? Do you think an imaginary numbering system would work for the games? Let us know in the comments!
Final Fantasy XIII-2 is set for release on February 3rd for PlayStation 3 and Xbox 360.