Grand Slam Tennis 2 Review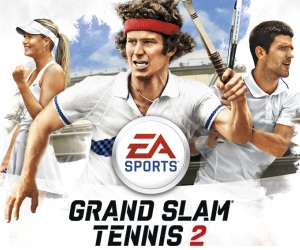 Game: Grand Slam Tennis 2
Developer: EA Canada
Publisher: Electronic Arts
Available on: Xbox 360 and PlayStation 3 (Reviewed on Xbox 360)
The fearsome rivalry for the ages between Rafa Nadal and Gillette frontman Roger Federer, the Mr Fantastic-like abilities of rising superstar Djokovic. Yes indeed, we are lucky enough to live in the era of three of the most magnificent players of the modern age. Plus Andy Murray. Tennis, eh? Its alright.
It goes without saying that I love a good tennis 'em up. Remember that wire-frame stick men one for the Commodore 64? Loved it, although the name of it escapes me. Super Tennis on the SNES? Genius. Namco's Smash Court series was tremendous. Don't sleep on the Mario Tennis games either, arcade style though they may be, they still play a rollicking good game of racquet sports.
In the same way the semi final stages of men's tennis Grand Slams circa Y2K12 are invariably filled by the same old names listed above, the world of tennis videogames is also dominated by a couple of well known big hitters. Virtua Tennis has had me in its vice-like grip for well over a decade now. Since 1999 Sega have provided a nice blend of arcade gameplay and licensed, if at times slightly odd realism. Even now, if I spot an O.G Virtua Tennis arcade cab in an arcade I will have a crack at taking down the gauntlet of CPU opponents en route to glory, with the superbly named Tommy Haas my Teutonic weapon of tennis choice.
Top Spin is the second well known name in the tennis gaming world, and very much the straight up simulation of the two, with far more precise controls, including use of the right analogue stick, to go along with all the usual licensed faire you have come to expect from 2K Games.
Seeing as they are generally regarded as the daddies where sports games are concerned, it is unusual that Electronic Arts haven't really made much of an effort to dip their bread into some tennis-flavoured gravy. They did come up with the decent Motion Plus Grand Slam Tennis for the Wii a few years back, though. With officially licensed, playable legends, cleverly done stylized characters (negating the need to attempt realistic models with the inferior hardware, I am guessing), and surprisingly responsive gameplay, it was a success. It is baffling as to why they left it this long to produce a sequel, or at the very least a version for the other home consoles. But here it is. With a very similar, albeit this time photorealistic picture of classic era John McEnroe on the box, Grand Slam Tennis 2 has arrived. Is it set to join the big boys at tennis gaming's top table? Or is this sophomore effort the equivalent of a gaggle of drunken middle class women screaming futile encouragement on "Henman Hill"?
GRAPHICS: With all your actual ESPN trim on the frontend, beautifully realised real-life stadia and proper players running about, you could be forgiven for thinking you are watching an actual HD sports broadcast at times. All the players look great. The legends are beautifully done, you get McEnroe's curly barnet, headband and signature Sergio Tacchini shirt, Bjorn Borg's outsider hippie steez and the energetic ginger menace of Boris Becker. The menus and the way the game is presented is clinical and very stylish. It is almost as good looking a modern tennis sim as you could wish for; but there are problems. The crowd are lifeless and do very little, even by EA standards, and I am sure that I noticed repetition in player gestures and celebrations, as well as some generic service animations. With characters as big as Nadal, Murray and Tsonga, who all behave very differently and have noticeably varying styles of play, a bit of variety, and indeed accuracy, would have been nice.
SOUND: Rather than go down the usual sports game route of lumping a boat-load of licensed tunes together and playing them randomly, Grand Slam 2, like its Wii forebear, has roped in legendary German techno/trance overlord Paul Van Dyk to provide a custom soundtrack, and very pleasant it is too.
In-game there are some impressive sound effects, including the now-standard series of grunts and moans that punctuate each shot in modern tennis. You can, of course, turn these off if, like me, you find them incredibly annoying, or in the case of some of the noisier female players, downright terrifying. How would you fancy listening to Venus Williams and Lindsay Davenport scream and caterwaul at each other, in Dolby Surround? Not for me son, not for me.
Unusually for a tennis game, there is some commentary, which is a pleasant inclusion even if there is a great deal of repetition, and it comes courtesy of Aussie legend Pat Cash. Cash also appears as a playable character; however I didn't have the heart to select him lest I confuse the disembodied voice version of Cash, forcing him to critique his own performance.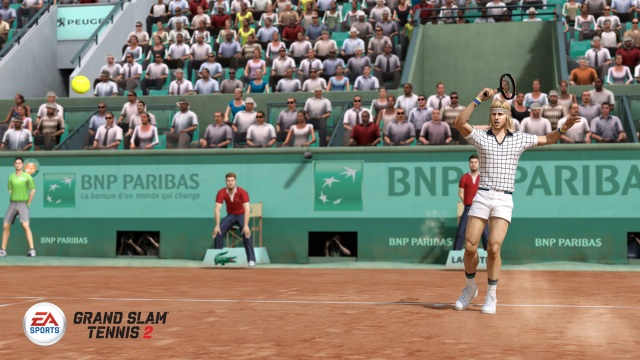 GAMEPLAY: Using the right analogue stick to give precision controls is something EA have trotted out on a number of titles over the last few years. Fight Night, Tiger Woods, even FIFA all have some form of trickery on the right hand side. Grand Slam 2 abandons the motion controls from the Wii version and instead puts an emphasis on using the right stick to control your "tennis racket".
Although it seems bloody weird to begin with, using this method soon becomes second nature. An upward press on the stick delivers a standard, flat shot. Pulling back will slice the ball, whilst a nifty backwards-to-forwards flick will give you a shot with topspin. You can pull drop and lob shots out of the bag by combining your stick flicks with a held-down trigger. Shot direction depends on which way you pull or flick on your stick, so for example if you are on the baseline in the lower right quadrant of the court, and wish to nail a shot into the upper left, you would simply aim the stick diagonally left. Simple in premise, it is nonetheless tricky to master. You do have the option to use vanilla button controls, but once you start winning points using the analogue method, returning to the face buttons would be like swapping Daz for your ordinary household brand.
As a tennis sim, Grand Slam is sound. In tournaments and challenges, the computer AI has a nice learning curve, starting out relatively easy, with the opponents increasing in ferocity as you progress. Learning to play a good tactical game is essential, if you end up running around the court like a blue-arsed fly too often, then you will notice your player visibly tiring and they will begin to make unforced errors more regularly. Like with a real game of tennis, it is crucial that you win your service games, and things can become just as tense as those legendary Federer/Nadal showdowns when you are facing a particularly difficult customer.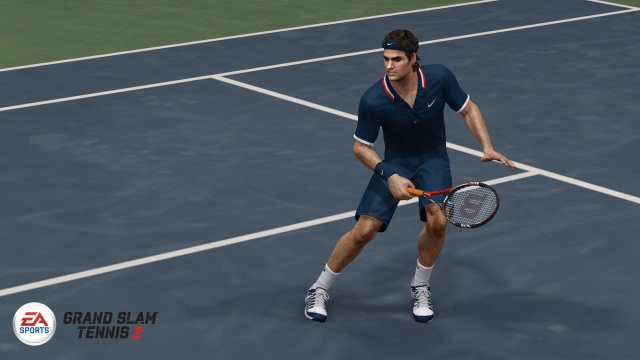 LONGEVITY: A rock solid game engine is joined by a stack of modes. You can play your usual exhibition and versus matches, and play through standalone tournaments, which include all of your favourites, including Wimbledon (yay). There is a lengthy career mode, which serves as a slightly more realistic counterpart to the World Tour mode from Virtua Tennis, and sees you taking a custom character on a ten year journey through the circuit. It is all fairly mundane and anodyne in nature, with no real storyline or emotional investment to be had, and, as such, is repetitive and boring.
Thanks the heavens then for the cracking ESPN Grand Slam Classics mode, which allows you to take part in any of 25 classic match scenarios. I was only talking about a similar mode to this just the other day on one of our podcasts, when I reminisced about EA's otherwise unremarkable World Cup France 1998 tie-in, which allowed me to relive classic World Cup showdowns over the ages with the actual player likenesses. Grand Slam Classics is just as good, and allows me to relive some of the glorious tennis action of my youth and beyond, such as the epic Edberg vs Becker clashes, or seeing female tennis goddess Martina Navratilova in action once again. Of course it also allows you to settle the age-old question: "Who would win in a matchup between…".
Playing online gives you the opportunity to join lobbies based around particular Grand Slam arenas, or to play in online tournaments. Hooking up with a mate is easy, and there are all your usual leaderboards, including the option to show which country has the best Grand Slam 2 players in Battle of the Nations.
VERDICT: Whilst not perfect, Grand Slam Tennis 2 is a bold and highly worthy addition to the scene. It doesn't offer a great deal more than the Wii version that came out in 2009, and even though they are aiming for a much more serious experience this time around, they could have retained or even built upon, the fun mini-games that gave a bit of extra oomph to that release. The career mode is an uninspiring slog, and we would have liked to have seen support for Kinect, given that Move controls are available for PS3. On the plus side, I loved the way the classic players have been integrated, and found that the subtle, accurate control scheme worked a treat. With more work, this could easily be the premier tennis franchise, and is a title full of promise, that is lagging just a few steps behind the competition.