Game of Thrones: Epic Plot Trailer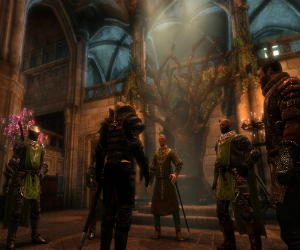 Cyanide Studio has today unveiled a brand new trailer for their RPG Game of Thrones. Based on the popular novel and subsequent TV series anticipation for this game grows with every new piece of information released.
The game will follow Mors, brother of Night's Watch and the red priest Alister, as they travel across Westeros. Players will engage in fast paced real-time combat, as they journey to popular series locales and meet famous characters during the games 30+ hours. Written under supervision from George R.R. Martin and developed using Unreal Engine 3, Game of Thrones could become a surprise hit in much the same way as the TV adaptation.
The trailer below sets up the plot of the game. It seems the signs are positive but will this game be able to stand up next to recent fantasy RPG greats like Skyrim and Kingdoms of Amular, does it need to?
 Game of Thrones is scheduled to hit in May 2012 on Xbox 360, PC and PlayStation 3.