WWE Wrestlefest Gets a Price Drop on US App Store, Brother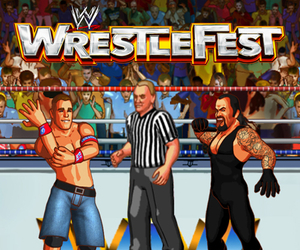 WWF Wrestlefest came out in 1991 and was well praised for its glorious cartoon look and enjoyable gameplay. In February of this year THQ released a remake of the game that featured some of the Superstars from the original game, as well as a host of wrestlers from modern day WWE.
If you were a fan of the arcade game and want to get in on the mobile action by getting the revamped version of Wrestlefest, there's no better time than now for our American readers as there is a price drop on the App Store for a limited time. From today at 9am EDT, WWE WrestleFest will be available for $0.99 on iPhone and $1.99 on iPad.
This classic has your old favourites like Macho Man, Jake "The Snake" et al, as well as today's oily men such as, John Cena and Randy Orton. With the steel cage match happening in the old blue cage and Saturday Night's Main Event being a playable arena, there's a really nostalgic feel here in some parts. There's countless modes for 'rasslin' fans to sink their teeth into on their iPhone or iPad. So, better get to laying the smackdown on that virtual d-pad, eh?