THQ Announce Champions DLC For WWE Wrestlefest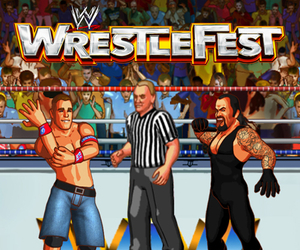 THQ have announced that the Champions DLC pack for the iOS revamp of WWE Wrestlefest is available right now! The content has some current-day wrestlers from WWE that have held some of the prestigious gold in the company, as well as some of the more classic superstars from days gone by.
Current WWE Superstars: Daniel Bryan, Mark Henry
Past WWE Superstars: Edge, Eddie Guerrero, "Mr. Perfect" Curt Hennig
As well as getting some new half naked men to play with – write your own jokes – you'll also be able to grapple inside the famous Raw Is War arena. It's great to see THQ supporting this title as I'm sure the console franchise is their main port of call, but WWE Wrestlefest is a nice throwback for older fans. I would like to see some more wrestlers from the past though. Edge, Eddie and Hennig are three terrific additions, but where's The Mountie, Adambomb or Papa Shango dammit!