FIFA 12: UEFA Euro 2012 Review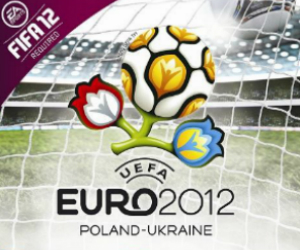 Game: FIFA 12: UEFA Euro 2012
Developer: EA Canada
Publisher: EA Sports
Available on: PC, Xbox 360 and PlayStation 3 (Reviewed on PlayStation 3)
For quite some time, we have seen new European Championship and World Cup games every two years in the FIFA franchise. Some have been disgruntled with this as there are very few changes to the standalone tournament titles in comparison to that year's FIFA game. So, to mix things up, the upcoming Euro 2012 tournament is represented as DLC and not as its own title; but is it for the better?
Euro 2012's presentation is different to FIFA 12 with regard how it looks, but it is essentially the very same product in execution. The main menu screen, team select screen, and anywhere else you can think of, has the colour scheme of this year's Euros; aside from that aesthetic change, UEFA Euro 2012 has the same UI as FIFA 12. As has been reported, most countries don't have their official kits or player names. This is something that I don't believe was in any of the previous FIFA games as ISS Pro/Pro Evo was traditionally the game that had a spattering of real team and player names, with the rest of them being made up. It's annoying to say the least, to see "Gurth Balth" on the wing for Wales and I expect more from an official UEFA product.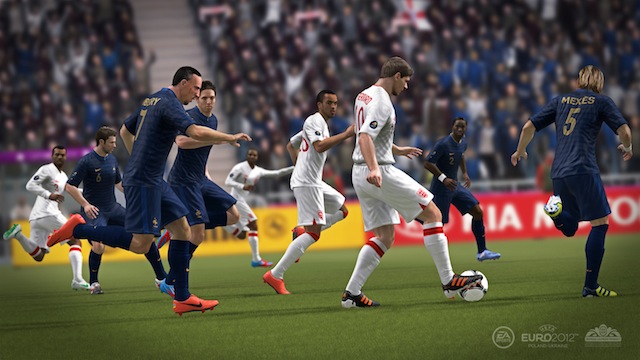 Expedition is a new mode and is a baffling addition. You begin by picking your virtual pro or a player from any of the international sides to be the captain of your newly created team and the remaining places on your squad are filled by random reserves from around Europe. Then your squad travels to different countries in Europe trying to defeat these teams in a bid to get different rewards. Upon beating a team once you can cherry pick one of their reserves, beat them a second time and you can get a sub, and finally, beat them a third time and you can choose a first team player to snatch, also getting yourself a mosaic piece that will complete a picture. Once you beat everyone 3 times that is. You can also decline to take any of the opposition's players at any stage, because gaining a player also means losing one of your own. You can't play any of the 53 teams whenever you want either, you have to create "roads" to countries by beating other teams in an in-game map. It is a complicated mode that becomes very boring, very quickly.
The championship mode itself is where people will find themselves spending most of their time. We all dream of seeing our nation lifting that famous cup high up in the air, but unless we're from continental Europe, we haven't seen it that much. To start off, you can alter any of the groups, and change things around by bringing any of the 53 sides that didn't qualify for Euro 2012, into the competition outright. Sadly, you can't play the qualification stage, which would've added to the content much more than Expedition mode. The layout of your pre-game hub is the same as Career mode in FIFA, you can check top goalscorers, group standings, etc. If you are consistent enough, and get to lift the Henri Delaunay trophy, you will get a very brief, and disappointing, scene where your players celebrate for a few seconds and then you're transported back to the menu. When the DLC is sold on this one tournament alone, a prolonged celebration with some nation specific chants would be welcome, as opposed to the stock hoopla.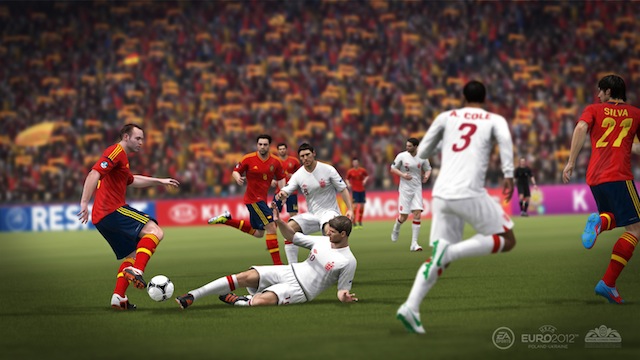 We're greeted by Clive Tyldesley and Andy Townsend on commentary and it's a good performance from both on many counts. Much of the dialogue is taken from the original game, with a few new recordings thrown in; the flow is just as good as it was FIFA 12. At times, Clive will make a strange remark that doesn't pertain to what's happening on the pitch like "David Villa being the last man to score a hattrick at the Euros", when no player on the pitch at that time is on the cusp of his third goal. A few other niggling instances like volume fluctuation in their speech because of VO recordings most probably happening at different times can be very distracting. Overall though, it is a decent audio accompaniment.
VERDICT: This add-on doesn't change anything gameplay wise, or the fact that FIFA 12 was a stellar outing for the series, and FIFA 12 stalwarts will be able to jump into this without having to learn another new defending/attacking mechanic. There are online modes and Euro themed challenges to beef up your experience too.
It isn't a fully priced game, but even at its price point it seems lazy. The 8 official stadiums are included and there are new kits, but the fact that most teams don't have real player names or proper kits is distracting and infuriating in an officially licensed product. If you're pumped up for the 8th of June, this might ease your wait. Although, you could create a custom tournament in FIFA 12 and be just as happy with that.