Formula 1 Takes Itself Less Seriously In F1 Race Stars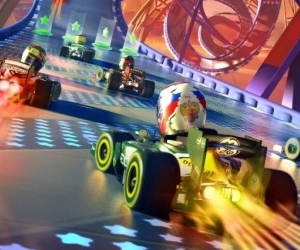 The world of billion-dollar motorsport meets the colourful world of cartoon kart-style racing in Codemasters Racing's new F1-licenced title.
The genre of Kart-based racing is rife with titles based on bigger franchises such as Super Mario or LittleBigPlanet. However the biggest license of all is getting the Kart racing treatment, as Codemasters Racing has revealed their own attempt at cartoon racing carnage – F1 Race Stars.
Officially licensed by the FIA Formula 1 Championship, the game features super-cute, super-deformed versions of diverse such as Lewis Hamilton, Fernando Alonso and Sabastian Vettel as they take their vehicless to over-the-top versions of F1 Championship tracks, and wield a number of crazy powerups.
Released on PlayStation 3, Xbox 360 and PC this holiday season, the game features a variety of modes including Career and various Championship modes, plus support for 4-player split screen and 12-player competitions.
See below for the game's announcement trailer: