FIFA 13 Preview: Career Skills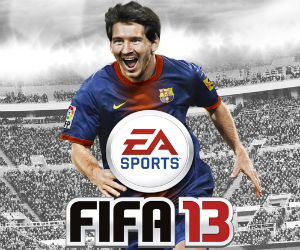 FIFA 13 is shaping up very nicely indeed, let's just get that out of the gate right here at the start. Back when when we first played the game, Tarak noticed the most immediate changes were to how the game plays and feels, "predictably unpredictable" sums up things nicely.
When it comes to football games, it's difficult to cover every single change at the early stage of a game's development. Sitting down with a build of the game to enjoy at our leisure means we can look at specific areas a bit deeper, so for this FIFA 13 preview, we're concentrating on Career Mode and first up, a new feature for the title.
Skill Games:
Oh how loading screens have changed over the years. From a static image screen with a percentage bar to now, where we have a fully interactive section in FIFA 13's Skill Games. Replacing the arena (which is still available if you prefer it) you are now faced with challenges that cover all facets of the modern game. Each challenge has a par score and you'll move through bronze, silver and gold before reaching the platinum stage which is a pure competition based stage. Can you get the best score?
Of course, these are very much tutorials, easing you in to the newer techniques, teaching you defensive skills, crossing, even shooting; each time unveiling the plethora of changes between the iterations of FIFA.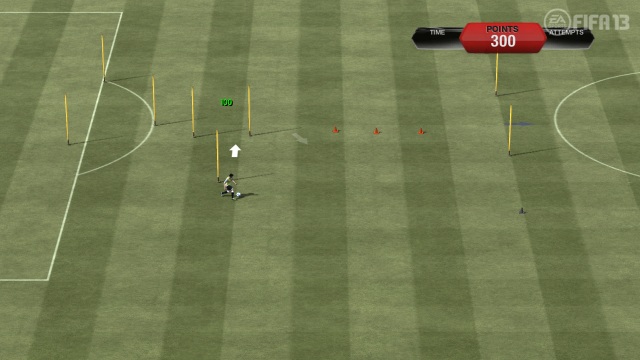 The dribbling Skill Games are an early lesson that precision can beat pace, though each has its own reward. Dribbling through training sticks holding the sprint button will result in a low score – probably failing the challenge – but holding the L1 and R1 buttons will cause your chosen player to slow to a snail's pace, giving them complete control over themselves and the ball. This allows you to easily navigate the training exercise before unleashing a furious shot toward a target for extra points.
The barrier between video game Football and real Football gets ever closer, with each and every game, but EA are finally addressing things like passing. Once upon a time in FIFA, hit a high ball and unless you're receiving player is in acres of space, or unless you head the ball on, it'd fall to the opposition player. That frustration has been replaced with a looser feel at this early stage of FIFA 13. There seem to be far more 50/50 moments, with the controller holding player's ability to read the game being rewarded as they intercept a slightly wayward pass, or bring the ball down from the high ball. The ball seems a lot less stuck to the feet than it has in the past, which is an exciting change all on its own.
Again, this is all hinted at in Skill Games, which will become an obsession and a real cause of competition between friends. Frankly, it's such an excellent idea that it's a wonder they've not been included before. The changes in gameplay are simple yet effective, after playing with Skill Games, my first match resulted in three goals scored on my part, all very different goals, which felt fantastic.
Career Mode:
FIFA has come on leaps and bounds with their career mode in recent years. The way the transfer deadline day was handled in FIFA 12 was fun and showed that there was some real thought going on behind the scenes in trying to make it feel different.
Looking to go one further, FIFA 13 introduces yet more elements that you'll be able to enjoy; all attempting to make it feel like your story, your career. First up, there is far more interaction with players, from a simple request to play in a friendly, to the signing of new blood. It may seem minor, but the ability to add extraneous information when approaching a player, like informing him if he's an important first teamer or a squad-rotation player, can play a huge factor in creating more realism and making the mode seem wholly more exciting and in depth than before. Likewise, no transfer is so cut and dried as it was in FIFA 12. If you're offered money for a player you currently have, you can send a rebuttal back telling them exactly what you want for him. It seems control is the theme of FIFA 13 overall.
However, there's yet more, as the manager you can now set up scouting networks. Once you'd have a transfer budget and that was it, now you've got to factor in your thoughts on the youth academy, as you'll want to build that for a brighter future. You don't have to though, you could, in theory, just spend millions every year buying the best out there, but why wouldn't you want to nurture talent and create the best, yet cheapest squad there is? You can be the best manager, listen to your squad, make decisions, sign players; it's all very exciting.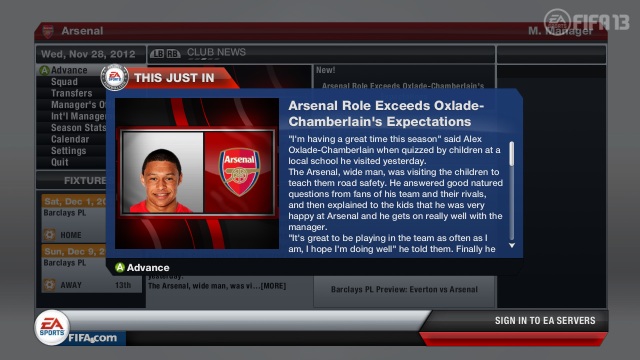 Your agent will try to set you up as an eventual international manager whilst retaining club management. You can also check out the other vacant manager positions from your office, so if you fancy a change, that's a possibility. You'll notice that player-manager hasn't been mentioned, which is for good reason as it's not present here and, if being honest, it makes good sense given the overhauls in the realism department. It's such a shame though that this realism is let down by small things like still being able to make three substitutions during friendlies, but at least efforts are being made everywhere else.
You might be surprised to hear that EA have attempted some form of ongoing narrative in FIFA 13, with news stories running for a while. It's perhaps an odd choice of wording, but in-match commentary informing you of scores going on around you, before getting a full rundown of them (Classified style) when you finish up a match and are back in the menus really does make you feel like you're a part of a footballing story.
It would be insulting to tell you that your Football Manager needs are fulfilled in FIFA 13, but for those who love the management side of things, it's at least good to know that huge strides towards making the FIFA 13 career mode something more than just lots of matches with the ability to transfer players. There's something great going on in career mode, something to make things feel special, which is all we ask for in football, isn't it? One thing is for sure, I've already had more fun in FIFA 13's Career Mode than I had in the entirety of my time with FIFA 12 and I can't wait to explore more of what they are bringing to the table.
FIFA 13 is set for a September 28 release on PlayStation 3, Xbox 360, Windows PC, PlayStation Vita, Nintendo 3DS and Mobile Devices. A version of FIFA 13 has also been confirmed for launch of Nintendo's Wii U. Read our interview with David Rutter, Executive Producer on FIFA 13 here.
[nggallery id=990]