BioWare Announce the Mass Effect Trilogy Collection, Coming November 6th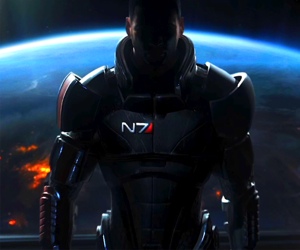 One of the most celebrated franchises in video game history, Mass Effect has split opinions with its controversial themes and united gamers with its accomplished, emotive storytelling for the last half-decade. The three games have won over 300 awards and recieved over 200 perfect review scores between them, and have spawned comic books, novels and animated movies to extend the deep, multi-layered sci-fi universe.
In response to the overwhelming praise and support from fans, developers BioWare have announced that on November 6th all three games will be released in a single trilogy collection for Xbox 360 and PC, with a PS3 version to follow. It's especially good news for Sony fans who have never had the chance to play the game that started it all. For those who already own Mass Effect 2 and 3, the first game will also be available at a later date to download from PSN.
The launch will coincide with the first ever "N7 Day", a day created solely to celebrate the Mass Effect franchise with "a variety of in-game, online and live events in which fans can fly their N7 colours". It has absolutely nothing to do with EA needing to attract some attention when a certain other huge sci-fi franchise returns on November 6th. Nothing at all. Honest.
The Mass Effect Trilogy is developed by BioWare and published by EA and will launch on November 6th. N7 Day will take place across the web and through various mediums on November 7th.